Is a visit to the Bahrain Grand Prix on your bucket list? Then perhaps these tales of British success will tempt you to make the trip to the Sakhir desert…
Bahrain was the first Middle Eastern country to host a round of the Formula 1 World Championship, only adding to its unique identity compared to its surrounding Arabian countries.
Bahrain is the only island destination in the Middle East with a rich human history dating back over 5000 years. With two UNESCO World Heritage sites to explore, along with traditional souqs, amazing dining opportunities and wildlife preserves of international significance, it won't just be the race that grabs your attention.
With three victories and eight podium finishes between them, Jenson Button and Lewis Hamilton have great memories of Bahrain throughout their glittering careers – and you can be part of another fantastic experience in 2018.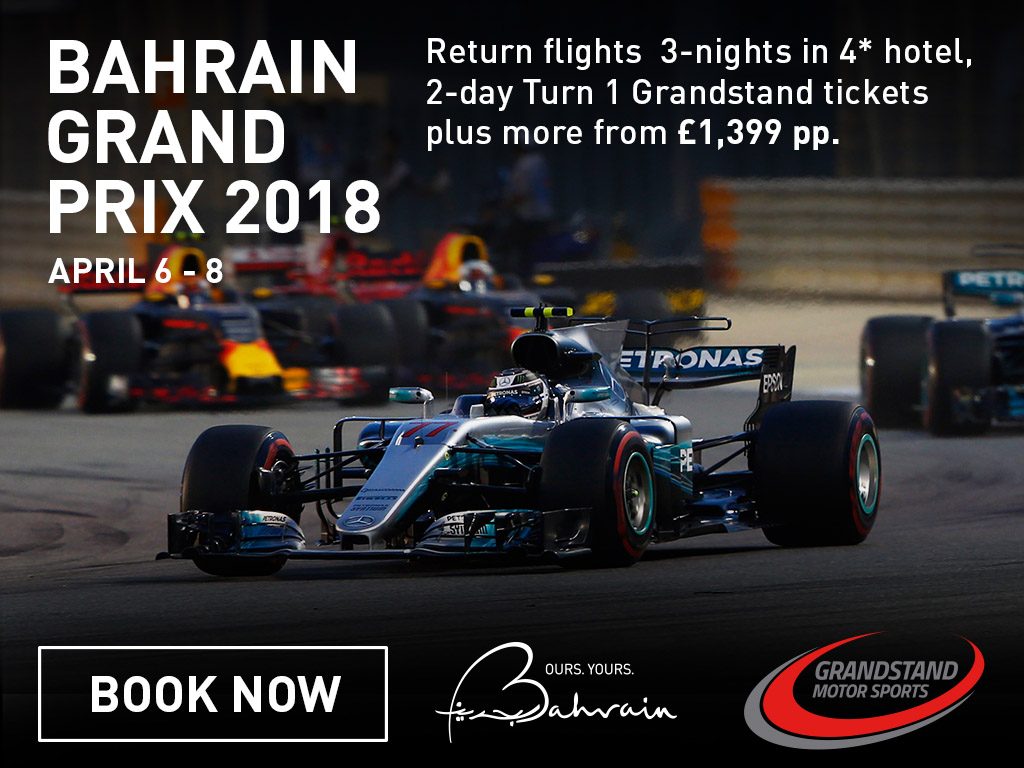 A star is born…
The Bahrain Grand Prix created some early-career symmetry between Button and Hamilton, with both British drivers finishing on the podium in their first appearances at the circuit and letting the Formula 1 world know that they had arrived.
In the inaugural race, where the Bahrain Grand Prix incidentally became the first Middle Eastern country to host a round of the Formula 1 World Championship, Button would share the spotlight with the mighty Michael Schumacher and his Ferrari team-mate Rubens Barrichello after finishing an eye-catching third position.
After several near misses throughout the first 67 races of his career, Button suddenly clinched back-to-back podiums with a BAR-Honda car that was very much a surprise package in the 2004 season.
Starting from P6 on the grid, he would take full advantage of other incidents surrounding him and show some genuine, blistering pace, too.
Button's team-mate, Takuma Sato, was involved in an early tangle with Ralf Schumacher, allowing Button to set his sights on a potential podium spot.
With Sato hindered by another incident and Juan Pablo Montoya suffering with a hydraulics problem in the Williams, it left Button in a battle with Renault's Jarno Trulli to finish behind the two Ferrari cars. The Brit chipped and chipped away, before finally get the jump on the Italian in the third and final pit stops.
It was Button's second career podium in the space of the fortnight and eight more would follow over the course of a breakthrough season, where he would finish a very respectable third in the World Championship.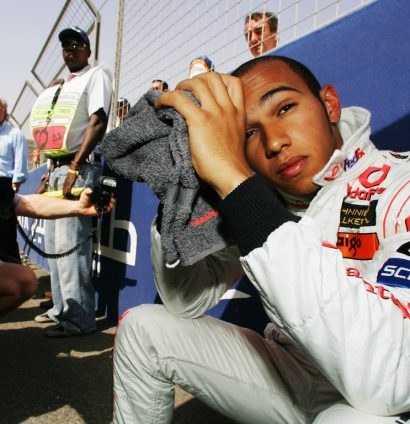 There was no such settling-in period for Hamilton, who produced a then record-breaking rookie season in Formula 1 and was a mere point away from an incredible first World Championship.
Hamilton was supposed to be the apprentice to the master Fernando Alonso at McLaren, but Bahrain was part of an phenomenal run for the Brit who secured nine consecutive podiums – two of which were victories – in his first nine races.
Ferrari's Felipe Massa proved to be unstoppable on that blazing hot April afternoon in 2007 as he secured a lights-to-flag win, but Hamilton was able to keep him honest throughout and only lost ground in a troublesome middle stint on less suitable tyres.
But, even though Hamilton had to settle for second, the result in Bahrain only added to his meteoric rise in Formula 1.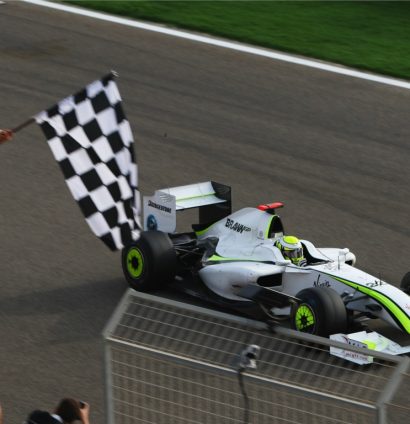 That winning feeling…
The similarities do not stop there between Button and Hamilton in Bahrain, as their subsequent victories in the Sakhir desert have all contributed to title-winning seasons.
The 2009 race was supposed to be all about Toyota; Jarno Trulli and Timo Glock locking down the front row of the grid in pursuit of the Japanese manufacturer's first-ever Formula 1 victory.
But, in a season of shocks, it was Button who was able to capitalise on a dramatic afternoon and clinch a victory which would help him lift the World Championship in a fairytale season.
Both Toyota cars were lightly fuelled and pitted early, but it was their tyre strategy that proved to be their ultimate downfall after taking the harder prime tyres for their second stint of the race.
Button, meanwhile, was able to get ahead of Hamilton after overtaking him at the first turn on the second lap, freeing up the road ahead to start hunting down the Toyota duo.
By getting the job done on Hamilton early, Button was in the perfect position to get past both Trulli and Glock by completing a longer first stint and go on to take the checkered flag.
The surprise Bahrain win was part of an incredible run of results for Button, who won six out of the first seven races in 2009 and went on to make his childhood dream of winning the title come true.
In 2014, a spectacular crash involving Esteban Gutierrez and Pastor Maldonado set-up a gripping battle between Hamilton and then team-mate Nico Rosberg, providing one of the first chapters in what would prove to be a toxic rivalry.
Hamilton and Rosberg squabbled for the lead from the off, but the resulting Safety Car from the Gutierrez/Maldonado incident created an epic 11-lap showdown between the two flying Silver Arrows.
The duo traded blows all the way to the finish, with Hamilton ultimately landing the knockout punch by clinging on to a one-second victory.
After retiring from the season-opener in Australia, Bahrain was part of a four-race winning streak for Hamilton to kick-start his season and propel him to a second World Championship title.
A year later, it was not just Rosberg that Hamilton had to contend with as the Bahrain International Circuit reignited a challenge from Ferrari; Sebastian Vettel joined Hamilton on the front row of the grid and Kimi Raikkonen came to life with excellent race pace.
Hamilton, though, was uber-cool throughout the whole afternoon, managing to dictate the pace despite the late-developing brake-by-wire issues and ensure Raikkonen's climb up the order stopped at second place.
Not only was it back-to-back Bahrain wins for Hamilton, but back-to-back wins in the 2015 season, too, as Hamilton cruised to a third World Championship.
A trip to remember…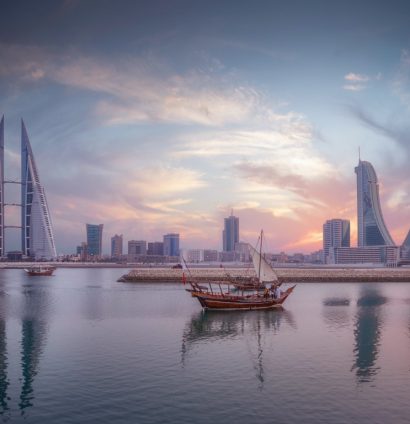 Bahrain is renowned for the quality of its pearls and the economy that once depended on them. The stunning collection of 33 islands was once at the centre of the world's pearl trade and it is thought to be the birthplace of diving as far back as 4,000 years ago.
Visitors to Bahrain have the option to plunge into the tranquil, turquoise waters and find their own pearls to treasure forever.
Once you have dried off under the beating Bahrain sun, Block 338 is bursting with restaurants serving food from the world's finest cuisines, trendy cafes, stunning art galleries and live music nights.
Bahrain's rich history and culture is also personified by the Qal'at al-Bahrain, a 5000-year-old fort and one of the kingdom's treasured UNESCO World Heritage sites.
You can also touch a piece of living history with the Tree of Life, which is an approximately 400-year-old, 9.75m high Prosopis cineraria tree located 2 km from Jebel Dukhan. The tree stands on a hill in the middle of the desert surrounded by nothing but sand and yet it is abundantly covered in green leaves.
Fancy something a little more adventurous? Then head to the Lost Paradise of Dilmun Water Park. Based on the history of the Dilmun period, which is reflected by the architecture and stone sculptures, the park features over 18 water slides and attractions that will guarantee that you make a big splash on your visit.
Book your unique adventure to Bahrain with Grandstand Motor Sports
– See the spectacle of Formula One under floodlights in the desert!
– The first night race of the Formula One calendar takes place in Bahrain. Discover a unique F1 race on an island kingdom that is bursting with authentic Arabian hospitality, heritage and contemporary entertainment offerings.
– Grandstand Motor Sports is the leading motorsport travel specialist, offering packages and tailor-made itineraries to motorsports events worldwide.
Offer from £1,399 p.p:
– Direct return flights from London Heathrow
– 3-nights' 4 star hotel accommodation on a B&B basis
– Grandstand ticket (Turn 1 Grandstand 2-Day)
– Circuit transfers
– Airport transfers
– Bahrain entry visa (complimentary to all visitors attending F1)
– Services of a local representative
Please visit the Grandstand Motor Sports website or call 0116 231 1222 for more information.
You can also check out the Bahrain Tourism and Exhibitions Authority website, and also follow on Twitter and Instagram using the #Bahrainoursyours hashtag.
More information can also be found on the Bahrain calendar website.