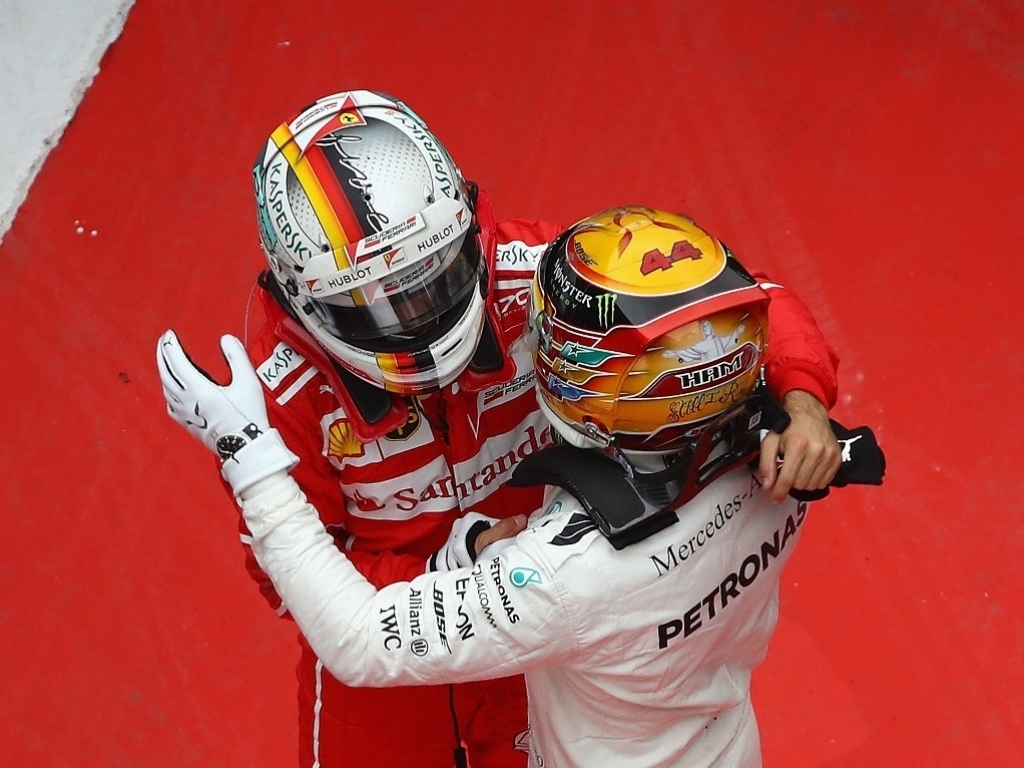 Under a setting sun in the hot desert air, Formula 1's newest bromance could ignite as Sebastian Vettel and Lewis Hamilton battle for top honours at the Bahrain Grand Prix.
One race apiece and a runner-up result each, Vettel and Hamilton are joint leaders in the standings with Vettel's P1 post-Australia making him the first non-Mercedes championship leader since the introduction of 1.6-litre V6 engines.
One of them, though, is likely to emerge as the sole leader come Sunday night in the Kingdom.
A duel in the desert between two of Formula 1's greatest drivers is what everyone wants – a four-time World Champion taking on a triple winner.
Even Hamilton, who has pretty much had it his own way in recent years – barring Nico Rosberg's 2016 challenge, is rejoicing in the tussle.
"Ferrari are at their best in years, maybe in a decade," he said in the build-up. "We're at our best as a team, and I feel like I'm at my best. The ultimate fighter always wants to go up against the best battle that he can have, because then when you come out on top, it's just so much more satisfying."
However, fans have yet to see a true battle between the two protagonists this season.
Vettel's victory in Australia was down to strategy while Hamilton was helped in China by Ferrari's decision to pit under the VSC only for the Safety Car to ruin that strategy laps later.
Both drivers have shown in the past that they can triumph in Bahrain, two wins each, however, a 19-year-old Dutchman by the name of Max Verstappen could make it a three-way fight. And let's not discount their team-mates.
Although Valtteri Bottas has failed to set the stage alight in his first two races for Mercedes, alas living up the lack of hype surrounding his signing, Kimi Raikkonen and Daniel Ricciardo both have something to prove.
While Raikkonen's start to 2017 has been podium-less, he efforts – or according to Ferrari, lack thereof – in China saw him heavily criticised while Ricciardo had the dubious honour of being one of Verstappen's best overtakes at the Shanghai circuit.
Behind them, far behind them most likely, will be McLaren-Honda who are once again – with Bahrain's long straights – looking at a trying weekend with the circuit known for brake wear and high fuel consumption. With the MCL32 seeing to the latter all by itself, Fernando Alonso and Stoffel Vandoorne may celebrate just reaching the chequered flag – that's if they do.
It is another Herman Tilke designed track like Shanghai, featuring a mixture of corners, including tight hairpins, joined by long straights – the longest over a kilometre.
That should encourage overtaking, something Formula 1's new generation of wider, longer car is not all that deft at. It will, however, be a good indication as to the amount and style of overtaking Formula 1 can expect as the season progresses.
Meanwhile Pascal Wehrlein returns to action this weekend, making his Sauber debut, after missing the first two races due to fitness concerns. It will be a true test of his recovery from compression fractures given the tough physical race that awaits the young German.
It is, however, Ferrari's German driver and his number one fan who will dominate the headlines this weekend.
Michelle Foster