Ferrari are continuing to call the shots this season, with team orders already coming into play at the Bahrain Grand Prix.
After three rounds, it is advantage Vettel
Lewis Hamilton's late charge notwithstanding, it is Ferrari and Sebastian Vettel who have called the shots in Australia, China, and Bahrain.
The Scuderia's strategy and race pace lifted Vettel to the race victory in Melbourne, while the safety car halted their proactive strategy in China.
At Sakhir it was again the team in red on the front foot as Vettel stopped early to undercut the Silver Arrows . "We went for the undercut. It worked fantastic. When the safety car came I said, 'Oh no not again'," explained Vettel after the race.
Unlike in the Chinese Grand Prix, the safety car did not have an adverse effect and Vettel still led – albeit by a smaller margin that he had hoped.
Advantage Ferrari #F1 pic.twitter.com/1vuNe31VEe

— Planet F1 (@Planet_F1) April 16, 2017
Vettel suggested that he controlled the race from there. "The car was really amazing to drive. I could control the pace at the end," he said.
Mercedes, struggling and having to play the reactive game to Ferrari's aggressive strategy, did well to salvage Hamilton a shot at winning by running him long in the middle stint.
But the five-second penalty the triple champion received for backing up Daniel Ricciardo at pit-late entry proved to be a serious error that hampered his attempt to reel in Vettel.
While it would be harsh to categorise Hamilton's approach into turn 1 at the start as an error, he was ginger on the brakes – braking noticeably earlier than Vettel – which allowed the Ferrari man to get alongside on the outside and win the line to take P2 going into turn 2.
In a tight championship race, it is errors and miscalculations such as these that will decide the title.
It's a two-horse race and only one of them is a Prancing Horse
The year 2008 is best remembered as the campaign in which Hamilton realised his full potential to win his first title. Over the course of that season, the British star won five races, one less than the man he beat to the title by one point: Felipe Massa.
That season still stands as a cautionary tale for teams at the sharp end of the grid. Although Massa won six times for Ferrari, his team-mate at the time, a certain Kimi Raikkonen, won twice early in the calendar and took points off the Brazilian through the season.
Since then, the domination from Mercedes and before them Red Bull has precluded a similar intra-team scenario of team-mates chipping points off one another to the detriment of rivalries against competitors.
But three grands prix into 2017, Ferrari and Mercedes are starting to shape their positions towards this dilemma. The German marque laid down a marker with a couple of bold calls in the Bahrain Grand Prix. And it is not good news for Valtteri Bottas.
Before the weekend, Bottas was adamant that he could be a title contender. On Saturday evening, after edging Hamilton in a tight qualifying session, his declaration seemed convincing enough.
"As a racing driver it's the worst thing you can hear."

Valtteri Bottas discusses team orders at the #BahrainGP.https://t.co/OWXBmlYxkm pic.twitter.com/NOeSoNgKpK

— Planet F1 (@Planet_F1) April 16, 2017
Just 24 hours later, the former Williams driver stood on the third step of the podium behind his team-mate and Sebastian Vettel. Hamilton described Bottas as a "gentleman" as he had ceded position to the sister Mercedes on lap 27 after hearing the words, "Please let Lewis through!" over team radio.
In the closing stages of the grand prix the British star also flung his car up the inside of turn 8 and passed Bottas in his pursuit of eventual race winner Vettel.
For Bottas, this performance coupled with Hamilton's 'compliment' serves to highlight his inferior race pace and the increasingly likely eventuality that he will ride shotgun in 2017.
Like Mark Webber, Bottas isn't bad for a number 2 driver. The Finn has also found himself in fine company alongside compatriot Raikkonen.
Slower than Vettel in qualifying, Raikkonen's race results of P4, P5, and P4 stand in stark contrast to the German's two victories and second place in China.
Unlike Mercedes, Ferrari have not yet been a position where they have had to make a call to favour one driver over the other. Such is Vettel's form since Melbourne that they might not have to. He has exactly double Raikkonen's points and it would take at least two DNFs or non-points finishes (AKA "doing a McLaren Honda") for the Finn to catch up.
How to get a read on the competitive order
After 4 laps in Bahrain, the top 10 cars were separated by around 10 seconds. After 10 laps, the top 5 were stacked up in the Bottas train – with just a three-second spread from the lead Mercedes to Ricciardo in fifth.
Like Vettel, Max Verstappen had undercut the two Mercedes and would most likely have emerged second once the post-safety car chaos had subsided. An unfortunate brake failure put paid to Verstappen's charge, while Ricciardo went backwards after the race resumed.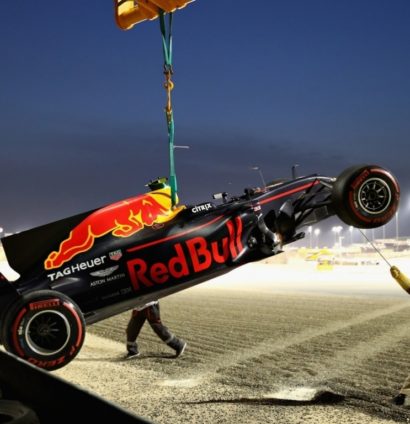 In the early running the Red Bulls had, to the surprise of many, kept the Mercedes and Vettel's Ferrari honest. Verstappen, on team radio, said "we are quicker than them," before saying with some exasperation that he "got stuck" behind Hamilton.
If the Red Bulls can find a way to remain competitive over race distance, the need for all three leading marques to have a spearhead contender will become even more acute. And if it is obvious that Hamilton and Vettel are number one at their respective teams, it is not clear at all who the Red Bull team leader would be.
Alonso radio chatter highlights
Fernando Alonso has the Indy 500 to look forward to, while F1 fans have his radio messages to look forward – until Monaco anyway.
Highlights this week include complaints about his struggles while battling Jolyon Palmer and Daniil Kvyat.
Enjoying your weekend, chaps? #F1 pic.twitter.com/obgKU2t1bM

— Planet F1 (@Planet_F1) April 16, 2017
"I never raced with less power in my life," griped Alonso, saying that he was "getting passed from 300 meters back".
When his race engineer presented him with a strategic option, Alonso replied: "Do whatever you want, mate."
None of this is surprising when considering that the McLaren Honda was around 16kph slower than rivals down the main straight.
A good day for pink, but a bad day for yellow
Although Williams took one point off Force India in Bahrain, the pink-liveried outfit remain fourth in the Constructors' standings.
Sergio Perez redeemed himself by claiming seventh despite a woeful 18th in qualifying. He made up five places on the opening lap and made a crucial and audacious move up the inside of Nico Hulkenberg's Renault at the last corner of T7 for seventh place, where he would finish.
Shame about the safety car as it made me lose position?
But 1 more point, and youngest driver ever to have score points at the first 3 GP✌?! pic.twitter.com/dITY68s2Za

— Esteban Ocon (@OconEsteban) April 16, 2017
Esteban Ocon continues to impress with his dependable driving and race craft to claim 10th, up from 14th on the grid.
Renault, though, another team tipped to be in contention for fourth in the Constructors, endured a difficult race, having failed to build on a strong qualifying performance in which both cars made it into Q3.
While Palmer's long-running midfield scrap with Kvyat and Alonso was a highlight of the grand prix, the British driver had another scruffy race. He banged wheels with the Toro Rosso in one battle at turn 10 and lost part of his front wing in another.
With the Hulk in a respectable, yet far from impressive ninth, Palmer could only manage 13th and was the last of the runners to finish. Without a swift uptick in performance, his future at the works Renault is at risk.
But worse for Stroll and Sainz
Three grands prix and three DNFs is as tough a rookie season as one can imagine. In Lance Stroll's defence, he played little part in his retirement in Bahrain.
Carlos Sainz gets a 3-place grid penalty for Russia – stewards decided he was "predominantly to blame" for this clash with Lance Stroll pic.twitter.com/3Sr6j0KJyx

— Formula 1 (@F1) April 16, 2017
Like a ship facing a broadside attack, Carlos Sainz torpedoed into the side of the Williams at turn 1 in an incident that forced both youngsters into retirement.
The highly rated Sainz cops a three-place grid penalty for his part in the amateurish incident. The not-quite-rated Stroll, meanwhile, has finally found some sympathy.
Richard F Rose