Skill and craft came to the fore as Lewis Hamilton reigned supreme in China and Max Verstappen sprung a surprise.
Formula 1 is back
For a sport facing constant flux and uncertainty, Formula 1 delivered a compelling spectacle of hard-nosed yet fair and exciting racing.
On the sporting front, three different constructors finished on the podium while the championship rivalry ebbed back towards Mercedes after Ferrari stole a march on them in Australia.
The slippery conditions yielded an additional layer of excitement but moreover the second round on the 2017 calendar was brimming with spectacular overtaking, and much of it was not facilitated by the often maligned drag-reduction system.
The wider profile of the cars may be a factor in limiting the effectiveness of DRS. Instead of easy DRS passes, drivers had to resort to skill and craft, and find smart ways to overtake their rivals. Turns 1 and 6 were ripe with opportunities. Easy DRS passes were in short supply as it was rather used as a tool to help get drivers into positions conducive towards challenging the car ahead.
Race-winner Lewis Hamilton said after the grand prix that he was much happier with these cars: they are faster and look better. And on the evidence of the Chinese Grand Prix they have brought the emphasis back to driver skill and courage.
"This could be the most exciting season in my career" – @LewisHamilton#ChineseGP #F1 pic.twitter.com/QeV4dHEQ2o

— Formula 1 (@F1) April 9, 2017
But there is room for improvement
Hamilton is the poster boy for millennial F1. He understands social media and he understands the fans. It was Hamilton who, after FP2 was cancelled, made his way out to the grandstand to show his appreciation to the fans.
The triple champion went to great lengths to acknowledge the crowd after crossing the finish line by waving and blowing kisses at the fans. F1's new owners would like to see more drivers and teams bridge the divide between F1 and the fans.
Others could learn from Hamilton, but the organisers need to do their part too. The long zoom of the cameras does not illustrate the speed of the cars. The graphics and analytics shown on screen are mediocre – and that's when they are working, which isn't often enough. Packaging is everything and it has been neglected for too long. Amid a tight 2017 title battle, now is the right time to roll out the improvements and enhancements that fans crave and deserve.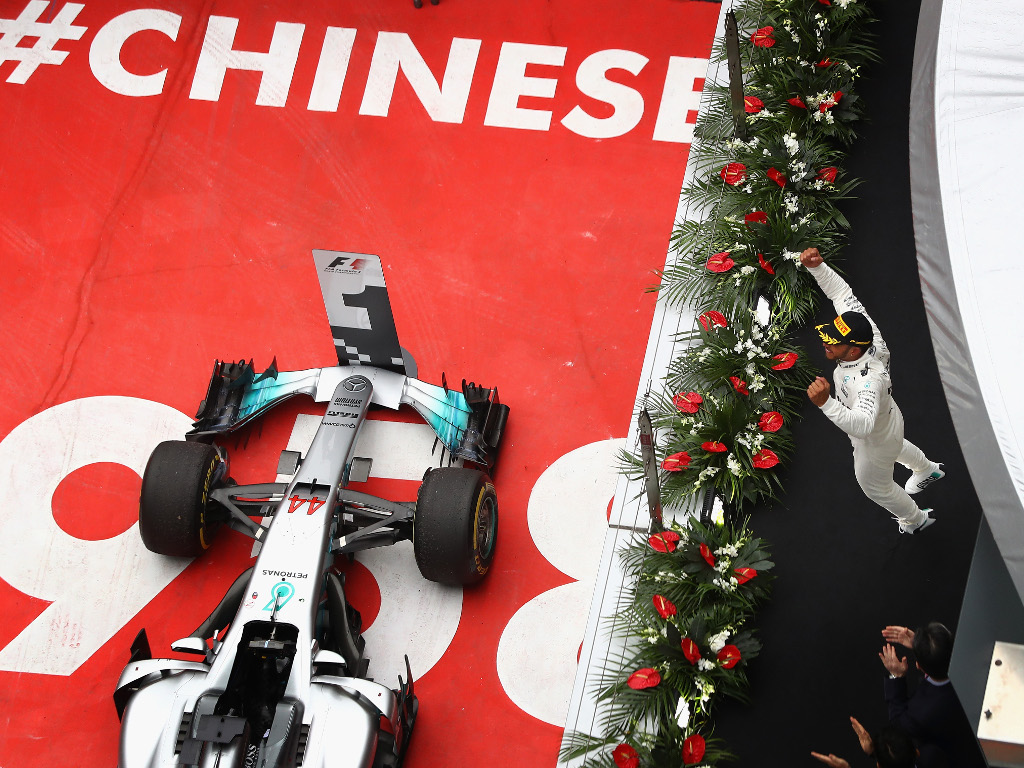 Hamilton was supreme as his rivals made errors
The British driver's 54th race victory was built on the back of a perfect qualifying performance, a solid start, and a smooth 458 metre dash to turn 1. It was an assured and professional performance from a man eager to claim another title.
By comparison, Valtteri Bottas's spin was amateurish and even damaging when Fernando Alonso is driving, in his own words, "like an animal". Finishing sixth in a Silver Arrow is just not good enough. There is no doubting that Bottas has the class for a top-flight team, but so does Alonso (see more below).
As for Hamilton, he seems comfortable having the Finn as a team-mate and is clearly liberated since Nico Rosberg's retirement.
Ferrari's awful 2016 campaign was blighted by a range of strategic errors. As we noted in Melbourne, Sebastian Vettel's victory in the season opener showed that the Scuderia have improved their strategic operations.
The decision to pit Vettel under the virtual safety car in China could be considered a mistake. However, since Hamilton had track position Ferrari were not throwing anything away, but rather gambling on winning a position.
Of course this analysis is contingent upon Vettel's fine recovery drive from sixth to second, though the four-time champion was at peace with the move, saying on the podium, "I was happy to take the risk…It could've been a different race." Such comments are a stark contrast to the angry and frustrated Vettel of 2016.
While there are mitigating factors for Vettel's strategy, Kimi Raikkonen can feel aggrieved about being left out for so long as his rivals made stops for fresh rubber. The Ferrari pit wall seemed to leave him out in the hope of keeping pressure on Hamilton, but it only served to ensure that he would finish behind both Red Bulls.
And there could be more damage to come. Missed opportunities and lost points in China could translate into serious problems as the Constructors' title heats up between the silver and red cars.
Max springs a surprise
Few fans or analysts would be surprised to see Max Verstappen thrive in tricky conditions, but few would have put money on him claiming a podium after starting 16th.
The Red Bull star was nonchalant about his outrageous opening lap, on which he sliced his way up to 7th. "It was very challenging. On lap 1 I passed nine cars," he said after the grand prix.
On-board footage of lap 1 shows him placing his car in gaps that seemed just the right size for his Red Bull, braking later than anyone else, choosing better lines, and manipulating the throttle to find more momentum faster.
After two challenging qualifying sessions, Red Bull will be delighted with a podium to kickstart an otherwise underwhelming 2017.
Verstappen is also well clear Daniel Ricciardo in the drivers standings and threw two huge punches in the rivalry by flinging his RB13 past the Australian at turn 6 and by hanging on to third place despite late pressure from his team-mate.
Going back to the 2016 Mexico Grand Prix, Verstappen has beaten Ricciardo in four of the last five races. Ricciardo must be wary of a few results transforming into a pattern or a trend.
Where to now for Alonso?
It has been more than a decade since the Spaniard won the second of his last two titles. It has been four years since his last win and as many seasons have passed since he was anywhere near being in contention for a third title.
"I don't want to repeat myself after Australia but it was one of the best races I've ever done."

???https://t.co/IYNee3V5RL#F1 pic.twitter.com/yfffbl8QSK

— Planet F1 (@Planet_F1) April 9, 2017
'The Animal' called qualifying thirteenth in Shanghai a "divine present" and when his race engineer provided him information about who was fastest in the race, he responded by saying, "But I am fastest in the corners". After retiring from the race, Alonso described running in the points as "incredible".
He can't entertain us by winning grands prix but at least his sound bites are entertaining.
With overtaking, quality trumps quantity
There were more than 100 overtaking moves for position at the 2016 edition of the Chinese Grand Prix. While the number of move at this year's race is still being calculated, it is obvious that fans witnessed a bonanza of excellent racing.
It is hard to choose the best. Sergio Perez and Felipe Massa got reacquainted in the opening exchanges, with the Mexican getting better of that battle.
Verstappen's move around the outside of Raikkonen was memorable and Romain Grosjean's aggressive sweep past Jolyon Palmer amid sparks and puffs of smoke at turn 6 on lap 28 could headline any highlights reel.
In terms of importance and outright results, Vettel's bravery in taking on Ricciardo is arguably best of all. The German managed to sling down the straight and slot himself in the tow of the Red Bull after the corkscrew through the start of the lap. At turn 6, the Ferrari man placed his car on the outside, the two then banged wheels, before Vettel veered into turn 7 in front of his former team-mate.
*That* pass by Vettel on Ricciardo ?#WheelToWheel #ChineseGP pic.twitter.com/aLWKJEZOQt

— Formula 1 (@F1) April 9, 2017
Like Hamilton who is enjoying driving the 2017 spec cars, Vettel said, "I had an exciting race. I really enjoyed it."
So did we.
Richard F Rose