Conclusions from the Singapore GP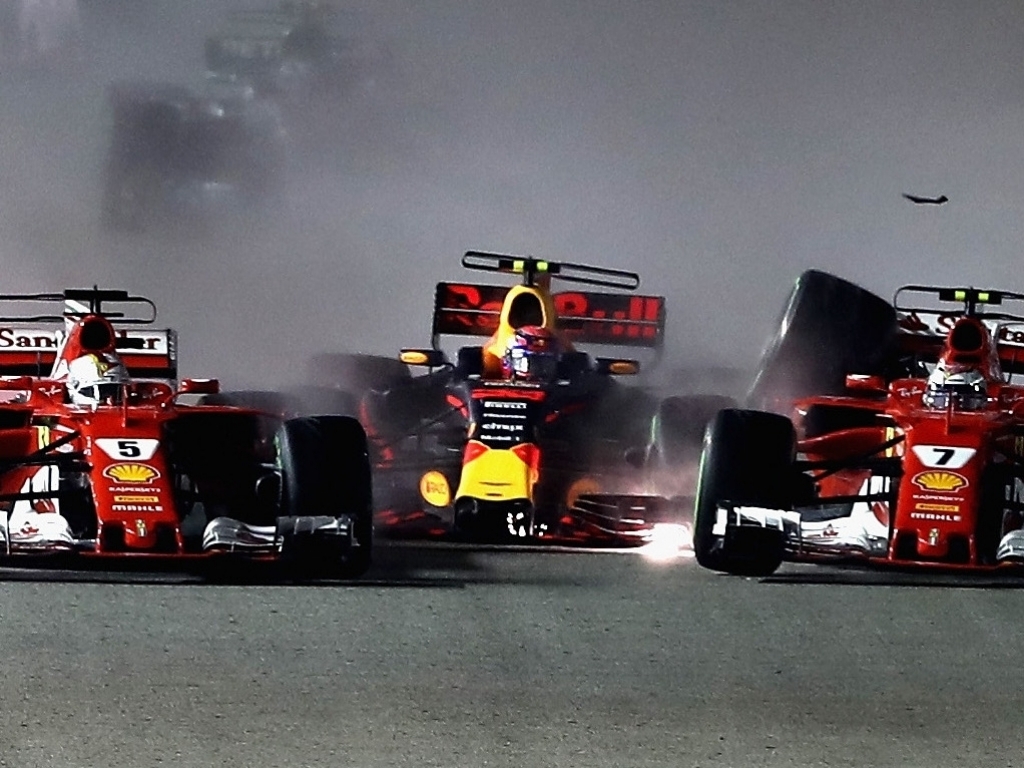 When three try to become one it sets off a series of 'what could have beens' in Singapore…
Max factor swings title towards Lewis
An overhead view of the top three drivers hurtling towards turn 1 shows a Red Bull in a Ferrari sandwich. It's a photograph that lacks the drama of a crestfallen Lewis Hamilton after he retired from the 2016 Malaysian Grand Prix – a result that swung the title in Nico Rosberg's favour.
But Sebastian Vettel's squeeze on Max Verstappen could be the deciding moment of the 2017 title fight between the Ferrari man and Hamilton. Vettel will no doubt have feared Verstappen's wet-weather pace and took the bold decision to cut across the Red Bull heading into the first turn. With Kimi Raikkonen on the outside after his blistering start, the result was calamitous for Ferrari as both of their cars collided with Verstappen's Red Bull and all three were forced into retirement.
Verstappen, as many have noted before, has endured a woeful season. Although he is not in the hunt for title this year, it is his reputation and talent that may have defined the story of who will be victorious come Abu Dhabi. Vettel did not need to be so aggressive in moving to the left to block Verstappen. Indeed, as Hamilton showed, it would have been better to stay to the right, which proved to be the optimal line.
For Ferrari, the failure is all the more galling. Vettel and the team knew that their pace would improve after Formula 1's tour through the historic circuits of Spa and Monza. The Mercedes W08 was always going to be unbeatable at these tracks. Mercedes maximised results there while Ferrari failed to score a point in Singapore, where they were expected to defeat the Silver Arrows.
A day of what could have been 
Like a civilian taking a bullet meant for a soldier during war, Fernando Alonso was an unfortunate bystander in the wrong place at the wrong time at the start of the grand prix. In a start reminiscent of his rocket launches for Ferrari in 2012, Alonso smartly placed his McLaren on the outside of turn 1 and was in a de facto third place when Verstappen's floundering Red Bull slid into his sidepod.
The 2005 and 2006 World Champion bemoaned his misfortune, saying after the race that a podium or even a race victory may have been on the cards.
It's often wise to take Alonso's comments with a pinch of salt, but considering Stoffel Vandoorne's excellent and career-best seventh, the Spaniard would likely have had the pace to push the frontrunners. Was a podium on the cards? Maybe. A win? Not on a day when Hamilton was untouchable in a car thought to be inferior to that of Daniel Ricciardo's Red Bull.
Renault (almost) make a statement
Poor Nico Hulkenberg. As if being insulted by Kevin Magnussen wasn't bad enough, the German driver now holds the unfortunate record of the most races without scoring a podium. However, the Singapore Grand Prix will provide Hulkenberg with cause for optimism. It's easy to look back at missed opportunities in the past but there are clear signs of positivity when looking ahead.
The RS17 has shown good pace over one lap and Hulkenberg pumped in a number of eye-catching lap times under the lights in Singapore. The team made a mistake in delaying the first pit stop, which sacrificed track position in favour of fresh rubber. As it happened a technical issue would ultimately ruin his race.
Nico Hulkenberg must be the the unluckiest driver in #F1. pic.twitter.com/cusiwc5xpI

— BBCF1 (@bbcf1) September 17, 2017
Nevertheless, the race pace coupled with Jolyon Palmer's sixth place highlights that the Enstone team is heading back towards the front of the grid. With all respect to the Brit, Renault will be far stronger once he vacates his seat for Carlos Sainz.
Speaking of Sainz and Toro Rosso
The Spaniard scored his best ever result for Toro Rosso as he fended off the challenge of Sergio Perez to finish fourth. Sainz made an alternative tyre strategy work as he had opted for the super soft rubber while the rest of the field went for ultras.
"VAAAAAAMOS!!! TOMA TOMA TOMA!!!" says @Carlossainz55 over the radio! It's a P4! "We don't let you go!" replies Team Principal Franz 😂👏🏼✌🏼

— Toro Rosso (@ToroRossoSpy) September 17, 2017
His result was in stark contrast to the man known as Torpedo, who did just that into the barriers. Daniil Kvyat was effusive in his apology to the team, but the gulf in class between him and Sainz has never been more obvious. The Russian has more than 70 race starts and has been given a fair shot by Helmut Marko. In a previous era within the Red Bull stable, there is no doubt that he would've been disposed of by now (just ask someone like Jean-Eric Vergne).
Red Bull still gives you wings but it doesn't seem like it gives much in the way of young talent outside of Pierre Gasly – and even he has failed to live up to expectations recently. And for that reason – and that reason alone – that the Torpedo still has a seat.
If you only watch one lap, make sure you watch lap 17
Kevin Magnussen is something of a cult hero among F1 fans and he did that reputation no harm in his epic battle with Felipe Massa and Esteban Ocon on lap 17.
The Haas driver banged wheels with Massa to get past the Williams for P11 under the bridge. Massa was canny in his defence and came back at the Haas, only to be repassed in an audacious move by Magnussen up the inside of T8.
Magnussen then had to squeeze Esteban Ocon going into the next turn to protect his position after the Force India had pounced to steal P12 from Massa. The entire battle was a fine example of hard but fair racing. More please.
Richard F Rose