Conclusions from the Spanish Grand Prix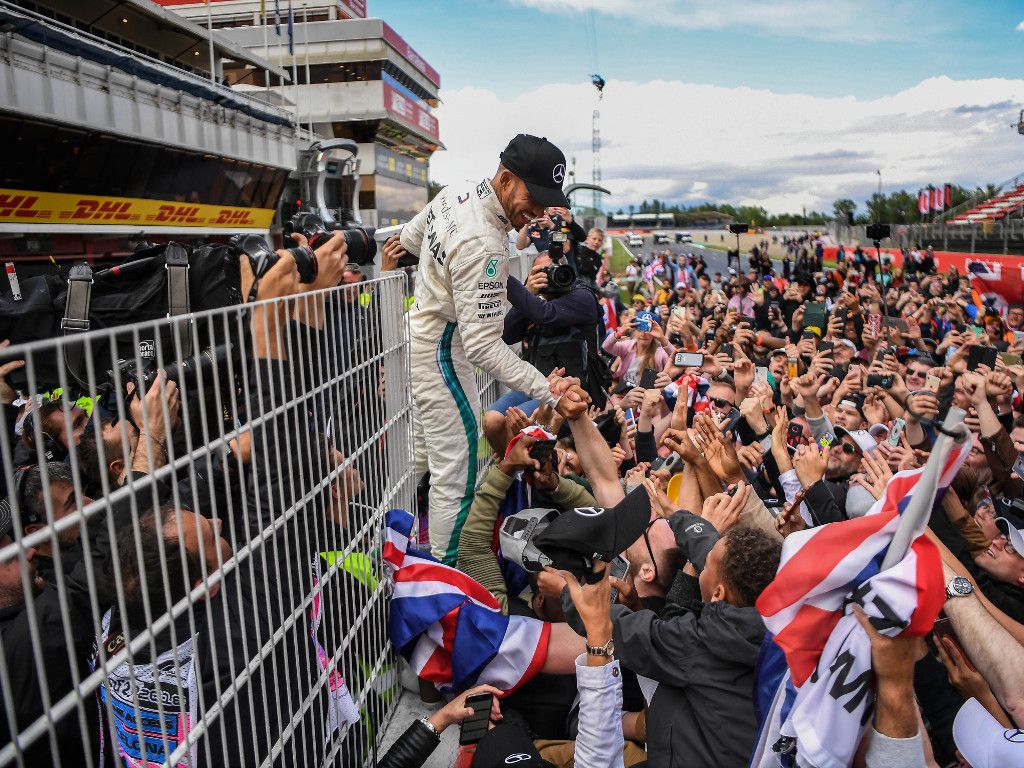 Lewis Hamilton got his mojo back in Spain while Pirelli's tyres may have had a say in the first round of the development war…
"This is more like it"
Lewis Hamilton was back to his imperious best in Barcelona, obliterating the field with a decisive set of fastest laps after the first safety car.
Within a few laps a six-second lead over championship rival Sebastian Vettel appeared ominous, and indeed it was as the Ferrari, hitherto the best car in the field, couldn't get anyway where near the back of the Mercedes.
After the inherited and rather flat victory in Baku, this weekend's trip to Barcelona proved that Mercedes and Hamilton are back to their best.
"This is more like it," the four-time champion said after the race.
No one could touch Mercedes on Sunday and despite a patchy start to the season Hamilton leads the standings by 17 points, while the Silver Arrows are back atop the Constructors standings, their natural position since 2014. And this is all the more threatening to rivals because the Circuit de Catalunya is arguably the most representative circuit visited so far this season.
First shots fired in development war
McLaren, Renault and Red Bull all bolted on major updates in Barcelona – indeed McLaren said this was essentially their proper 2018 race car. But it's unclear what impact the upgrades have had on the competitive order, beyond Ferrari seeming to fall behind Mercedes in qualifying pace and also fall behind Merc and Red Bull on race pace.
This might be down to tyres and with another outlier track in Monaco up next, we might not know for a few weeks whether Ferrari have fallen behind, relatively speaking.
However, both Red Bull and Ferrari were quicker than Mercedes on slower circuits in 2017.
Ferrari flounder due to rubber and strategy
There's no doubt that the new shallower Pirelli tyre construction hurt Ferrari more than most. Up until this weekend, the SF71H has been kindest on its tyres while also working in the broadest range of temperatures and conditions.
That changed in Spain, as the Ferrari drivers struggled to get the best out of the tyres and struggled with wear. Mercedes, meanwhile, were the most obvious beneficiaries.
Sebastian Vettel: It was not an option to stay out

"Obviously it looks different and looks wrong but it was the right thing to do."https://t.co/KLYl63YyJr #F1 pic.twitter.com/CsLTF6cZ3H

— Planet F1 (@Planet_F1) May 13, 2018
Ferrari's strategic decisions are also under the microscope, though the strategy was largely influenced by tyre issues.
Vettel was the first driver to stop for new rubber, pitting on lap 18, and Ferrari also chose to sacrifice track position later in the race to take on new tyres under the virtual safety car because Vettel was expected to be marginal on tyre wear.
But a delay in the pits to allow Sergio Perez past to avoid an unsafe release cost Vettel a podium, while second was essentially lost because of tyre wear.
Messy Max delivers, but Red Bull remain an enigma
A first podium of the season is a welcome result for Max Verstappen, whose season is full of lowlights (the collision with his team-mate in Baku comes to mind). Yet even the third place in Barcelona wasn't without its drama, as Verstappen clipped Lance Stroll when the track was under VSC conditions.
The ensuing loss of a front-wing endplate didn't have a major impact on the end result but Verstappen is still without a clean weekend in 2018.
Daniel Ricciardo, meanwhile, had an anonymous race. A small mistake after the lap 1 safety car compromised the early phase of the grand prix, but even with an offset strategy Red Bull couldn't unlock the true potential of the car to challenge Mercedes, which is a disappointment considering Ricciardo recorded the fastest lap of the grand prix – proving that the RB14 does have intrinsic race pace.
Fast, faster, fastest…as F1 flip-flops again
Said fastest race lap by Ricciardo also smashed the all-time record at the Circuit de Catalunya. His 1:18.441 was more than three seconds faster than the previous record – a 1:21.670 – set by Kimi Raikkonen in 2008.
It wasn't the easiest of races for @danielricciardo in Barcelona, but there was no faulting his one-lap pace

He was on 🔥 to take the @DHL_Motorsports Fastest Lap Award#SpanishGP #F1 🇪🇸 pic.twitter.com/xDaHv5hQk8

— Formula 1 (@F1) May 13, 2018
And Ricciardo's lap record is set to stand for a few seasons as next year's regulations, which mandate a less complex front wing and simpler brake ducts, and a bigger rear wing, are expected to cut 1.5 seconds off lap times.
No one will complain if these changes promote overtaking, but there is scepticism through the paddock that they will.
Best of the rest, while the other makes a mess
Kevin Magnussen claimed sixth place to underscore Haas's position as one of the leading contenders in the midfield.
The American team showed excellent pace in pre-season testing in Barcelona and based on early-season results it would seem that low-fuel runs or some kind of testing trickery were not behind their headline times in testing.
But Romain Grosjean again failed to impress, spinning on lap 1 and by planting his foot on the fast pedal he not only created a smokescreen but also created a chain reaction that resulted in retirements for Nico Hulkenberg and Pierre Gasly (who is perhaps the season's unluckiest driver so far).
No rain in Spain but Alonso claims move of the day
Fernando Alonso dominated the radiowaves, asking his team several times if rain was on the way. Stuck towards the lower end of the points-scoring positions, Alonso's McLaren lacked the pace to trouble the top three teams, as well as Haas and Renault.
The double champ obviously thought that rain would help his chances – but it was not to be despite consistent rainfall in and around Barcelona over the last 10 days. Nonetheless, Alonso showed he's still got it by passing Esteban Ocon around the outside of Turn 3 on lap 7. Although overtaking moves were a rarity on Sunday, Alonso's stood out as particularly brave and skillful.
VIDEO: Alonso on Ocon! AWESOME! #F1 #SpanishGp pic.twitter.com/A97DEx8uqV

— F1Writers™ (@f1writers) May 13, 2018
Other observations
Charles Leclerc has put a slow start to the season behind him and followed up his P6 in Baku with P10 in Barcelona, while showing brilliant racecraft in battling the likes of Sergio Perez and Alonso. If not off to Ferrari in 2019, Haas might be eager to have the young star in their car instead of an underperforming Grosjean.
There were six retirements on Sunday but this wasn't enough for Williams to get into the points. Lance Stroll made a trademark fast start to climb to P12 on lap 1 but he couldn't get any higher than 11th. Sergey Sirotkin, meanwhile, finished 14th and last. He and Grosjean remain the only two drivers to not score points in 2018.
Richard F Rose