Driver Ratings: Azerbaijan Grand Prix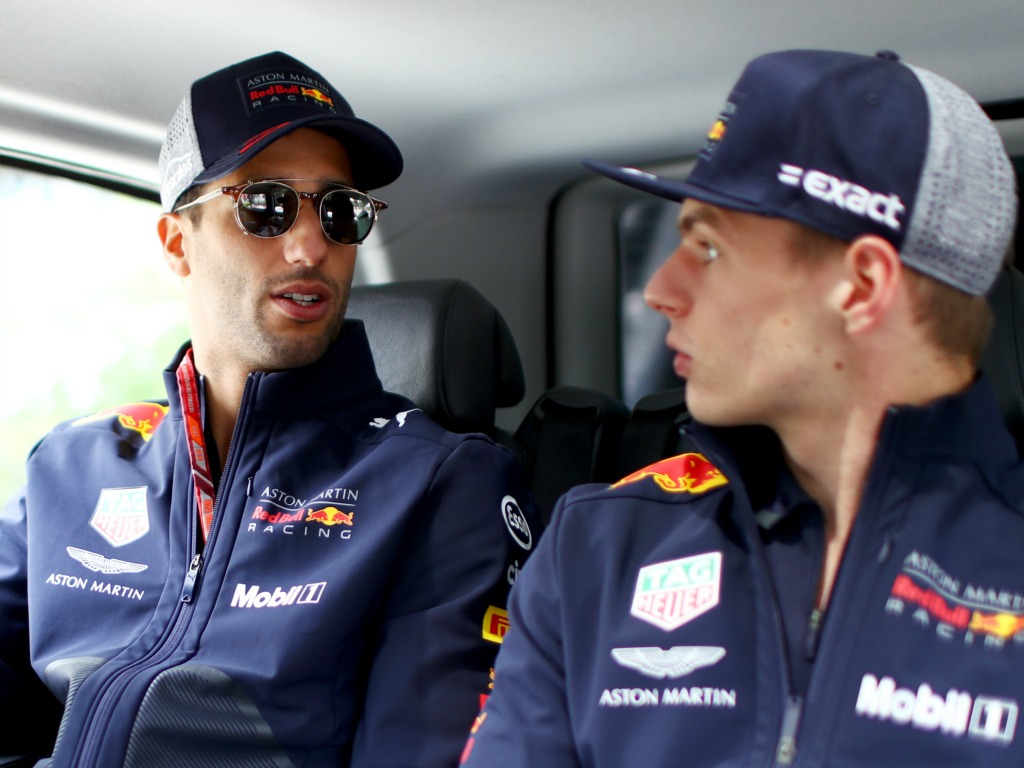 Which drivers stood out from the crowd in Baku and who needs to improve heading into the next race at the Circuit de Catalunya?
Lewis Hamilton: This will not go down as a classic Hamilton victory but he will not care one bit. After a difficult start to the season, he did first show some signs of life with a decent qualifying performance, getting to within a tenth-and-a-half of Vettel.
He struggled to keep up with Vettel for the majority of the race, losing precious time running wide at Turn 16 and locking up heavily at Turn 1. Getting the soft tyres up to temperature proved problematic and looked more vulnerable losing position to Valtteri Bottas as opposed to taking the fight to Vettel.
But then, Lady Luck looked down favourably on Hamilton for once this season, taking full advantage of Sebastian Vettel's off at Turn after a brave, too brave, overtaking attempt and then being on hand to take the race lead after Bottas picked up the most unfortunate of punctures.
Hamilton is still not really close to showing his best, and yet he heads to Spain with the World Championship lead. He'll take it. 7.5
Kimi Raikkonen: Another eventful weekend for Kimi, who recovered very well in the end to secure a third consecutive second-place finish.
He missed another great chance to qualify on pole, two tenths up on Vettel through middle sector and then he threw it all away at T16. One positive to say is that at least he is getting into these positions and does look an awful lot more competitive this season.
The Finn started on ultrasoft tyres compared to the five on the grid in front of him starting on supersofts, but Plan A went straight out of the window on the very first lap after contact with Esteban Ocon in the Force India at Turn 3. It forced Raikkonen onto the softs and made slow but steady progress on them as he too was struggling to get them warmed up.
The Safety Car and double DNF from Red Bull worked hugely in his favour this time but there is no doubt that we are seeing a driver more in tune with his car this year. 7.5
Sergio Perez: Never give up. And Perez was the absolute proof of that after finishing on the podium for a second time in Baku. He picked up damage in the dramatic opening and handed a five-second penalty for overtaking before the Safety Car line, leaving him with a mountain climb in the Azerbaijan capital.
But the Mexican chipped and chipped away, benefitted from the second Safety Car and got the job done by getting past Vettel, who destroyed his tyres trying to re-take the race lead from Bottas.
Force India have been improving in recent races and whilst there is still work for them to do, this represents a huge step in the right direction and tells the rest of the midfield that they not willing to go down without a fight. 10
Sebastian Vettel: It was all looking pretty rosy for Vettel in Baku. Three pole positions in a row and flew out of the blocks both at the race start and the first Safety Car restart. While he appeared to have neutralised the threat of Hamilton, it was Bottas who emerged as his main rival, the softs proving once again to be a bit of a pain to get temperature into them when Vettel pitted by lap 30.
Vettel was surprised to still see himself behind Bottas by the time of the Safety Car restart and that was certainly weighing on his mind as he tried a hugely ambitious move on the Finn at Turn 1, suffering a huge lock-up and losing valuable places and points as a result. He could have just swallowed his medicine and claimed a podium spot; it would not have been a disaster. 8
Carlos Sainz: An excellent Sunday for the Spaniard, who recorded the best finish of his Formula 1 career with a P5 in Baku. It would have been fascinating to see a full race battle with Nico Hulkenberg, who continues to dominate his team-mate in qualifying, but his battle with the Red Bulls was one of the many highlights. He really took the fight to them on the ultrasoft tyres at the start, fell down to P11 after the pit stops and worked his way all the way back up again. 8.5
Charles Leclerc: Leclerc was arguably the star of the whole weekend in Baku. He cut out his mistakes in qualifying to reach Q2 for the first time in his career and quickly found himself up into the top 10 once the lights went out. But his afternoon just kept on getting better and better, overtaking the likes of Fernando Alonso to bag a wonderful P6 finish – the first points of his F1 career – and hand the first calling card to Ferrari later down the line in what promises to be a very exciting career. 10
Fernando Alonso: A typical afternoon for the Spaniard, who continues to extract every last drop out the MCL33 that is clearly not performing up to pre-season expectations. He kept Stoffel Vandoorne firmly in his place with a four-tenth advantage in qualifying and overcame a double puncture on the first lap, plus damage to the floor, to the diffuser, to the suspension and yet still came home in another excellent P7. Standard Fernando. 9
Lance Stroll: Baku has been pretty kind to Stroll after his podium finish last year, and while he did not reach those same heights this time around it was still another positive performance from the Canadian, who picked up Williams' first points of the 2018 season.
He was only a tenth away from reaching Q3 in another respectable qualifying display and lined up from P10 because of Nico Hulkenberg's gearbox penalty. He quickly gained two places from there and was running largely in the points for most of the afternoon after showing decent enough pace. The only late downer would have been losing a place to Alonso in the late stages. 7
Stoffel Vandoorne: The Belgian was running toward the rear of the field for the vast majority of the weekend and did not look particularly comfortable at all in Baku. He continued to get trounced in qualifying by Alonso and was down in P16 on the grid. He quickly started making amends, though, gaining three places in the initial chaos before the problems, more specifically the cold tyres, started again.
But the second Safety Car allowed him to pit for some more fresh boots and snatched another three places to finish P9. It is now McLaren's third double-points finish in four races so far and whilst it was not great from Vandoorne, he is still contributing to the team. 6.5
Brendon Hartley: Like Leclerc, Hartley is another driver celebrating his first point (s) of his Formula 1 career after hanging on to P10 in Baku. He kept it largely nice and tidy throughout the race, even though the Toro-Rosso Honda did not look particularly competitive this weekend. Still some things for the New Zealander to work on after another breakdown in communication in qualifying. His poor positioning at T15 almost caused what would have been a nasty high-speed crash with team-mate Pierre Gasly and he quite rightly owed him a "massive apology". 6.5
Marcus Ericsson: Ericsson was very close to recording a double-points finish for Sauber which is some going considering he had a less than straight-forward weekend in Baku. Technical issues blighted his practice on Friday and a self-confessed "disaster" of a qualifying left the Swede all the way down in P18. He was then given a 10-second penalty for causing a collision, locked up massively on lap 19 to fall back to second last, and was just half a second from taking the final points spot away from Brendon Hartley in the Toro Rosso. There was still a lot to like about this performance despite the self-inflicted punishment. 7
Pierre Gasly: The Frenchman cut a frustrated figure in the paddock and rightly so after the weekend he has had. His qualifying was ruined by his team-mate and did very well to avoid a huge collision with his reaction speeds, then more drama came his way in the race. After lining up P17, Gasly was all the way up to P7 by the time of the first Safety Car and looked well placed to put his scary qualifying behind him. But then Kevin Magnussen clattered into him on the last lap and was left to limp home in P12. 7
Kevin Magnussen: A really messy weekend for K-Mag after such an excellent start to the season. He couldn't get a clean lap together in qualifying and then picked up a puncture early in Sunday's race to dash hopes of making his way back up the field, which was possible given how team-mate Grosjean was running before his retirement. Magnussen's miserable weekend was rounded off with a 10-second penalty for causing a collision with Pierre Gasly in the latter stages to make his last of the finishers. 5
Valtteri Bottas: Your heart simply has to go out to Bottas. He quietly worked his way in contention with a super smart strategy and getting a lovely tune out of the old supersoft tyres. He looked all set for the race victory after Vettel blew his chance after the second SC restart but a piece of debris not swept up by the marshals caused him to have a puncture at the worst possible time. Incredibly unfortunate not be coming away from Baku without a race win and without a single point. 9
Did not finish
Romain Grosjean: Another weekend to forget for Grosjean, who is now only one of two drivers who is yet to score a point this season. He didn't even get a chance to get going in qualy after his gearbox malfunctioned on his out-lap, meaning he would start Sunday's race dead last. He scratched and clawed his way firmly back into the points, staying out of all the trouble, until he created it all by himself by spinning under the Safety Car trying to warm his tyres up. Talk about throwing it all away. A costly, costly mistake. 5
Daniel Ricciardo: It was coming all afternoon wasn't it? Ricciardo and Max Verstappen were at each other's throats almost all race after they each had their squabbles with the Renault cars. The two Red Bull drivers clanged wheels once, Verstappen made the overcut work as the Aussie struggled with tyre temperatures after pitting and then came the dramatic moment at Turn 1 with Ricciardo slamming into the back of Verstappen, seemingly put off by the Dutchman's double move. Red Bull have blamed them both, though, and it will be interesting to see if this incident has any bearing on Ricciardo's future with the team. Ricciardo did concede after his dressing down that he left his overtaking move to the left too late. 4.5
Max Verstappen: The spotlight was burning brightly on Verstappen after his collision with Sebastian Vettel in China and it will be absolutely blinding now after yet another high-profile accident. The Dutchman simply refused to yield to his team-mate all afternoon and they were losing time constantly in their regular scraps. Not the first time, we saw Verstappen move twice whilst defending and it is far beyond coincidence now that we keep seeing him in these situations. Something has to give. 4.5
Nico Hulkenberg: The Hulk's streak of six consecutive races starting from P7 came to an end through no fault of his own in Baku after receiving a five-place grid penalty for a new gearbox.  Starting from P14, Hulkenberg made up four places straight away in the hectic start and rose all the way to P5 as Renault took the fight to Red Bull. However, all that hard work came to nothing though as he lost the rear at Turn 4 and went into the barrier, ending his solid run of points finishes. 7
Esteban Ocon: Things were looking up for Ocon after an excellent qualifying and almost getting the better of Raikkonen for P6 on the grid. Yet his race was done after just three corners when turning back into Raikkonen after not fully clearing the Finn on entry into it and straight into the barriers he went. Not sure Kimi could have done anything about that as he needed space to turn himself. 5
Sergey Sirotkin: Crashed in FP3 but recovered well to reach Q2 and record his best qualifying of the season so far. That was as good as it got though for the Russian who is continuing to find life in Formula 1 as a pretty unforgiving place. He had to retire on lap 1 after causing a collision with Perez, an incident that he will feel in Spain, too, as he has been slapped with a three-place grid penalty next time out. 4