Which drivers produced the goods in Montreal and who needs to improve heading into the triple-header of race weekends?
Sebastian Vettel: We were all expecting Lewis Hamilton to dominate at his beloved Canada this weekend, but it was Sebastian Vettel who ultimately stole the show and the World Championship lead from the Brit again.
It was a slow start to proceedings for Ferrari and Vettel, in particular, then he produced the goods when it mattered the most. He pumped in two stellar Q3 laps to land Ferrari's first pole in Montreal since 2001 and then completely dominated the race on Sunday afternoon from start to finish. He was untouchable.
He got away off the line very well and the rest, as they say, was history. With Hamilton struggling, Vettel was able to overturn a 14-point deficit into a one-point lead in the standings and that will act as a big confidence boost heading into the busy summer schedule coming up. It was very much a return to form for the four-time World Champion who has had a really blotchy run of results since winning the opening two races.
That being said, this performance was not on a par with his victory in Bahrain, so no full marks on this occasion. 9.5
Valtteri Bottas: With Vettel on a completely different level, second place was as good as it was ever going to get for the Finn – but there were still a handful of positives to take away from his performance.
Like Vettel, he too had a very strong qualifying after being less than a tenth away from grabbing pole position and getting the better of team-mate Hamilton to keep their head-to-head qualy battle (4-3 to Hamilton) tight and respectable.
Once the lights went out, it looked like Max Verstappen was going to get the jump on Bottas for second spot. But, the Finn held his line superbly through the quick left-right combination at T1 and T2 and defended his position very well.
There was one key moment to forget, though, just as Bottas was putting his foot down and eating into Vettel's lead. He undid all the hard work by getting out of shape at Turn 2 and going on the grass as he tried to weave his way through traffic.
A solid job from Bottas, but not a spectacular one. 8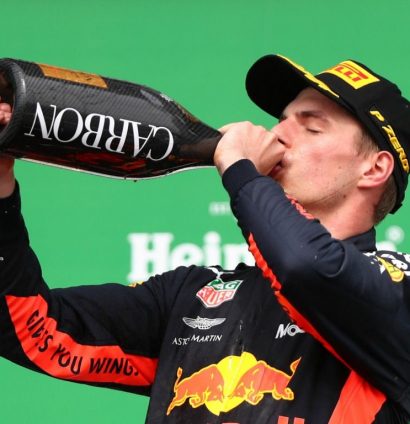 Max Verstappen:
Red Bull boss Christian Horner said Max was arriving in Canada "with a point to prove" after a very messy start to the season and he did exactly that.
After threatening to headbutt someone if more questions were asked about his accidents in 2018, Verstappen would let his driving eventually do the talking at Circuit Gilles Villeneuve.
He found a good rhythm early on by topping all three practice sessions and followed up on Saturday with a blistering Q3 lap to dislodge Hamilton from P3 on the starting grid.
Verstappen was then naturally aggressive off the starting blocks and took the fight to Bottas, crucially keeping it nice and clean throughout their early duel.
He had another sniff of a P2 finish with Bottas going into fuel-saving mode at the end, but Verstappen and Red Bull will have happily settled for an incident-free third spot.
It's taken seven races to put a clean race weekend together; the monkey is finally off Verstappen's back. 8.5
Daniel Ricciardo: After the highs of Monaco, Ricciardo was back in more familiar territory in Canada as he negotiated quite an awkward weekend. There were lingering electronic issues to overcome in practice, the threat of engine penalties hanging over him and, just to add to his frustration, the fastest lap bonus was taken away from him after the checkered flag was waved early.
There were a couple of nice highlights for Ricciardo, though. One was making the overcut stick with a combination of an excellent in-lap and poor out-lap for Hamilton. The other being a great move on Raikkonen at the start, just in case you had forgotten about his supreme overtaking talents. 8
Lewis Hamilton: Given Hamilton's record of seven pole positions and six race wins in Canada, there was a high expectation that it would be 'Hammer Time' once again for the Brit – even without the new engine which has been delayed.
But, what followed was Hamilton's worst result of the season and arguably his worst performance so far in 2018. He fell incredibly flat in a self-confessed "messy" qualifying and letting a Red Bull get ahead of him on the starting grid would have surely stung.
It did not get any better for Hamilton in the race, either. He reported drop-outs in power and was leapfrogged by another Red Bull in Ricciardo to drop to P5. It was touch and go whether Kimi Raikkonen would do the same to him, too.
It will be interesting to see which Hamilton turns up for the start of the triple-header of race weekends. Will he remain down in the dumps or will the weekend give him a kick up the backside now that he has lost the lead in the World Championship standings? 6
Kimi Raikkonen: There has been a lot to like about Kimi's performances this season, but there was nothing good at all about this one in Canada.
He completely fluffed it in qualifying with a very scruffy exit at Turn 2 on his final Q3 lap and made another poor start in the race itself with Ricciardo finding a way through.
From there, we were 'treated' to the usual uneventful long first stint before he drifted all the way back down to P6. 6
Nico Hulkenberg: 'The Hulk', armed with fresh haircut, is getting back into the groove again after back-to-back DNFs in Baku and Spain.
He finished best of the rest in qualifying and did the same again come Sunday, getting back ahead of Esteban Ocon in the Force India. His P7 finish puts him level with Fernando Alonso on 32 points in the intriguing battle for best midfield driver. 8
Carlos Sainz: It's now six points finishes out of seven and five in a row for the consistent Spaniard but, despite his good work, he is still firmly in Hulkenberg's shadow so far this season.
His race afternoon also consisted of battling the Force Indias, getting involved in a squabble with Sergio Perez and also getting ahead of Ocon just like his team-mate did. 7.5
Esteban Ocon: The Frenchman kick-started his weekend by absolutely trouncing his team-mate Sergio Perez in qualifying by six tenths to make it 5-2 to Ocon this season. He has really improved in this area after showing frailties last year. A difficult race followed, though, as a slow pit stop and the competitiveness of Renault saw him have to settle for a P9 finish. 7.5
Charles Leclerc: It's getting to the stage already where Leclerc is proving to be far too good for Sauber. A fourth consecutive appearance in Q2 was followed up with another excellent display in the race itself.
He forced his way into the points places, held his own once again in a battle with the mighty Fernando Alonso and overcame issues with his brakes to keep the likes of Pierre Gasly and Romain Grosjean from nicking the final point from him. 9
Pierre Gasly: Gasly was swimming against the tide in Canada after having to revert to an old Honda power unit for qualifying and falling to the back row of the grid when he receive engine penalities for getting a new upgraded unit ahead of the race – yet he still emerged with plenty of credit.
He made up lots of ground at the start – helped by Brendon Hartley and Lance Stroll's opening lap crash – and put himself into points contention with very consistent pace from then on. Had his new engine behaved from the outset, the Frenchman could well have had a third points finish to his name this season. 7.5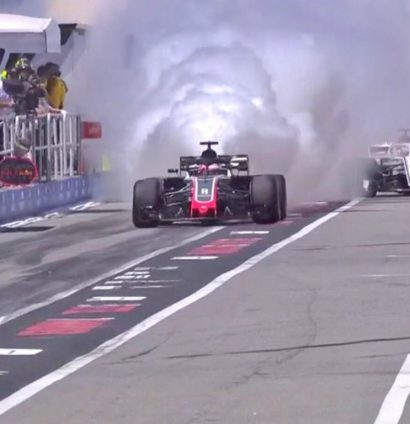 Romain Grosjean: Grosjean has to take most of the blame for why he still has no World Championship points to his name, but this weekend was just pure bad luck. After his run-in with a groundhog on Friday, an engine blow-out ruled him completely out of qualifying and forced him to start from the very back of the grid.
He put together a massive 48-lap first stint, praying for another Safety Car to appear so he could potentially keep hold of a points finish that he had worked his way up to. But, it never came, leaving Grosjean down in P12 and still searching for those elusive first points. 7
Kevin Magnussen: K-Mag did well to qualify in P11 and free tyre choice would have given him hope of forcing his way into points contention. However that did not go as planned, losing precious places at the start and getting caught up in Perez/Sainz clash which allowed Alonso to sneak down the inside of him. A race to forget for Magnussen. 6.5
Sergio Perez: The same can be said for Perez, too. All hope of a points finish for him quickly evaporated after his contact with Sainz which had him sliding sideways at Turn 2. He did well to rescue to the car and continue, but the incident completely compromised his race by forcing him into a two-stop strategy. 6
Marcus Ericsson: Ericsson ruined his chance of potentially joining Charles Leclerc in Q2 by damaging the right side of his car via the wall on his final hot lap. He was largely anonymous in the race and Leclerc continues to upstage his much more experienced team-mate. 5
Stoffel Vandoorne: Just 0.009s separated Van and Alonso in Q2, but it's now 7-0 to Alonso in qualifying battle this season and the run goes all the way back to 12 races. Usually McLaren have better race pace compared to qualifying, but the Belgian was not able to display any of that after picking up a puncture on the opening lap. A complete non-event after that moment. 5
Sergey Sirotkin: It is turning into the same old story for the Russian rookie, who said it was "impossible" to keep up with the rest of the field in the FW41 which quite frankly belongs in the bin. He was last of the finishers again and you have to wonder whether he will get a single World Championship point this season. 5
Did not finish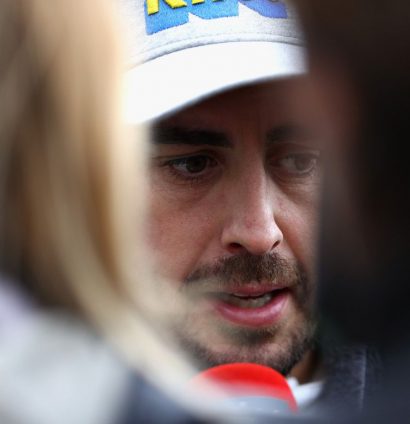 Fernando Alonso: The speculation continues to mount that Alonso will head off to IndyCar next season and, after this weekend, who can blame him. The MCL33 was an embarrassment in qualifying, with a Toro Rosso and Sauber both getting ahead of the Spaniard on his 300th Grand Prix appearance.
And just as Alonso was doing his usual of dragging the car into points contention, he had to retire with an exhaust issue. Roll on Le Mans. 7
Brendon Hartley: That was not the weekend Hartley needed with his Formula 1 career clearly on the line following Toro Rosso's rejected approach for Lando Norris.
The New Zealander gave himself a decent foundation with a Q2 appearance and a P12 starting spot, but his race was over after just half a lap due to being squeezed into the wall by an out-of-shape Lance Stroll. A nasty crash followed, but thankfully Hartley has been given the all-clear and should be given another chance to impress in France. 6
Lance Stroll: Not the home race Stroll would have wanted, but he was just as poor as the car was. He continues to over-drive with too much movement going into the steering wheel and he struggled with the 'Wall of Champions' (which is going to need renaming) all weekend because of his style.
He got off to a good start in the race, but the oversteer at the flat-out Turn 5 would result in a very early exit for both him and Hartley. 5