Which drivers excelled at the unfamiliar Circuit Paul Ricard and who got their triple-header of race weekends off to a poor start?
Lewis Hamilton: Mercedes are back…and so is Lewis Hamilton. After a below-par performance at his beloved Canada, this was the perfect response from the Brit who re-takes the World Championship lead from Sebastian Vettel.
He put a gem of a final sector together to pinch pole position – the 75th of his career – from Valtteri Bottas and managed to stay clear of all the carnage at the start. He controlled the race from there and the bad weather just about stayed away for Hamilton to have a stress-free race. 9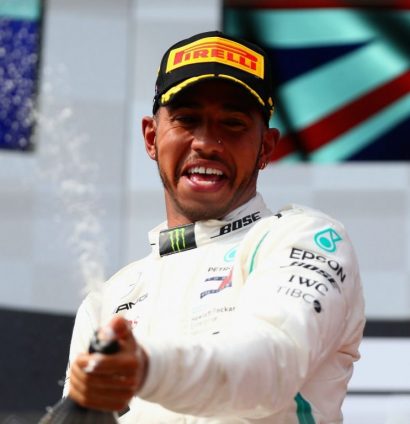 Max Verstappen: The Dutchman is starting to build some momentum now with back-to-back podium finishes, his best result of the year and another decent performance in qualifying. He too avoided the chaos at the start and got himself up to second place in the process. He was unable to put any sort of pressure on Hamilton, especially with the race staying dry, but, some "annoying" vibrations aside, it was a relatively straightforward race for Verstappen. He will want plenty more of those considering his start to the season. 8
Kimi Raikkonen: Two contrasting days for Raikkonen with his Ferrari future very much under the spotlight again in recent weeks. Another messy qualifying, in where he completely messed up Q3 and was called "desperate" and "erratic" by a compromised Kevin Magnussen, was followed up with a solid race performance.
He found himself behind his potential replacement Charles Leclerc once the Safety Car peeled back into the pits but put together a decent recovery with a long first stint on the ultras and ultimately made amends for his dismal qualifying with a podium finish, which was of course helped by the troubles of his team-mate Vettel and Ricciardo, whose race unravelled a little bit towards the end.  7
Daniel Ricciardo: The Aussie looked poised to make it a double podium for Red Bull at one stage but, alas, it just wasn't to be. Ricciardo came out behind Sebastian Vettel after his pit stop but soon got that place back with a sweet overtake on his former team-mate. However, he ultimately lost out on the final podium spot due to some debris taking away part of his front wing and leaving him very vulnerable to Raikkonen. 7
Sebastian Vettel: This was a weekend to forget for Vettel, who has seen a one point World Championship lead turn into a 14-point deficit. Starting from P3, he got off to a very good start and looked to have gobbled up Bottas at the first corner. But, he carried too much speed up the inside, locked up, and massively compromised both his race and Bottas', too.
The wing/nose damage sustained in the incident put him right at the back of the grid at the restart and what could have been a challenge for the race victory quickly turned into a recovery mission. The soft tyres he changed to tailed off rapidly yet his pace on them suggested a fourth win of the season would have been a very realistic aim. He managed to limit the damage somewhat with a P5 finish. His five-second penalty for the first lap clash was essentially covered by Bottas' slow second pit stop.
Vettel was awarded the 'Driver of the Day', but we are not really sure how. Thankfully for him, he does not have too long to wait to try and put things right again. 6.5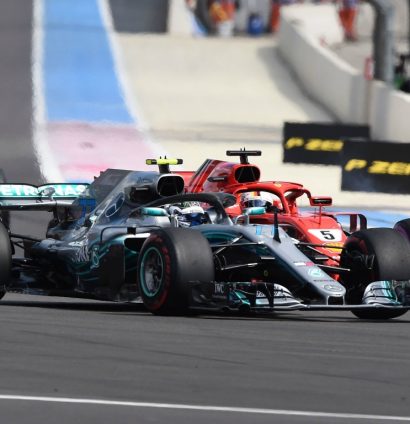 Kevin Magnussen: A second P6 finish of the season for K-Mag and delivers Haas' first points since the Spanish Grand Prix to put them right on the tails of Force India in sixth spot. Magnussen was also rewarded by staying out of trouble early doors and was as high as P5 at one stage. There was a nice overtake on Stoffel Vandoorne thrown in there and the late VSC  slightly aided his attempt to keep the recovering Bottas behind him. At least someone can be relied upon at Haas. 8
Valtteri Bottas: This race weekend would have felt like a kick to the stomach for Bottas. He probably thought he did enough to clinch pole position, only for it be stolen away from him at the last second by his team-mate Hamilton.
And then all hopes of a Mercedes one-two on Sunday were crushed when Vettel caused him to pick up a rear left puncture and all the way at the back alongside the German when the track went green again. While Vettel was able to make relatively quick progress through the field, Bottas was further restricted by floor damage sustained in the collision and, to top it all off, a slow second pit stop and a late Virtual Safety Car limited the Finn to a P7 finish. 7
Carlos Sainz: Sainz can cast himself very unfortunate to finish down in P8 when he had both Kevin Magnussen and Valtteri Bottas behind him with just a handful of laps to go. You never want to lose engine power, but it would have hurt even more to experience that with the chequered flag almost in sight. The Spaniard was running as high as P3 after the first-lap carnage and qualified best of the rest on Saturday in tricky conditions. A good weekend for him, slightly undone by a pesky reliability issue. 7.5
Nico Hulkenberg: The Hulk admitted after qualifying that he "hadn't found the love or harmony I usually have" with his Renault car in France, but a little bit of that would have come back after doing his part in delivering a double points finish for Renault. From P12, Hulkenberg made light work of Sergio Perez and Romain Grosjean to ensure his run of points finishes extended to three races. 7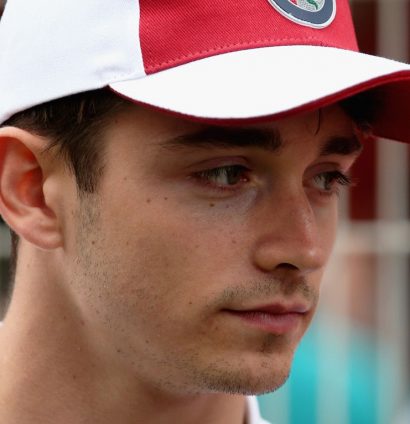 Charles Leclerc: This guy is the real deal. Leclerc is doing his chances of getting that Ferrari seat as early as next season no damage whatsoever after a stunning P8 in qualifying – the first time Sauber has been in Q3 since Monza 2015. He found himself ahead of Raikkonen when the Safety Car was deployed but was vulnerable to attack for most of the afternoon after that. He still did enough, though, to bag his fourth points finish of the season and second in a row. 8.5
Romain Grosjean: The wait for his first points of the 2018 season continues for Grosjean. He still puts it down to bad luck, but we are not entirely convinced. His latest crash, this time in Q3, put a swift end to all hope of perhaps finishing best of the rest in qualifying and then he was at the heart of the first-lap drama by causing a collision with Esteban Ocon. A five-second penalty would have stung, so too the fact that he finished just outside the points in P11. 5
Stoffel Vandoorne: The Belgian spent most of his race fighting with Grosjean, but even with the Frenchman's penalty he still was not able to get ahead of him, such is the continued woefulness of the MCL33. It's now 8-0 to Fernando Alonso in the qualifying battle. Show us at least something, Stoffel! 5.5
Marcus Ericsson: Recovered well to get himself into Q2 after his crash in FP1, but even when doing that he was still upstaged by the superior Leclerc with his performance. Managed to undercut Hartley with his pit-stop to come home in P13. 5.5
Brendon Hartley: After weeks of intense speculation about his future, it seems Red Bull are going to give the New Zealander a little more time. What he did not need was a whole new engine fitting after a blow -out in FP2 to leave him starting at the very back of the grid. The DNFs helped him get up to a slightly more respectable P14, but he is in desperate need of a clean weekend to showcase what he do on a even footing. 5.5
Sergey Sirotkin: Another largely uneventful weekend for the Russian rookie in the rotten Williams. The team tried to take advantage of the first lap drama by pitting under Safety Car conditions but points will have to remain a distant dream for Sirotkin, who was handed a five-second penalty for driving unnecessarily slowly behind the SC. The stewards seemingly unaware he is driving the FW41. 5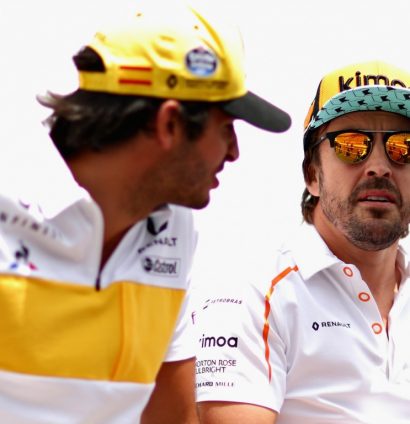 Did not finish
Fernando Alonso: Welcome back to Formula 1, Fernando. From the high of winning Le Mans to the big bump of dead last of the finishers at the French Grand Prix had he not retired on the final lap. We have seen the two-time World Champion work miracles in the, let's face it, slow McLaren car but there was not even the slightest sign of that this weekend.
Alonso was unable to drag the car out from a Q1 exit and a spin when been overtaken by Vettel left the Spaniard with his work cut out. With brake and tyre issues then developing, Alonso gave up all hope and pitted for some glory laps toward the end to try and make a statement with the fastest lap. But, that plan went awry, too, limping home via the pit lane with a rear left puncture.
Please leave at the end of the season. It's for your own good. 6
Lance Stroll: Stroll stated he wasn't "a big fan" of the Paul Ricard circuit in his race preview and that will no doubt remain the case after this weekend. Another scruffy qualifying was followed up by his tyre going pop with just two laps to go. It was another case of some bad driving mixed with a bad car. 5
Sergio Perez: The Mexican was on the cusp of getting back into the points following a poor performance from Force India in qualifying on Saturday. But, he was forced to retire on lap 30 after the garage spotted an issue with that brand new Mercedes engine. 5.5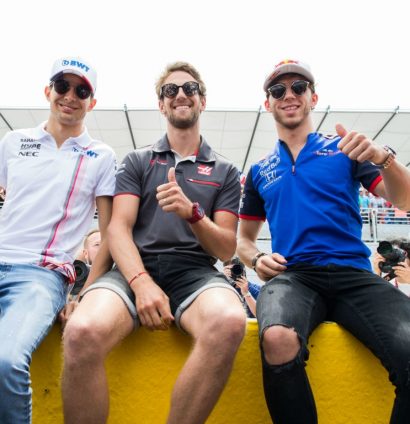 Pierre Gasly: Starting from P14, Gasly vowed to "try everything to get back in the points" but that dream came to a very abrupt end after hitting fellow countryman Esteban Ocon in the first couple of corners. It's a second first-lap retirement of the season for the Frenchman. 5
Esteban Ocon: No joy for Ocon on his home Grand Prix weekend, either. He missed out on Q3 by a mere 0.020 seconds and then his race was all over in a instant. Ocon said that a collision with Grosjean at the start would have ended his race anyway, regardless of the coming together with Gasly seconds later. 5