How did the 20 drivers perform at the crown jewel of the Formula 1 calendar? We assess each driver's performance in Monaco…
Daniel Ricciardo: If ever you needed a reminder that nothing is guaranteed come race day in Formula 1, here was Daniel Ricciardo to give you a quick refresher.
The Aussie was quickest in FP1, FP2, FP3, qualifying and looked to be cruising to his second victory of the season…until we heard the words "losing power". In the blink of the eye, the gap he built to Sebastian Vettel had all-but disappeared and he had to nurse the car home for the best of 40 laps. What looked like been a breeze of an afternoon, turned into a excruciatingly tense one.
But, he got the job done with a super professional drive, managing his tyres and his poorly car to perfection. And, after a botched pit stop denied him victory here in 2016, this win in Red Bull's 250th race will feel even sweeter. 10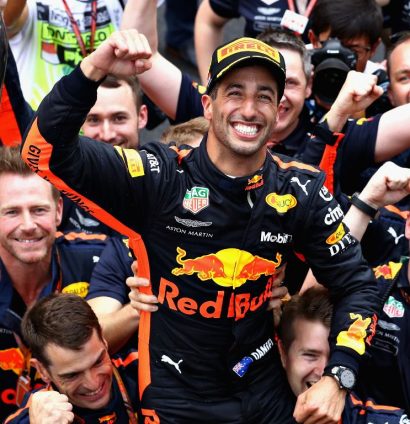 Sebastian Vettel: Vettel must have gone through a whole range of emotions during the weekend. With Red Bull, and more specifically Daniel Ricciardo, untouchable in qualifying, the German did well to leapfrog Lewis Hamilton for P2 on the grid as it ultimately allowed him to eat into his World Championship lead a little bit.
Of course Vettel came into firm contention for the race win after Ricciardo experienced engine issues, but his tyres were not in a good enough state to launch a prolonged attack on the struggling Red Bull. Getting his tyres up to temperature also proved to be a big issue as Vettel fell completely away after the VSC ended late into the afternoon.
All things considered, Vettel will settle for second, especially after losing a lot of ground to Hamilton in the past few races. 7.5
Lewis Hamilton: Taking Mercedes' huge problems at Monaco 12 months ago into consideration, Hamilton will also be reasonably happy that he was able to take the final step on the podium. You would not find one person at Mercedes who was confident of race victory in Monaco unless a miracle happened.
Hamilton's main priority was to try and wrestle back P2 from Vettel, which was provisionally his in the first part of Q3 on Saturday. Mercedes tried to trigger that by pitting the Brit early for an attempted undercut, but that did not work out and left Hamilton complaining for much of the afternoon about how quickly his tyres were degrading on this unforgiving street circuit.
From his perspective, at least he avoided a disaster of a Monaco weekend like last year and finished in the same position he started the race. His World Championship lead still firmly intact. 7.5
Kimi Raikkonen: Strategy proved to be Raikkonen's undoing with victory in sight last year in Monaco, but there was no chance of that happening this time around. He was pretty average in qualifying and was not able to make any impression in what was a quiet race for Kimi. Started P4, finished P4, and doing enough to keep the likes of Valtteri Bottas and Esteban Ocon behind him. 7

Valtteri Bottas: Bottas really struggled with grip on the hypersofts in qualifying and found himself two tenths and two places behind Lewis Hamilton for the Monaco Grand Prix. Starting from P5, and like the others around him, Bottas was forced to settle for what he had with no real overtaking opportunities presenting themselves. Every time Bottas got close to his compatriot, those pesky grip issues returned. 7
Esteban Ocon: This was much more like it from the Frenchman after a rather dreary start to the season. With Max Verstappen out of the picture in qualifying, Ocon held his nerve to grab P6 in qualifying and set up the platform to finish best of the rest in the race come Sunday. He was gaining all the time on Bottas in the latter stages, but we all know the overtaking difficulties that come with the Monte Carlo circuit. It's a timely confidence boost for Ocon, though, who also did his relationship with Mercedes no damage whatsoever by letting Hamilton by with an easy pass just after the Brit had pitted. 9.5
Pierre Gasly: If Ricciardo did not have to pull out one of the most memorable drives of his career then Gasly would have surely been crowned the driver of the day in Monaco. His weekend got off to an excellent start after putting Toro Rosso back in Q3 for the first time since his awesome performance in Bahrain, and things got even better from there.
The Frenchman did a whopping 34 laps on the hypersoft tyres in his opening stint and his deserved reward was a P7 finish. It was made a little easier by Fernando Alonso's retirement but, take nothing away from him, that was a special drive. 10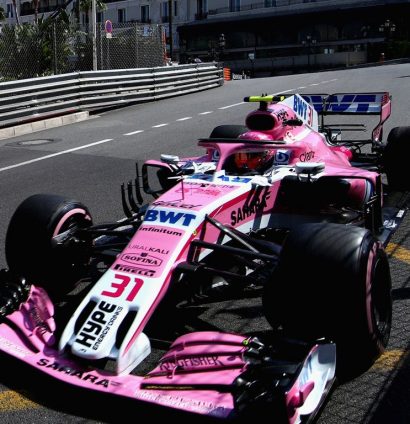 Nico Hulkenberg: For as impressive as 'The Hulk' has been in recent times, he arrived in Monaco with 50 per cent DNF rate after failing to finish six out of his last 12 Formula 1 races. After being taken out by Romain Grosjean in Spain, Hulkenberg would have been eager to put that wasted Sunday afternoon behind him, but a costly mistake in qualifying – a lock-up at T10 – denied him a place in the top-10 shoot-out.
From P11, though, he was first to have free choice of starting tyre and that allowed him do 50 laps on the ultrasofts to get him firmly back into points contention. And he was able to exactly that, especially as team-mate Carlos Sainz played the team game very well to allow the faster Hulk to go past him unchallenged with Verstappen breathing down their necks. 8.5
Max Verstappen: Max isn't counting his minor collision with Lance Stroll in Spain, but we are. It's now six consecutive race weekends without a clean run throughout for the Dutchman, whose FP3 crash left him all the way down at the very back of the grid.
Starting alongside Romain Grosjean and Kevin Magnussen, the expectation was when and not if Verstappen would be involved in a collision again, but what followed was a very mature drive from P20 to P9, redeeming himself slightly.
We say slightly because it is clear that Verstappen needs to work hard and improve something, his mentality, his racecraft, because the harsh reality is is the Dutchman should have been starting on the front row and battling his team-mate Ricciardo for race victory. Max had zero points after qualifying, so a 6/10 here is not a bad effort. 6
Carlos Sainz: The Spaniard out-qualified Nico Hulkenberg for the second consecutive race but for the first time on merit this season – showing that he is in fact capable of getting one over his German team-mate. Lining up from P8, Sainz had some work to do to get back in the points after the pit-stop phase had passed and his life was made even harder with Verstappen on a road to redemption behind him.
Sainz will get plenty of slaps on the back for allowing the quicker Hulkenberg ahead of him in the race and held on for the final points finish. On reflection, Sainz will see this as a poor race, as the decision to pit him on Lap 15 for ultrasofts rather than supersofts left him incredibly vulnerable. 7
Marcus Ericsson: The Swede went under the radar for much of the weekend. Outclassed by his team-mate Charles Leclerc in qualifying again but going on to staying out of trouble in Sunday's race and be within touching distance of a second points finish of the season. 7
Sergio Perez: It's been a weekend to forget for the Mexican at a race that has served him well in the past. Perez would have had hopes of re-joining team-mate Ocon towards the very top of the midfield, but a very slow pit stop dashed all hopes of a third consecutive points haul this season. 6
Kevin Magnussen: A shock to the system for K-Mag as he spent much of the weekend in Monaco mixing it with the back markers. Starting from P19, he was able to recover to a more respectable P13 and was last of the drivers not to be lapped.
But, given what we know Haas are capable of this season, the Dane will be wanting to forget about this race as quickly as possible and hope the team are more like their usual selves in Canada. 5.5
Stoffel Vandoorne: It's now Alonso 6 Vandoorne 0 in the McLaren qualifying 'battle'. If this was a boxing match; the referee would have stopped it. A self-confessed "not so perfect" qualifying lap left the Belgian three tenths behind Alonso and P12 on Sunday's grid.
Alonso was showing that the MCL33 was capable of some points in Monaco, but Vandoorne is continuing to lag behind. He got jumped at the start by Sirotkin in the barge known as the FW41 and only got that place back after the Russian was handed a penalty. He eventually fell two places overall from P12 to P14. 5
Romain Grosjean: Grosjean was reassured that his future at Haas was not under threat after being solely at fault for consecutive DNFs in Baku and Spain.
But, the Frenchman's task of making amends and collecting his first points of the season was made even harder as he arrived at possibly the worst circuit on the calendar to take a grid penalty at.

He lined up from P18 as Haas really struggled for pace in Monaco and were forced to remove bits from their bargeboard as they were too fragile to take on the Monaco kerbs. With all that going against him, it was always going to be very unlikely for the Frenchman to end his point-less streak, which now extends to 10 races in total and is the longest current streak on the grid. 5
Sergey Sirotkin: It has been yet another pretty rough weekend for the rookie and yet it has been his best performance to date.  Sirotkin did very well to get into in Q2 and qualify P13 on the grid, and got off to a good start too by getting the jump on Vandoorne.
But then the curse of Williams struck. Sirotkin was given a 10-second stop/go penalty as his wheels were not fitted at the three-minute signal before the race and then was placed under investigation again as the FIA looked to see if the mechanics worked on his car whilst serving the penalty.
While there was no further action taken, the damage was already done and Sirotkin was soon back in the familiar position at the very back of the grid. Unfortunate, as he did show some signs of encouragement this weekend. 6.5
P16 🇷🇺 Sergey Sirotkin

P17 🇨🇦 Lance Stroll

A difficult, disappointing and unfortunate afternoon, but we won't give up!#F1 pic.twitter.com/ubpPpQIJKN

— WILLIAMS RACING (@WilliamsRacing) May 27, 2018
Lance Stroll: "What's the point of even racing?" The words of Lance Stroll after getting frustrated by the blue flags, which he saw a lot earlier than usual after picking up a puncture on Lap 10.
Those stroppy radio messages would have continued long into the afternoon after the Canadian experienced another problem at the mid-way point of the race and was forced into a second pit stop. After improved performances in Spain and Baku, Monaco has brought Stroll crashing back down to earth with a big old bump.
If he could ditch the spoilt brat persona he would probably have a few more sympathisers with the current state of affairs at Williams. 5
Did not finish
Brendon Hartley: With the rumours still swirling around about his Toro Rosso future, the New Zealander continues to find trouble and trouble continues to find him. Yellow flags and traffic problems ensured Hartley exited Q1 for a fourth time this season, and the Monaco departure would have hurt even more as Gasly was able to showcase what the Toro Rosso was capable of in Q3.
Hartley then lost his front wing on lap one and was given a five-second timed penalty for speeding in the pit lane. Even with all the chaos again, he was running P12 and set for a good little fight with Charles Leclerc until his rear wing was take clean off by the Sauber driver. 5
😖 A dramatic end to @Charles_Leclerc's maiden race on home soil #MonacoGP #F1 pic.twitter.com/dnKKZsgvbx

— Formula 1 (@F1) May 27, 2018
Charles Leclerc: A third consecutive points finish of the season was going to be a bit beyond F1's latest rising star but he still deserves credit for getting the Sauber car into Q2 yet again. His first home race came to a very abrupt end when his brakes failed at the Nouvelle chicane to put an end of getting another decent result. 6
Fernando Alonso: Alonso's run of points finishes from the start of the season is over. After missing last year's race in Monaco to take part in the Indy 500, the Spaniard strolled straight back into action in Monte Carlo by qualifying P7 like it was nothing. Another P7 finish looked on the cards in the race, too, until his gearbox gave out on Lap 53 and he pulled up at Ste Devote. 8