Which drivers stood out at the Circuit de Catalunya and who has work to do heading into Monaco?
Lewis Hamilton: "I want to come here and deliver the ultimate performance and get the win," said Hamilton after qualifying and he did just exactly that. After stopping Sebastian Vettel's streak of pole positions with two blistering laps in Q3, Hamilton controlled the race from start to finish in a dominant display that we are all well accustomed to.
After the Safety Car restarted he blasted away from the chasing pack and never looked back once Max Verstappen peeled away into the pits after his long first stint. His win in Baku was fortuitous, but there was no luck involved here. 9
Valtteri Bottas: Another solid performance from the Finn who was initially right on Hamilton's heels in qualifying and just four hundredths of a second from taking pole position away from Hamilton. Bottas lost a place at the start to Vettel and only a slow pit stop prevented him from taking it back just before the halfway point.
However, with Ferrari's risky strategy not working out as planned and Red Bull only able to try and put the squeeze on him into a two-stop, Bottas looked after his medium tyres well, making them last the best part of 45 laps to bring home the first Mercedes one-two of the season and gain valuable ground ahead of Ferrari in the Constructors' Championship. 8
Max Verstappen: The Dutchman has been desperate for a clean weekend and he almost got one after damaging his front wing endplates when coming into contact with Lance Stroll during the race. But, whilst previous incidents have had massive negative ramifications, Verstappen was able to get his head down, avoid pitting again, and punch in some seriously quick laps to keep Vettel at bay for the final podium spot – his first since his win in Mexico last year. A very welcome return to form. 8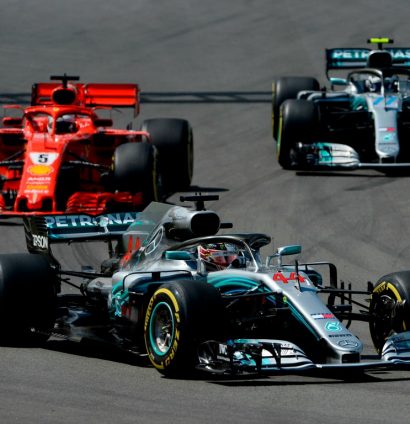 Sebastian Vettel: It is two races in a row now where Vettel has dropped points and, after holding a 17 point gap to Hamilton after Bahrain, he now finds himself 17 points behind. How quickly it can all change.
Sunday afternoon started very well for Vettel, getting off to a super start and overtaking Bottas down towards the long run to Turn 1. But then came the first of two questionable strategy calls from Ferrari as he was first to trigger the pit stops between the front-runners. He got caught up behind Kevin Magnussen on re-entry and almost gifted the place back to Bottas but for finding a lovely gap between the Mercedes and the Haas just as the Finn was returning to action.
Yet Vettel did end up losing more precious points as Ferrari brought Vettel back in for fresh mediums during the Virtual Safety Car period. He got held up with Sergio Perez also pitting and Verstappen was able to squeeze ahead of the German just before Turn 1. Vettel was reportedly not keen on the switch to the Plan B and it didn't take a genius during the race to work out why.
So another frustrating P4 for Vettel but, even though he had to take blame for that finish in Baku, he is completely without blame here and questions will be asked of the Ferrari strategists. He looked set for a decent enough race on Plan A. 7.5
Daniel Ricciardo: The Aussie has been front and centre of attention for the previous two races but was largely anonymous throughout the Spanish Grand Prix. He initially struggled for pace after the Safety Car restart but recovered to keep hold of his P5 position. 6.5
Kevin Magnussen: Magnussen is still not winning any friends on the grid after a clear block on Charles Leclerc which he is was very lucky not to be penalised for in free practice. He did let his driving do the talking again, though, in qualifying, after finishing best of the rest in a very creditable P7 and then he earned that tag again in a very lonely race come Sunday. But when you come home as high as P6, he will not care one bit if his race was eventful or not. Have to take a point off, though, for that completely unnecessary block on Leclerc. 7
Carlos Sainz: Starting from P9 on the grid for the fourth time out of five races in 2018, he out-qualified Hulkenberg for the first time this season – but it was not really on merit after taking into consideration the German's problems with fuel pressure.
After a lock-up at the very first corner and an early squabble with compatriot Fernando Alonso, Sainz was forced to bide his time behind Marcus Ericsson on his longer first stint before being able to fully concentrate on bringing home some solid points for Renault. He had Alonso to contend with again at the end of the race, but kept him behind to ensure that the Enstone team leap ahead of McLaren for fourth spot in Constructors' heading into Monaco. 8
Fernando Alonso: Five races. Five consecutive points finishes for Alonso after cramming in 6 Hours of Spa last weekend. He is a machine.
Much has been made of McLaren's upgrades coming into this race and although Alonso is happy with the car, there is still a clear, clear gap to the top three and to the Red Bulls with the same engine in particular. And with that it is going to be down to Alonso to continue to drag the MCL33 beyond its expectations with his unquestionable elite talent.
He made a great move on Esteban Ocon after the Safety Car restart before his main battle with Charles Leclerc ensued. Once past the Sauber driver for P8, he had a late look at Sainz for P7 towards the end but that head-to-head came too little, too late.
Alonso wasn't as impressive as previous races, but still a very good showing from the two-time World Champion, who McLaren will be desperate to keep hold off next season. 7.5
Sergio Perez: Major tyre issues in Q2 on Saturday meant that Perez had a difficult afternoon in store starting from P15 on the grid. Whilst pitting again the under the Virtual Safety Car did not work in Vettel's favour, it did help the Mexican make a late surge on the soft tyres to earn a pretty respectable P9 finish, although Force India on the whole will be aiming for much, much higher. It was by no means an easy feat for Perez either as he collected the debris from Verstappen's broken end-plate which dragged along the surface until the end of the race. 7.5
Charles Leclerc: Signs of consistency now from the rising Ferrari star in both qualifying and the race after posting back-to-back Q2 appearances and consecutive points finishes, which is made all the more impressive considering he is achieving these feats in a Sauber.
Leclerc did benefit an awful lot from the Grosjean/Magnussen/Gasly incident on lap one but he still had to scratch and claw his way through the race afterwards to keep hold of a top 10 finish. He defended superbly well from Alonso for large parts of the afternoon and his reward of another point to his tally will feel very sweet. The onlooking Ferrari team will be licking their lips. 8.5
Lance Stroll: We are all very aware now just how bad the FW41 is but, after earning his first point in Baku, Stroll is back to not covering himself in much glory after his crash in Q1 at Turn 12. You know it's bad when even Jolyon Palmer of all drivers is criticising you.
It was very much a case of back to reality in the race, too, plodding around in that devil of car. His only incident of note was his brief contact with Verstappen. 5
Marcus Ericsson: A half a second gap to a rookie in qualifying is never a good look but the Swede is in real danger of being overshadowed by the baby-faced Leclerc after his exploits for a second straight race weekend. Ericsson did defend pretty well from Sainz, but he soon fell back down the pecking order to P13 after his long, long first stint on the mediums. 5.5
Brendon Hartley: Hartley's weekend began to unravel in FP3 after a huge crash into the barriers at Turn 9; the New Zealander exploring track limits a little too much after clipping the dirt on entry into the high-speed corner. Although he was given the all-clear, his car was not ready again in time for qualifying and had to start Sunday's race from the pit lane.
From there it was another largely uneventful race for Hartley, who came to a grinding halt just as the checkered flag started to wave. With rumours circling that Pascal Wehrlein is waiting in the wings for a Formula 1 comeback with Toro Rosso, Hartley is going to need to start showing some glimmer of hope or else he will become the next victim of Red Bull's cut-throat approach to their driver line-ups. 5
Sergey Sirotkin: The Spanish Grand Prix was always going to be a source of frustration for Sirotkin. The rookie had a three-place grid penalty to contend with after being found "wholly responsible" for the first-lap collision with Sergio Perez in Baku.

Sirotkin then had to wait until before he could hop back into his FW41 as a certain Robert Kubica was given one of his three allocated FP1 slots this season. Another double Q1 knock-out followed on Saturday and then another non-event in the race itself came on Sunday. The Russian lost control of the horrendous car at Turn 9 at the halfway point, ruining his tyres and condemning him to last of the finishers and three laps down on the front of the field. 5
Did not finish
Stoffel Vandoorne: After points finishes in three out of the first four races, Vandoorne suffered his first DNF of the season after losing drive on Lap 48. Whilst his retirement was out of his control, the Belgian did not make any real impression throughout the weekend.
He has been out-qualified by Alonso in every qualifying session so far in this campaign and really needs to start narrowing the gap to the Spaniard, which we realise is easier said than done. Vandoorne also ran wide at the start and re-joined the track in an unsafe manner, resulting in a five-second timed penalty. 5
Esteban Ocon: Back-to-back DNFs for the Frenchman, meaning he remains on a solitary World Championship point after five races so far this season. He was able to make up three places from the start, but a disastrous pit stop proved to be the beginning of the end. His right rear tyre was not fitted properly and lost at least 30 seconds in the pits before being forced to come to a stop on Lap 40 due to an engine failure. 5.5
Kimi Raikkonen: A second Spanish Grand Prix retirement in as many years for the Finn after experiencing an issue with the power unit, which was only changed on Friday as a precaution, on lap 25. He managed to get the car back to the pits but it was still game over.
Things weren't much better in qualifying, either, with tyre issues and a costly mistake at the start of Q3 meaning he was never really in a position to challenge his team-mate or the two Mercs. A weekend the Finn will forget about very quickly; we hope the young Ferrari fan, Thomas, who was at the Circuit de Catalunya to support Kimi again this year, is ok! 6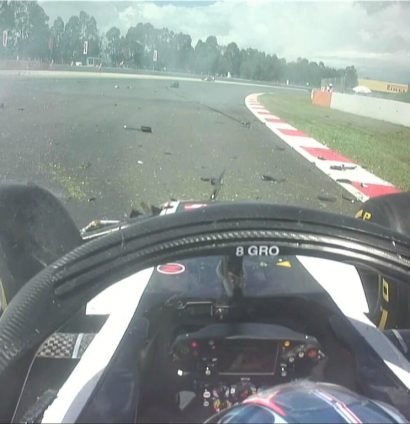 Romain Grosjean: The wait goes on for Grosjean to claim his Formula 1 point of the season, one of only two drivers not to do so. After his embarrassing exit in Baku, the last thing the Frenchman needed was yet another high-profile incident.
He reacted to his team-mate Magnussen getting a little out of shape in dirty air at Turn 3 and Grosjean spun out of control (not for the first time this weekend). He continued to keep the tyres turning, ended up sideways, and that along with the resulting smoke ended his afternoon and the races of the unfortunate Nico Hulkenberg and Pierre Gasly in the process. 4
Nico Hulkenberg: The Hulk just couldn't catch a break this weekend in Barcelona. A fuel pressure issue severely disrupted his qualifying session and resulted in a very rare Q1 exit and then his race was over within a blink of an eye due to the accident prone Grosjean. A low score, but absolutely none of it was down to his own doing. 5
Pierre Gasly: Gasly put together a solid display in qualifying (P12 on the grid), only for it to be completely undone by Grosjean. The Toro Rosso driver had to try and negotiate his way through the smoke caused by his fellow Frenchman and got tagged because of it. 6.5