Which drivers shone the brightest under the stars of the Sakhir desert? And who needs a quick turn of fortune heading into China?
Sebastian Vettel: If Vettel's win in Australia was fortuitous then this was anything but. He recovered from a mistake in Q3 to clinch a 51st career pole and got off to a fantastic start in the race.
But Mercedes forced him into a one-stop, and forced him to dig extremely deep to secure a second successive win of the season.
Vettel admitted himself on team radio that his soft tyres were "done" with 10 laps to go, yet he held his nerve to pip Valtteri Bottas to the checkered flag.
A masterful performance from the German who extends his World Championship lead to 17 points and that has to be up there with one of his best-ever victories. 10
Valtteri Bottas: Bottas needed a positive response after his poor season opener in Melbourne and he almost delivered the perfect one.
He out-qualified Lewis Hamilton on merit and got off to an excellent start when getting the jump on Kimi Raikkonen for P2 heading into the first corner.
With slightly fresher medium tyres, Bottas charged down Vettel at a real rate of knots to set up a thrilling finale in Bahrain but he fell agonisingly short – just six tenths separating the pair at the finish.
Even though Bottas was forced to settle for second place, he can take a lot of heart from this race and Australia will feel a very distant memory now. 9
Lewis Hamilton: The reigning World Champion has not been able to catch a break so far this season. A software bug took victory away from him in Australia and a hydraulic leak from that race meant he had a five-place grid penalty to overcome in Bahrain.
That was possibly weighing on his mind a little in qualifying as he never looked in danger of threatening the Ferraris and was out-qualified by Bottas. His low-key 1:28.220 in Q3 would have only been good enough for P4, but that was converted to P9 because of the penalty and left him a tough afternoon ahead.
Like the penalised Bottas in Australia, Hamilton started on the soft tyres in order to try and haul himself back into contention with a longer first stint.
The Brit opted for a cautious start, but after the Virtual Safety Car ended he came to life with a triple overtake at the end of the pit-lane straight.
He gobbled up Gasly soon after and was able to frustrate Vettel for a short while to try bring both himself and Bottas back into play for Mercedes.
However, P3 was as good as it got for Hamilton, who was having trouble communicating with his team over the radio in the latter stages.
He will arrive in China hoping for a clean slate and able to race on his own terms, without factors outside of his control taking over – but there is no doubt he has his hands full with Ferrari.  7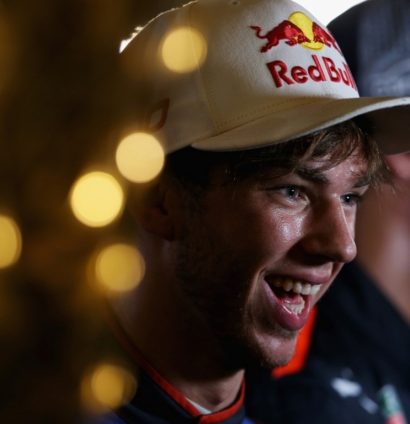 Pierre Gasly: Well who on earth saw this coming after Gasly's Honda engine blew up in Australia? An absolutely stunning P4 finish for the Frenchman in only his seventh Formula 1 race and delivering the best result for Honda in the turbo hybrid era.
Gasly was quick all weekend and followed up a phenomenal qualifying performance – where his P6 start became P5 because of Hamilton's penalty – with a superb race where he more than held his own.
That display will live long in the memory. 10
Kevin Magnussen: It was a second consecutive top six start for Magnussen who continues to impress at the vastly improved Haas.
The mechanics were able to keep it clean in the pit-stops this time around and allow the Dane to secure a very respectable P5 finish – his best since all the way back to his McLaren days in 2014.
It could have been even better for K-Mag had he not been held up unnecessarily by his team-mate Romain Grosjean, especially when they were on differing strategies.
The squabble ensured Magnussen stayed behind Gasly – who also came together in the early stages – but, nevertheless, there are still plenty of positives to take from this performance. 8
Nico Hulkenberg: Out-qualified Carlos Sainz for the second consecutive race and followed up with another solid points haul for Renault.
He had problems with his battery but was able to fight valiantly to keep the likes of Fernando Alonso behind. 8
Fernando Alonso: It looked like being another weekend to forget for McLaren at the home of their major shareholders as both McLaren cars were out-qualified by both Honda-powered Toro Rossos.
But their evidently better race pace allowed Alonso to put in another aggressive display which included briefly getting the better of Hamilton at the start.
A change to the medium tyres worked in his favour and moved from P13 on the starting grid to a P7 finish, which actually puts him fourth in the World Championship standings. Early days, we know. 7.5
Stoffel Vandoorne: Another decent job by the Belgian in the now familiar supporting role behind Alonso. He still has some work to do to beat him consistently over one lap but he is playing his part for the team at least by ensuring a second double-points finish of the season.
He got off to an awful start, falling from P14 to last but recovered very well. He overtook 11 cars to haul himself back in the points and provided one of the under-the-radar performances in Bahrain.7
Marcus Ericsson: Had it not been for the exploits of Vettel and Gasly further ahead then Ericsson would have hogged a lot of the limelight after a surprisingly excellent race in Bahrain.
Starting P17 on the grid, the expectation would have been to see him finish in around the same spot but what actually came next was a heroic performance on a one-stop strategy.
The Swede looked after the medium tyres extremely well, and while he became a little vulnerable to those on fresher tyres toward the end of the race, his reward was a P9 finish and the end of a long, long wait.
That was his first points finish in 50 Formula 1 races and it is one that he very much deserved on this evidence alone. 9
🏁🏁🏁
Marcus finishes P9, Charles with P14! Great work team 👊👊👊👏👏👏#BahrainGP #F1 pic.twitter.com/bAsewzEcKR

— Sauber F1 Team (@SauberF1Team) April 8, 2018
Esteban Ocon: The Frenchman highlighted Force India's slight improvement by firstly getting his pink panther into Q3, something that was a million miles away in Australia.
Whilst there is obviously still a long way for Force India to go if they are to re-assert their authority as best of the rest, Ocon was at least able to stay out of trouble and collect the team's first point of the season. 7
Carlos Sainz: The Spaniard started in the points places but ultimately fell just short in P11 on Sunday. He won't want Gasly to have many more performances like that for Toro Rosso or else the fight for a potential seat at Red Bull next season will be very interesting. 6
Sergio Perez: Struggled with battery deployment in qualifying and his race was far from incident-free either after getting tangled up with Brendon Hartley at the start, leaving him resigned to a P12 finish. P12 then became P16 after the Mexican was hit with a 30-second penalty for passing Brendon Hartley on the formation lap. 6
Brendon Hartley: Hartley also saw his qualifying disrupted after a freak accident by hitting a bird. He missed out on Q3 by less than a tenth but he was unable to reach anywhere near the heights of his team-mate Gasly in Sunday's race.
The stewards deemed him to be at fault for the coming together involving Perez, forcing him to serve a 10-second penalty and put all end to hope of making it a double-points finish for Toro Rosso.
The 10-second penalty was converted to a 30-second penalty after he failed to re-pass Perez when he overtook the New Zealander on formation lap, dropping him all the way down to P17.5
Charles Leclerc: It was Leclerc receiving the plaudits after his decent debut in Australia, but he is back in the shadows somewhat given Ericsson's incredible achievement.
The rookie called himself "stupid" after spinning out on his qualifying lap when looking on course to pip Ericsson and admitted he needs to "calm down" when driving. He is aware of his faults; let's see if he can work on them. 5
Romain Grosjean: Made a real mess of the final hot lap and was a shock elimination in Q1, leaving the Frenchman all the way down to P16 on the grid.
It didn't get much better in the race for Grosjean as bits kept falling off his car throughout the race and his frustration showed when instigating a needless battle between himself and team-mate Magnussen when the places at the time were not at stake. 5
Lance Stroll: Stroll said there was "a lot of things wrong" at Williams after qualifying stone-dead last and toward the very top of that list has to be a driver line-up that is drastically lacking experience.
Front-wing damage forced Stroll to ditch the softs after just 16 laps and he limped home second-last of the finishers with his team-mate behind.
It is no secret that the Williams car is desperately lacking in all areas, but how can they improve significantly enough when driver feedback, and driver talent, is not there in the process? 4
Sergey Sirotkin: It's fair to say it has been a difficult start to life for the Russian in Formula 1. A retirement in Australia followed up by finishing rank last in Bahrain and this will only act as more evidence for those still fighting for Robert Kubica to be given an opportunity. 4
Did not finish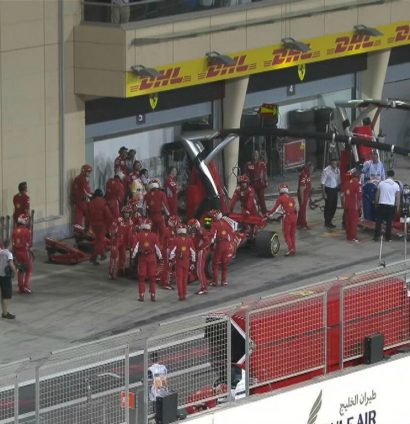 Kimi Raikkonen: After an encouraging performance in the season opener, Raikkonen once again looked on the pace in the lead-up to Sunday's race. The Finn was on provisional pole, but he was unable to find further improvement after being released into traffic for his final Q3 run.
Starting on the front row alongside Vettel, he was caught cold after Bottas stole a march on him for P2 heading into the first corner and struggled to make any impression thereafter.
Raikkonen's key moment came in the pit lane, when, for the second time this weekend he was unsafely released by the Ferrari pit crew. It resulted in one of the mechanics sustaining a nasty leg break and it would have been nice to see the Finn go and check on his colleague instead of marching off down the garage. He lost a lot of marks for that and his rather cold comments about the incident back in paddock. 3
Max Verstappen: Similar to Bottas in Australia, Verstappen came into the race looking for a road to recovery after crashing out in qualifying. On initial viewing, it appeared the Dutchman was pushing too hard, something he was guilty of in Melbourne, but confirmation came soon after that he got an unexpected power boost heading into Turn Two.
Nevertheless, it left Verstappen with a difficult job on his hands as he lined up from P15 on the grid. He didn't get a chance to showcase any of his overtaking talents, though, after picking up a puncture when briefly coming together with Hamilton at the start.
He nursed the car back to the pits but joined team-mate Ricciardo as an early retirement soon after, the damage, whether related to the Hamilton incident or mechanical, proving too terminal to continue. N/A
Daniel Ricciardo: Lining up in P4, the Aussie had hopes of reaching the podium in Bahrain. But, his race was over on just the second lap as Red Bull's reliability problems reared their ugly head again.
It is now a fourth race retirement in six races for Ricciardo, whose bad luck has carried over from last season. N/A