Driver reviews: Haas, McLaren, Sauber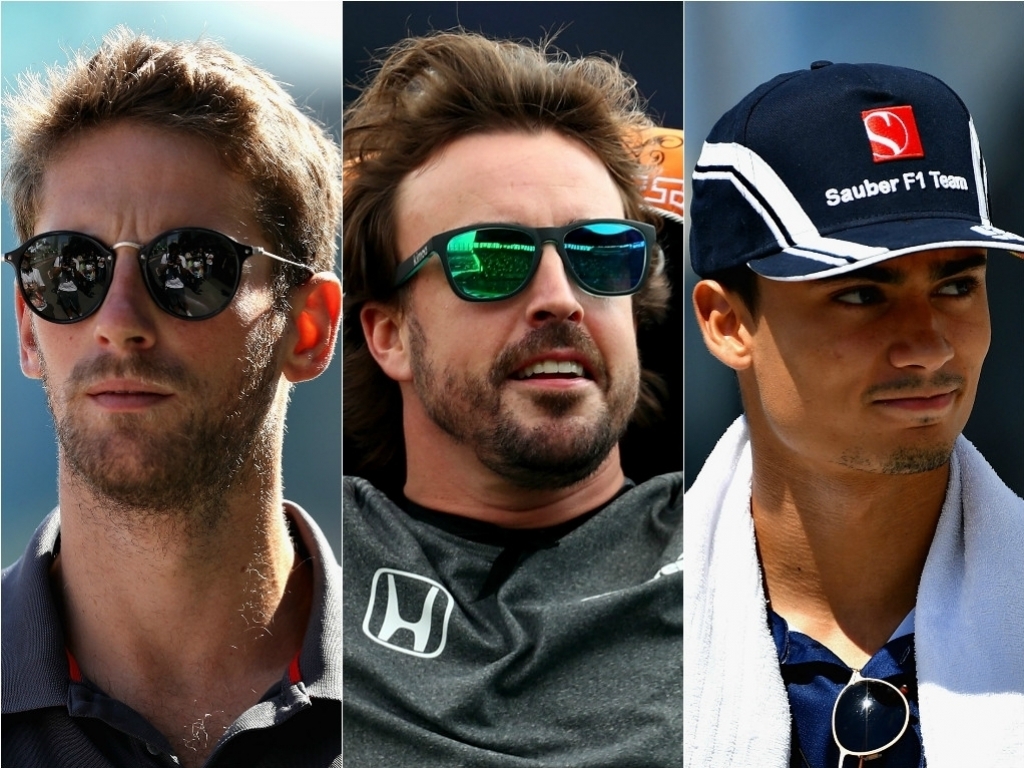 In the first of three parts, we assess each driver's performance this season, starting with those at Haas, McLaren-Honda and Sauber.
Haas
Romain Grosjean
Qualifying battle v team-mate: 12-8
Average gap in qualifying: -0.196s
Race battle v team-mate: 10-9
Best finish: 6th (Austria)
Percentage of team's Championship points: 60% (28 points)
Grosjean has been the slightly more consistent points-scorer at Haas – it took just six races for the team to surpass last season's total points haul – and provided the American outfit's highest finish in Formula 1 with a very impressive P6 in Austria.
But that performance is a very distant memory as Grosjean has instead become known as a frequent crasher and an even more frequent moaner, especially when Haas' development came to a grinding halt and to the point where they were getting out-qualified by Sauber in Mexico.
He has, at least, just about got the edge on his team-mate and seems able to extract that little bit more out of the very temperamental Haas car despite his many offs.
You get the impression that Grosjean sees himself as the flag-bearer of Haas, the man trying to lead the charge of what is a still a very new team in Formula 1.
And while everyone loves an underdog story, not many want to see Grosjean as the main protagonist.
Kevin Magnussen
Qualifying battle v team-mate: 8-12
Average gap in qualifying: +0.196s
Race battle v team-mate: 9-10
Best finish: 7th (Baku)
Percentage of team's Championship points: 40% (11 points)
Eventful is probably the best adjective to describe Kevin Magnussen's season. A handful of points finishes and an even bigger handful of other drivers he has managed to p*ss off this campaign.
Magnussen's highlight on the track this season remained the Azerbaijan Grand Prix, where he was running as high as P3 with 15 laps to go before he settled for a year-best P7.
Magnussen was one of the best starters in the 2017 season, gaining on average 1.74 places a race; but, it was a case of making up for lost time as he was one of only a very select few not to reach Q3 throughout the entire campaign – something that his team-mate did on five occasions.
There were a couple more points finishes to come in the second half of the year in Japan and Mexico, but they have been overshadowed somewhat by the spats and squabbles that he got into with others.
Just in the second half of the season alone, Sebastian Vettel, Fernando Alonso, Lewis Hamilton and even Magnussen's team-mate Romain Grosjean have all complained over team radio about his aggressive antics.
But even all of those incidents combined do not come close to eclipsing one of the highlights of the whole season when Magnussen told Nico Hulkenberg "suck my balls" after the German confronted K-Mag back in Hungary.
McLaren-Honda
Fernando Alonso
Qualifying battle v team-mate: 16-3
Average gap in qualifying: -0.259s
Race battle v team-mate: 9-10
Best finish: 6th (Hungary)
Percentage of team's Championship points: 57% (17 points)
You can look now, Fernando, it's over. Barely a weekend went by without Alonso sticking the boot into an unreliable and slow Honda. He got sick of it, McLaren got sick of it, we all got sick of it.
His sixth-place finish and fastest lap at the Hungarian Grand Prix just before the summer break was as good as it ever got for Alonso, who saw the checkered flag just eight times in the 19 races he participated in this season. Grim reading for a driver that should still be fighting for World Championships.
The only major positives for him are that he no longer has to drive a car with Honda power and he also started on his own road to Le Mans after getting a first taste of Toyota's LMP1 car in Bahrain.
If Fernando Alonso cannot entertain us on the track in Formula 1, he simply has the freedom to try and do that in another series – continuing with the Daytona 24 Hours in January.
That being said, given what Alonso has managed to extract out of the god forsaken MCL32 this season, it will be fascinating to see just how high up the leaderboards he can climb in 2018 with Renault power.
He finished the season relatively strong with three consecutive points-finishes, but put this down as another Formula 1 season to forget for Alonso.
Stoffel Vandoorne
Qualifying battle v team-mate: 3-16
Average gap in qualifying: +0.259s
Race battle v team-mate: 10-9
Best finish: 7th (Singapore, Malaysia)
Percentage of team's Championship points: 43% (13 points)
Stoffel Vandoorne had a difficult transition into Formula 1 with a combination of the usual McLaren-Honda reliability woes and early criticism coming from McLaren boss Eric Bouiller about his driving style.
When the Belgian did get an opportunity to drive the MCL32, he simply had no answers to the rather thankless task of trying to out-perform a certain Fernando Alonso in the first half of the campaign.
However, the second half of the 2017 season has seen Vandoorne begin to emerge from Alonso's daunting shadow. He has shown he is capable of beating Alonso over a qualifying lap [albeit not very often] and his back-to-back seventh-placed finishes in Singapore and Malaysia made a great impression when Alonso was running largely out of the picture.
It was also refreshing to see Vandoorne distance himself from the assumption that Alonso has been acting as his mentor in his first full Formula 1 season. Vandoorne is at McLaren on his own merit and is trying to make a name for himself without the need to ride on the coat-tails of a two-time World Champion.
If McLaren and their Renault engines click nicely into place next season then Vandoorne could well be sharing more of the spotlight alongside Alonso.
If not, then another highly-rated driver in Lando Norris is waiting in the wings…
Sauber
Pascal Wehrlein
Qualifying battle v team-mate: 11-7
Average gap in qualifying: -0.05s
Race battle v team-mate: 11-7
Best finish: 8th (Spain)
Percentage of team's Championship points: 100% (5 points)
It seems like it did not matter what Pascal Wehrlein did at Sauber this season, especially once the contract with Honda was cancelled and Sauber strengthened their ties with Ferrari.
The German does not bring the big bucks into the team and he is, after all, on Mercedes books – so it comes as no surprise to see that he has been shown the door.
It is difficult to stand out in a Sauber at the best of times, never mind knowing that your fate at the team, and in the sport, has been sealed long ago. As a result, Wehrlein's performances have taken an understandable dip after taking two points finishes in the first half of the campaign.
He out-qualified his team-mate in seven of the first nine races of the 2017 season but, since then, he has managed to get the better of Ericsson in qualifying on four out of the remaining nine races.
In a year where he also missed the first two races of the season due to a back injury sustained at the Race of Champions event in January, Wehrlein looks set to return to DTM with Mercedes.
However, he would face another season of uncertainty there, too, with the Silver Arrows pulling out of the series at the end of 2018.
Does he deserve to lose his seat in Formula 1? No. But there is simply no room for niceties at the pinnacle of motorsport.
Marcus Ericsson
Qualifying battle v team-mate: 7-11
Average gap in qualifying: +0.05s
Race battle v team-mate: 7-11
Best finish: 11th (Spain, Baku)
Percentage of team's Championship points: 0% (0 points)
Money talks in Formula 1 and there is no stronger evidence of that than Marcus Ericsson at Sauber. The Swede has now completed a second consecutive season without scoring a single World Championship point. His last coming at Monza in 2015.
Perhaps the most damning moment for those few who think Ericsson is still worthy of a place on the grid came in Hungary, where he was out-qualified by Paul di Resta – a driver who had not stepped inside a Formula 1 car for the best part of three-and-a-half years.
And yet, Ericsson has been retained for another year at Sauber, all because of the fact that his financial backers are the same that fund the Swiss team.
Given how long it took for Sauber to decide their 2018 line-up, Ericsson did come very close to losing his seat to Ferrari's other reserve driver in Antonio Giovinazzi but he has ultimately survived the chop.
Despite making zero contribution on the track, it's the financial contribution that unfortunately counts.
Mark Scott