Five classic Japanese Grand Prix wins
Round 17 of the F1 season takes us quickly onto Japan and, with 13 world champions being crowned here in 31 Grands Prix, it has played host to some epic battles and breathtaking performances over the years. Planet F1 picks out five particular favourites.
1976
"My life is worth more than a title," said then championship leader Niki Lauda after he retired just two laps into a very wet and foggy Grand Prix at Fuji. It left James Hunt needing to finish in fourth or above to steal the title away from the German, but it would be far from straightforward.
The track began to dry up and, seemingly, so did Hunt's title chances. He started to lose positions and a tyre problem threatened to derail his bid altogether. After pitting, though, Hunt returned to the race in fifth place and, with just two laps remaining, overtook both Clay Regazzoni and Alan Jones to finish third and win the world championship by a single point.
1989
The Japanese Grand Prix has also played a major role in the iconic rivalry between Ayrton Senna and Alain Prost, and 1989 was the year of their infamous collision with just a handful of laps to go at Suzuka. The crash handed Prost the title, but Senna was determined to not go down with a fight. After nursing his damaged car back to the pits, Senna sealed an astonishing win with one of his best-ever drives…until the stewards disqualified him after the race for cutting a chicane, even though there was no advantage gained. Politics, eh?
1994
Absolutely dreadful weather would ensure the 1994 race in Japan would never be forgotten, too. Michael Schumacher and Damon Hill were the main title protagonists on this occasion and just five points separated the duo with two races left.
The torrential rain saw seven drivers having to retire after spinning off, with Martin Brundle crashing into a steward as he attended to another car.
The race was immediately red-flagged with Schumacher in front with a 6.8 second advantage, but after the rain relented Hill would take the chequered flag with a 10.1 second lead and narrow the championship standings to a single point in what would be the last time corrected time was used to determine the race winner.
1999
Five years down the line, it was Eddie Irvine and Mika Hakkinen fighting to the bitter end for the world championship title. With a small advantage, Irvine held most of the cards heading into the weekend but an absolute masterclass from Hakkinen saw him successfully retain his crown.
The view from Hakkinen's on-board camera as the lights went out is a joy to behold. From second on the grid, he zoomed past pole sitter Michael Schumacher within the blink of an eye and then proceeded to not give Irvine even a sniff of landing the silverware in an utterly dominant display.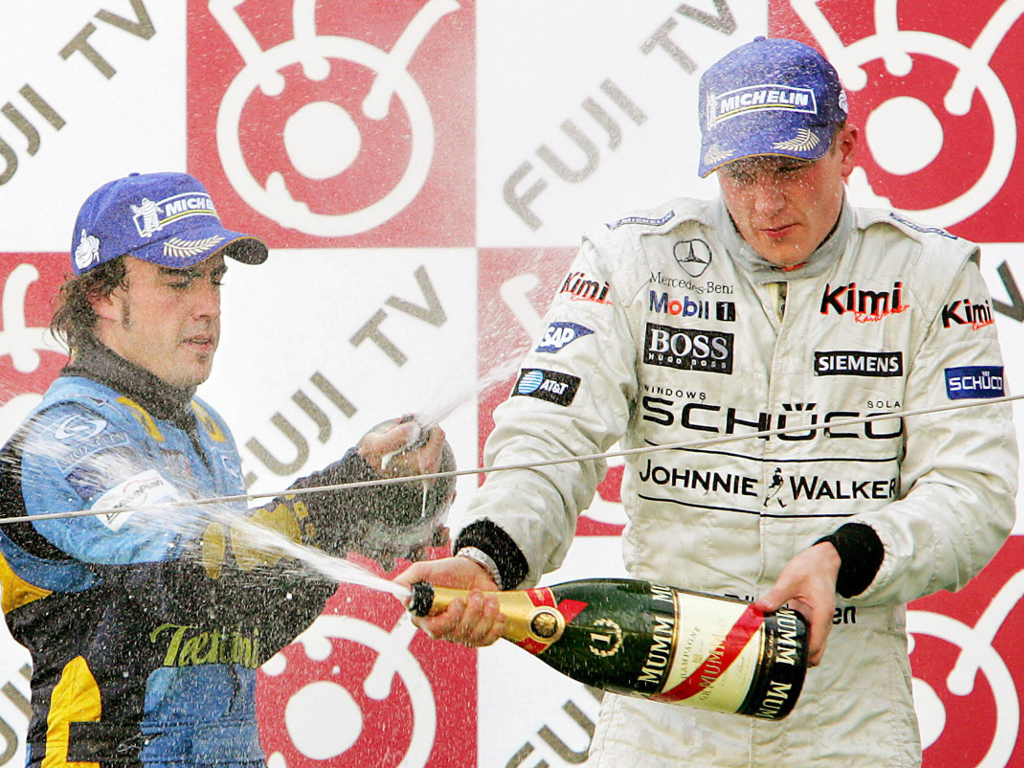 2005
From one fabulous Finn to another, Kimi Raikkonen produced arguably the best-ever race of his glittering career after coming all the way from 17th to record a remarkable victory. Rain in qualifying meant that the starting grid was reversed in Suzuka, but even with a heavy fuel load and his preparation hindered by reliability problems, Raikkonen glided through the field like a hot knife through butter.
With just one lap remaining, Raikkonen finally found a way past leader Giancarlo Fisichella to leave the packed crowd in awe of what they had just witnessed.
Years later, when asked if he remembered this wonderful performance, Raikkonen simply answered: "Yeah."
Never change, Kimi.