After a one-year absence, the German Grand Prix has its rightful place back on the F1 calendar. With Round 12 just around the corner, PlanetF1 has selected five stand-out races.
Tazio Nuvolari 1935
We begin with a true underdog story in the pre-F1 era. A crowd of 300,000, which included members of the German High Guard, piled into the Nurburgring to see what they thought would be a dominant win for one of the five Germans in their superior Mercedes-Benz cars. A diminutive Italian in a under-powered Alfa Romeo had other ideas. In appalling weather conditions, Nuvolari slipped to sixth place after a poor start from P2 and a very lengthy pit-stop. He then drove his car to the absolute limit and regained second heading into the final lap, but was a full 35 seconds adrift of race leader Manfred von Brauchitsch. Von Brauchitsch's tyres were torn to shreds, though, and Nuvolari was able to shock the home crowd and win by over two minutes to deliver what has been forever known since as "The Impossible Victory".
Juan Manuel Fangio 1957
The Times described it as "the finest drive of his glorious career" and it is hard to argue otherwise. Like Nuvolari, Fangio was the victim of a botched pit-stop and found himself nearly a minute behind leader Mike Hawthorn in his Ferrari at the halfway stage of the race. Fangio's response was jaw-dropping. He repeatedly beat his own lap record at the Nurburgring – with his fastest time of 9:17.4 taking a massive 24 seconds off his previous best – and eventually clinched the victory which saw him lift his fifth and final world championship.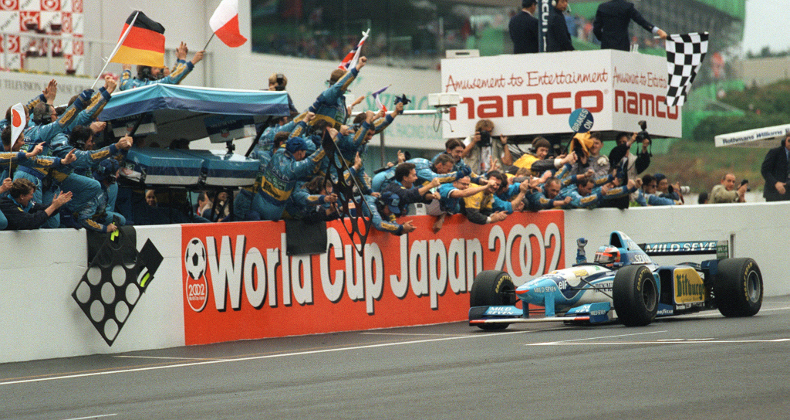 Michael Schumacher 1995
In the first race to take place since Fangio passed away, another legend in Michael Schumacher became the first German in the F1 era to win his home Grand Prix – the first of four in his majestic career. Schumacher was initially helped when pole-sitter Damon Hill span out in the first corner of the second lap due to a driveshaft failure.  Gerhard Berger's chances of winning also faded after he was slapped with a 10-second stop-and-go penalty for jumping the start and David Coulthard's one-stop strategy proved to be inferior to Schumacher's two. The memorable victory saw Schumacher further extend his world championship lead before going on to successfully defending his title with Benetton.
Gerhard Berger 1997
Certainly one of the more emotional Germany Grand Prix wins. In the months leading up to the race, the Austrian was battling with sinus problems and the loss of his father who was killed in an airplane accident. After a three-race absence, Berger returned to record what would be his tenth and final Grand Prix career win and the last Grand Prix victory for constructor Benetton, too. His lights-to-flag win was described as "faultless", and, after announcing his retirement from the sport soon after, his Hockenheimring success would ensure his legacy was firmly cemented.
Rubens Barrichello 2000
A chaotic race to say the very least. McLaren looked poised for an afternoon of domination – that was until a former Mercedes-Benz employee decided to invade the track during the race in protest. His stupid stunt brought the Safety Car and luck to Barrichello who was able to wash away an initial 30-second disadvantage to the race leaders. The rain then came tumbling down and Mika Hakkinen came into the pits for wet tyres. Barrichello decided to stay out, though, and the decision ultimately allowed him to come from all the way down in 18th to win his first-ever Grand Prix.
Mark Scott