The more things change, the more they stay the same…
Mercedes remain out front 
New season, new rules, new cars and yet it again looks as if Mercedes remain the team to beat.
Valtteri Bottas showed that he can mix it up at the very sharp end as he posted the week's best time of 1:19.705 on Wednesday.
It was the second of two days in which the W08 sat at the top of the timesheets, and worrying for Mercedes' rivals, the general consensus is that the Brackley squad have yet to turn up the wick.
"A team that strong and with that resource will relish change," new F1 sporting boss Ross Brawn told Sky Sports. "It was naive to think it would destabilise Mercedes. If anything it gave them an advantage."
Although there was a minor hiccup at the start of Day Four, where an electrical problem kept Lewis Hamilton out of the car, Mercedes still covered more miles than any of their rivals.
Day 4 = ✅ Test 1 = ✅

558 total laps – 2,597km – completed this week!! ????????????

The Silver Arrows will be back on track on Tuesday… #F1 pic.twitter.com/o6jlbJe4yf

— Mercedes-AMG F1 (@MercedesAMGF1) March 2, 2017
Encouraging signs from Ferrari
There is some hope, though, for those wanting a change at the top as Ferrari showed impressive pace throughout the week.
Sebastian Vettel was second fastest, 0.247s shy of Bottas's best, and set his time on the soft tyres whereas the Finn was using the ultras.
There was more of the same in the Tuesday tussle between Kimi Raikkonen and Lewis Hamilton, which the Ferrari driver won by a tenth and did so on the softs. Hamilton was on the supersofts.
The Scuderia's SF70H also demonstrated good reliability with Vettel and Raikkonen hitting the 500-lap mark.
T1 #F1Testing ended with 2178.4 km covered by Scuderia Ferrari drivers #Seb5 #Kimi7 pic.twitter.com/FPotlVJXAP

— Scuderia Ferrari (@ScuderiaFerrari) March 2, 2017
There were no headline-worthy issues over at Ferrari other than a general feeling of disgruntlement from the Italian media when the Scuderia enforced a two-day media black-out on days one and two.
Having let down their tifosi, and themselves, for the past few years, Ferrari have adopted a conservative approach with every positive comment followed by a "but let's wait and see."
McLaren misery – part 3
After two years of building, two years of teething and two years of immense pain, this was supposed to be the season that McLaren-Honda gelled, the year that podiums and maybe even a win would finally come their way. But not if pre-season form is any indication.
Day One ended with 29 laps on the board and an unhappy Fernando Alonso. Day Two saw Stoffel Vandoorne add just 40 laps to that tally and already the rumour mill was spinning with stories about McLaren looking to drop Honda – and maybe even doing so before this month's season-opening Australian Grand Prix.
Both drivers had better second days in the MCL32 but it seems all is not well at McLaren-Honda – and we're not talking about that paint job.
Reliability is once again failing Honda's redesigned V6 engine while pace is also lacking. Timed laps may have been the name of the game, but it wasn't a game that McLaren-Honda was winning.
Timed laps are the name of the game this afternoon. Next up, practice pitstops. #F1Testing pic.twitter.com/d7dt5RjLYB

— McLaren (@McLarenF1) March 2, 2017
Vandoorne and Alonso were only kept away from the very bottom of the timesheets by Toro Rosso and Force India's development driver Alfonso Celis.
Bumps, bruises, speed but no overtaking
Formula 1 wanted faster cars and faster cars it got. Bottas's pace-setting time was 2.3s up on Lewis Hamilton's 2016 Spanish GP pole and five seconds quicker than Nico Rosberg's from the previous season.
The cars have left Hamilton with "bruises and bumps where I've never really had them before" and everyone loves the challenge and the cornering speeds.
Into the final 10 minutes on Day 3 and we've got a race developing… ????@LewisHamilton chasing down @RGrosjean's Haas! #F1 #F1Testing pic.twitter.com/niQRcnKkH1

— Mercedes-AMG F1 (@MercedesAMGF1) March 1, 2017
However, almost everyone – except Max Verstappen – is worried about overtaking.
"Definitely from the driving point of view, it's much nicer for the driver," Felipe Massa told Motorsport.com. "For the show, I don't know.
"I'm sure it will be more difficult to overtake. Today driving behind cars you lose a lot more downforce. The car is also much bigger. We'll see, but I think it will be more difficult to overtake."
And on top of that lack of overtaking, Pirelli have taken the directive of tyres that do not degrade to heart, putting out durable rubber with little drop-off.
As such Jolyon Palmer is predicting "lots of one-stop races".
Rookie of the pre-season but for all the wrong reasons
Lance Stroll, whose rise in motorsport has been funded by his billionaire father, came into his first official group test with a many critical eyes staring at him, and, unfortunately for him, he didn't do himself any favours.
Three offs in two days meant the Canadian single-handedly kept Williams' running for the week down to 270 laps as he kept breaking the car.
A spin on Day Two after just 12 laps of the Circuit de Catalunya left the FW40 short a front wing and prompted Williams to give their rookie more track time on Wednesday.
That didn't go according to plan.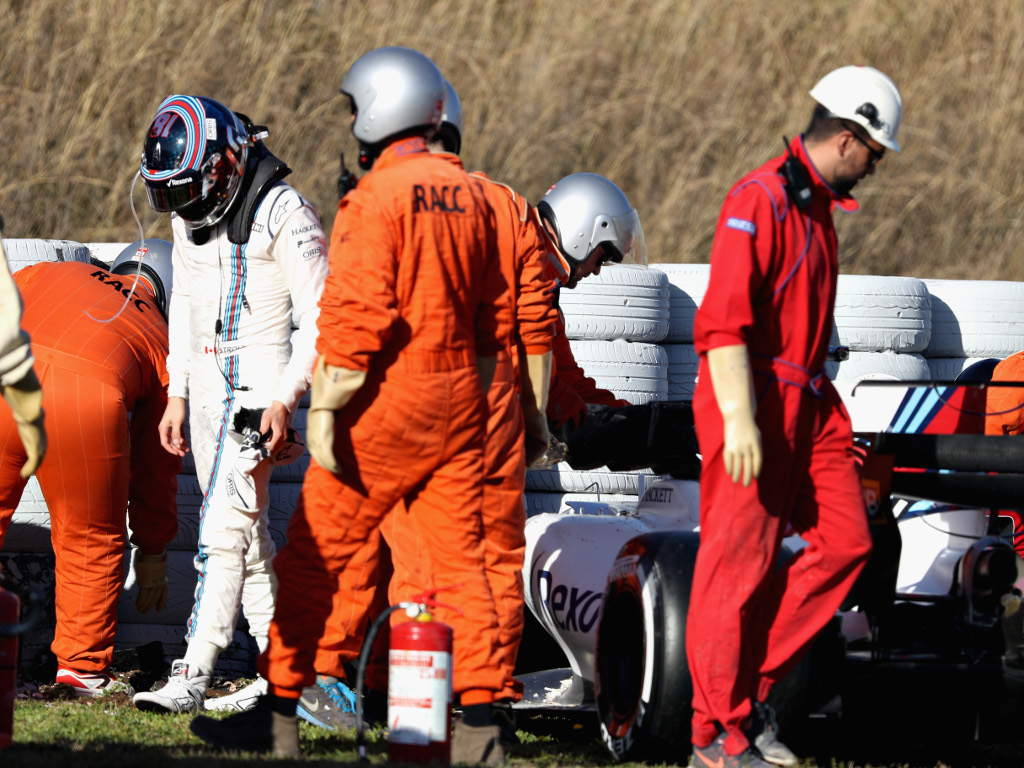 Stroll spun twice on Day Three with his second effort leaving him in the barriers at Turn 6. The hit was hard enough that Williams found "some damage to the FW40 chassis" and were forced to sit out Thursday's running.
It was not the start that Stroll or Williams wanted and means rather than quietening those pay driver comments, Stroll is already on course to be F1's new Pastor Maldonado.
Michelle Foster