FP1: Hamilton quickest, Alonso breaks down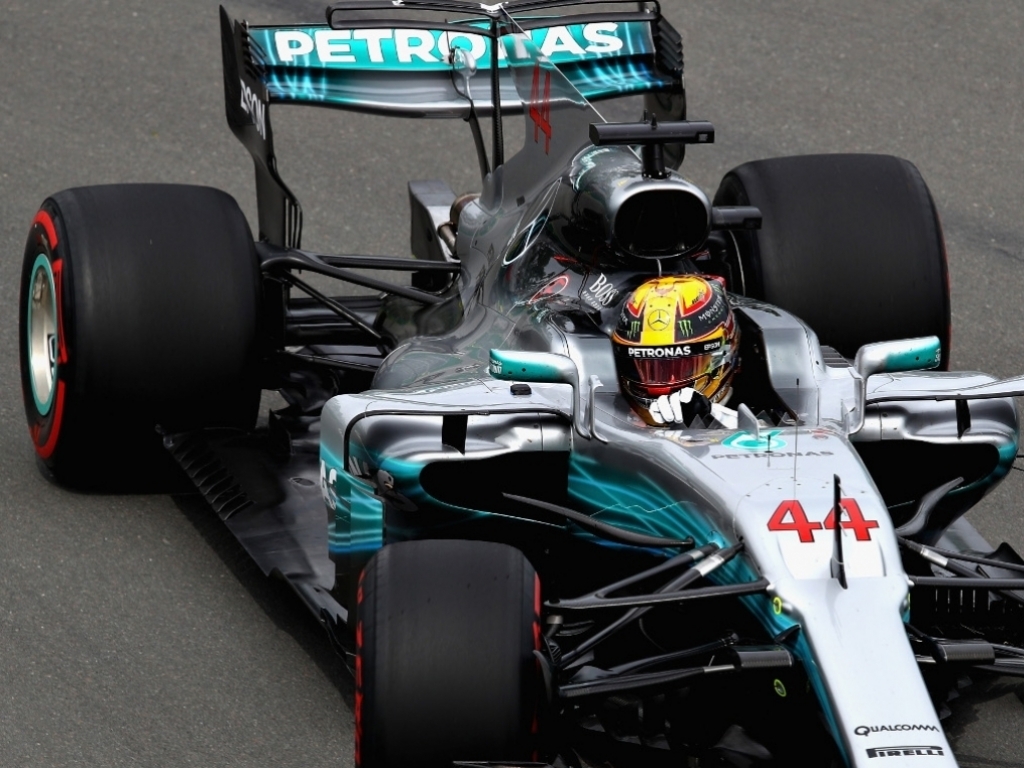 Lewis Hamilton was back in top form in first practice for the Canadian GP, setting the pace ahead of Sebastian Vettel, while Fernando Alonso threw his headrest from his McLaren as he once again broke down.
Dirty and dusty were the two most used words as Formula 1 returned to the seldom-used Circuit Gilles Villeneuve for Friday's opening practice.
Spins for Kimi Raikkonen and Sebastian Vettel and a slide for Lewis Hamilton proved that even the best were struggling.
That, though, didn't prevent them from finding speed.
Raikkonen set the early pace with a 1:15.089, 0.063s up on Vettel, while Hamilton was third.
The Briton edged the Ferrari pairing ahead of the 40-minute mark, clocking a 1:15.003 while Valtteri Bottas was second – the top four separated by 0.169s!
Swapping to a new set of ultrasoft tyres, Mercedes continued to hold down the 1-2 as Bottas and Hamilton traded P1s with the Brit emerging quickest with a 1:13.809.
Vettel broke the Mercedes clean sweep to go second, 0.198s off the pace while Bottas finished third and Raikkonen fourth. The top four separated by 0.421.
Sergio Perez was fifth ahead of Esteban Ocon and Max Verstappen. The latter ran only the supersoft tyres as too did Felipe Massa, Daniel Ricciardo and Daniil Kvyat.
Local boy Lance Stroll was P13.
It was a short session for Fernando Alonso, who – minutes after setting his first lap time of the session – reportedly heavy steering and a gearshift issue.
He asked McLaren: "Are you sure it's better to stop here – it's easier to come back to the pits?" The reply was to "stop on track." He was not happy and threw his headrest out of the car.
#F1 Alonso and Honda……………………….. 🙁 #MsportXtra pic.twitter.com/H44MkXlLS1

— #MsportXtra (@MsportExtra) June 9, 2017
McLaren confirmed a loss of hydraulic pressure.
He, however, wasn't the only Spaniard in trouble. Carlos Sainz failed to set a time in the session as his STR12 broke down on the side of the track on his very first lap of the morning. "Engine failure" was his assessment.
YELLOW FLAGS: Looks like engine failure for SAI early on in #FP1 as he grinds to a halt at Turn 10 #CanadianGP ?? pic.twitter.com/Lp67ajSMkx

— Formula 1 (@F1) June 9, 2017
Times
1 Lewis Hamilton    Mercedes    1:13.809
2 Sebastian Vettel    Ferrari    1:14.007    0.198
3 Valtteri Bottas    Mercedes    1:14.046    0.237
4 Kimi Raikkonen    Ferrari    1:14.230    0.421
5 Sergio Perez    Force India    1:14.578    0.769
6 Esteban Ocon    Force India    1:14.785    0.976
7 Max Verstappen    Red Bull    1:14.861    1.052
8 Felipe Massa    Williams    1:15.106    1.297
9 Daniel Ricciardo    Red Bull    1:15.441    1.632
10 Daniil Kvyat    Toro Rosso    1:15.658    1.849
11 Stoffel Vandoorne    McLaren    1:15.943    2.134
12 Kevin Magnussen    Haas    1:16.233    2.424
13 Lance Stroll    Williams    1:16.313    2.504
14 Romain Grosjean    Haas    1:16.345    2.536
15 Nico Hulkenberg    Renault Sport    1:16.473    2.664
16 Fernando Alonso    McLaren    1:16.521    2.712
17 Marcus Ericsson    Sauber    1:16.805    2.996
18 Jolyon Palmer    Renault Sport    1:17.004    3.195
19 Pascal Wehrlein    Sauber    1:17.606    3.797
20 Carlos Sainz    Toro Rosso no time