FP2: A Mercedes one-two Friday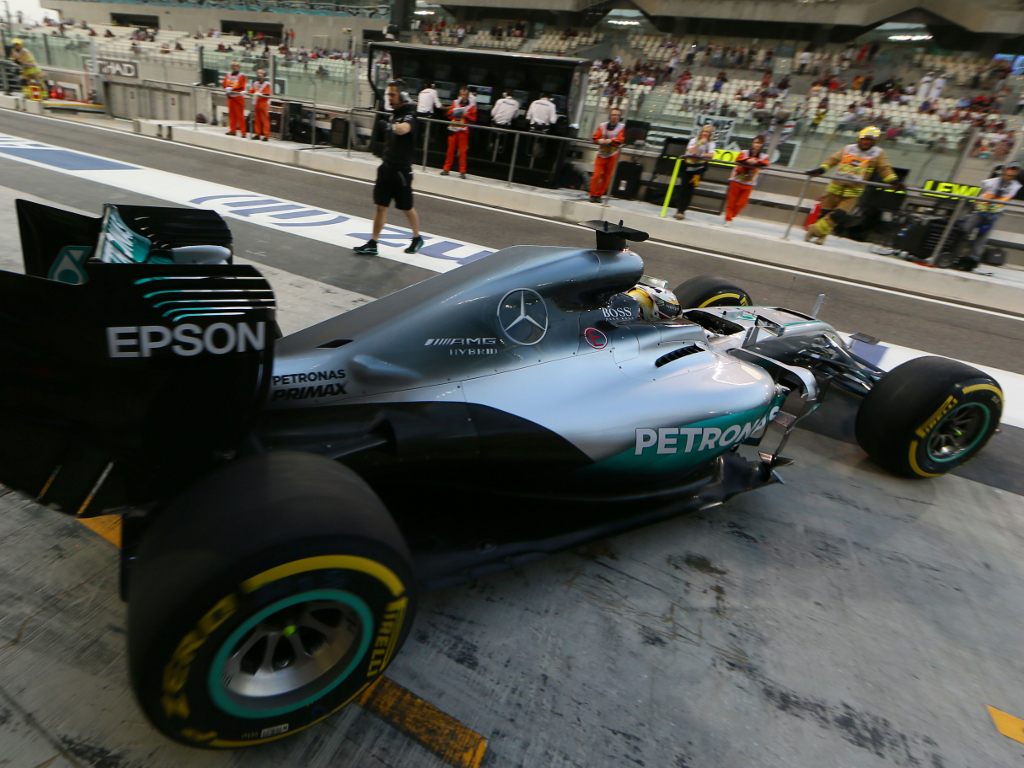 Lewis Hamilton topped the second free practice session with a time of 1:40.861, while his team-mate Nico Rosberg finished 0.079s behind him.
In the build up to the final race of the season, Mercedes dominated both practice sessions as Hamilton topped the times during the morning session when the Yas Marina Circuit lights weren't even turned on.
Earlier in the session, both Hamilton and Rosberg tried the soft tyres, but went easy on their first run as the Brit occupied 21st place and Rosberg sixth.
However, once they were comfortable, the Championship title rivals came out hot and swept away their rivals on the time-sheets, with only Sebastian Vettel close to them.
During the opening laps of the session, Vettel posted promising fastest laps as he managed to keep his team-mate Kimi Raikkonen and the two Red Bulls at bay.
However, Vettel's session ended early when he suffered a gearbox failure and had to retire.
Finishing behind the quadruple World Champion, Red Bull drivers Max Verstappen and Daniel Ricciardo occupied P4 and P5 respectively, with the young Dutchman reporting a problem with the alignment of his RB12.
Failing to match his team-mate's time, Raikkonen settled for a P6 result.
Desperate to pip Force India to fourth place on the Constructors' Championship, Valtteri Bottas will be delighted at his P7 finish, finishing ahead of Force India duo Sergio Perez and Nico Hulkenberg, who place P8 and P9 respectively.
Rounding off the top ten, Williams driver Felipe Massa finished of the day with a time of 1:42.268.
Disappointingly, Daniil Kvyat and Carlos Sainz only managed to get a couple laps under their belt after both drivers were called in when the Russian suffered a rear tyre puncture.
Times:
1. Lewis Hamilton Mercedes1'40.861 36 laps
2. Nico Rosberg Mercedes 0.079 38 laps
3. Sebastian Vettel Ferrari 0.190 31 laps
4. Max Verstappen Red Bull 0.259 24 laps
5. Daniel Ricciardo Red Bull 0.529 33 laps
6. Kimi Raikkonen Ferrari 0.603 40 laps
7. Valtteri Bottas Williams 1.098 35 laps
8. Sergio Perez Force India 1.180 35 laps
9. Nico Hulkenberg Force India 1.403 36 laps
10. Felipe Massa Williams1.407 36 laps
11. Fernando Alonso McLaren 1.505 33 laps
12. Jenson Button McLaren 1.962 24 laps
13. Esteban Gutierrez Haas 2.151 35 laps
14. Romain Grosjean Haas 2.247 17 laps
15. Jolyon Palmer Renault 2.411 33 laps
16. Esteban Ocon Manor 2.739 35 laps
17. Pascal Wehrlein Manor 2.893 33 laps
18. Felipe Nasr Sauber 3.042 36 laps
19. Marcus Ericsson Sauber  3.184 34 laps
20. Kevin MagnussenRenault3.256 25 laps
21. Carlos Sainz Jr. Toro Rosso 3.617 5 laps
22. Daniil Kvyat Toro Rosso 5.087 4 laps