FP2: Verstappen P1 and crashes, Palmer just crashes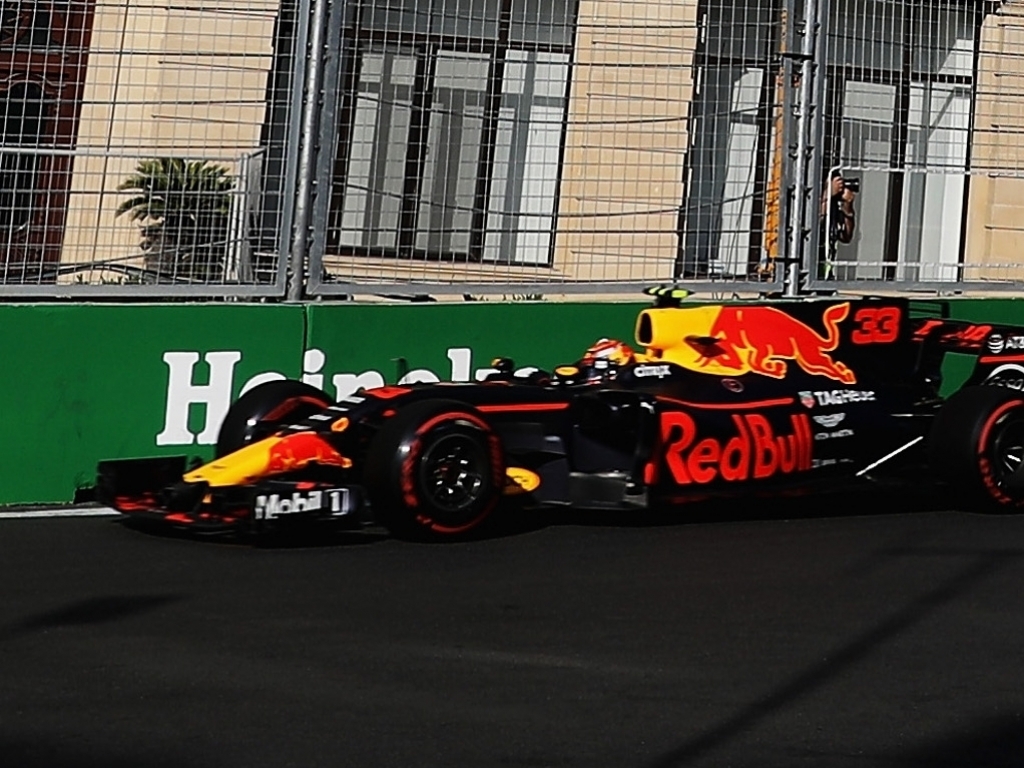 It may have been Red Bull's first Friday double of the session but Max Verstappen's back-to-back P1s were overshadowed by a late crash for the Dutchman and a bigger one earlier on for Jolyon Palmer.
Azerbaijan's escape roads were arguably the most used pieces of tarmac throughout FP2 as, despite having already had an entire session on the track, the drivers still struggled to find the perfect braking points. At one point both Sebastian Vettel and Felipe Massa were down the same escape road at Turn 8.
And, as to be expected, braking was an issue for Romain Grosjean. He complained to Haas only to be told that yip, it's not his imagination, the front brakes aren't working as they should. Why, though, Haas had no idea.
There was more drama as Daniil Kvyat tagged the wall with the right rear of his Toro Rosso, dragging bits of hoarding onto the circuit. The Virtual Safety Car made a brief appearance as a marshal did the 10m dash to retrieve the bits of wall.
However, it was Jolyon Palmer who dished up the session's only proper crash as he binned it at Turn 8, the same place where Sergio Perez crashed in FP2.
"All OK with the car, Jo?"
"No, I hit the wall."
It was more of the same for McLaren-Honda as Fernando Alonso's session ended 30 minutes early. He slowly toured around the circuit, taking a short cut over the kerbs, and eventually pulled over and parked it.
His words: "Engine, engine."
And that was his new Honda engine.
The option tyres, the red walled supersofts, delivered the best times of the session with Ferrari initially coming to the fore. Vettel went quickest with a 1:43.615, putting him 0.108s up on Kimi Raikkonen.
However, that came to naught when Max Verstappen, who had been fastest on the soft tyres, put in his supersoft run. A 1:43.362 for the Dutchman.
Verstappen's session, though, ended in the barriers at Turn 1 as he went into a spin, called the barrier, and that was the end of FP2.
Valtteri Bottas finished the session in second place, 0.100s down, while Daniel Ricciardo was third ahead of Raikkonen and Vettel.
The surprise of the session came from Lance Stroll as the Williams rookie, fresh from his Canadian GP points, finished in sixth place ahead of Sergio Perez, Daniil Kvyat and Esteban Ocon.
Lewis Hamilton was P10, 1.163s off the pace.
Times
1 Max Verstappen    Red Bull    1:43.362
2 Valtteri Bottas    Mercedes    1:43.462    0.100
3 Daniel Ricciardo    Red Bull    1:43.473    0.111
4 Kimi Raikkonen    Ferrari    1:43.489    0.127
5 Sebastian Vettel    Ferrari    1:43.615    0.253
6 Lance Stroll    Williams    1:44.113    0.751
7 Sergio Perez    Force India    1:44.306    0.944
8 Daniil Kvyat    Toro Rosso    1:44.321    0.959
9 Esteban Ocon    Force India    1:44.484    1.122
10 Lewis Hamilton    Mercedes    1:44.525    1.163
11 Felipe Massa    Williams    1:44.609    1.247
12 Fernando Alonso    McLaren    1:45.515    2.153
13 Carlos Sainz    Toro Rosso    1:45.733    2.371
14 Kevin Magnussen    Haas    1:45.831    2.469
15 Nico Hulkenberg    Renault Sport    1:46.003    2.641
16 Jolyon Palmer    Renault Sport    1:46.061    2.699
17 Stoffel Vandoorne    McLaren    1:46.174    2.812
18 Pascal Wehrlein    Sauber    1:47.150    3.788
19 Marcus Ericsson    Sauber    1:47.347    3.985
20 Romain Grosjean    Haas    1:47.722    4.360