FP2: Vettel fastest as Stroll crashes out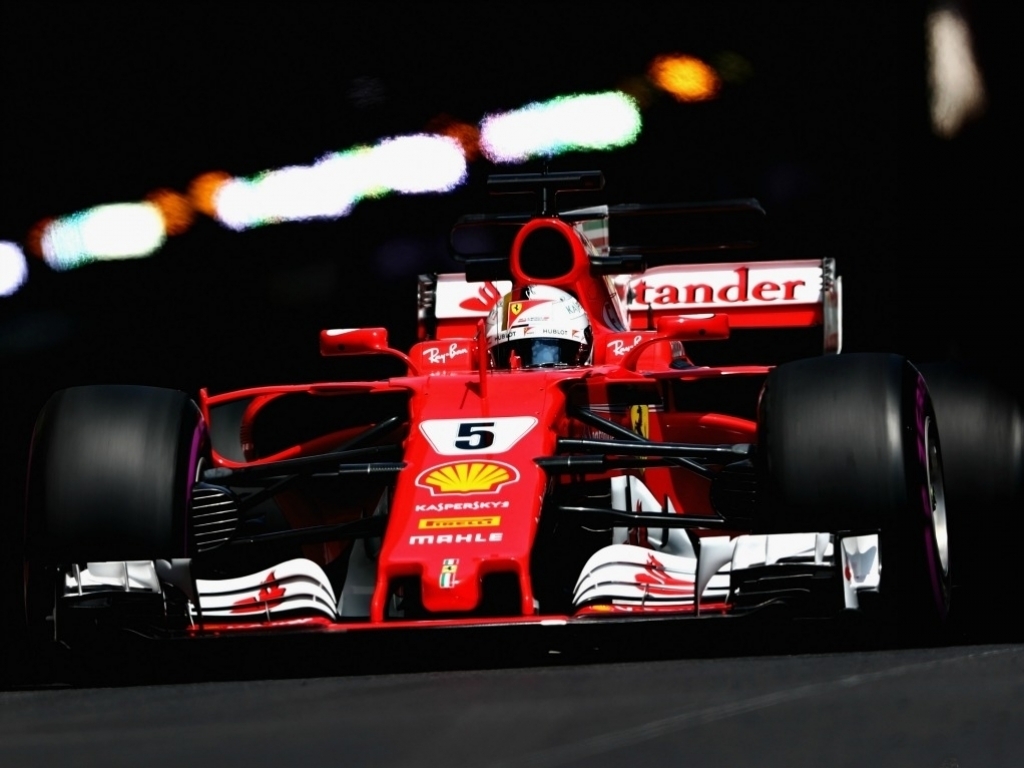 Sebastian Vettel smashed into the 1:12 barrier in Monte Carlo to finish top of the FP2 standings, with the session briefly red-flagged as Lance Stroll suffered another costly crash.
Vettel posted a best time of 1:12.720, with the top five of Daniel Ricciardo, Kimi Raikkonen, plus Toro Rosso duo Daniil Kvyat and Carlos Sainz all eclipsing the best time set by FP1 leader Lewis Hamilton.
The Brit, however, was unable to capitalise on his strong showing in the morning, finishing down in P8 with traffic playing its part on the tight streets of Monaco. Team-mate Bottas finished the session in P10.
The session was much worse for the under-pressure Stroll, though, after he was thrown into the barrier at Casino and leaving his team with another hefty bill to cover.
Nico Hulkenberg, who missed the entirety of FP1 with an ERS problem, was one of the first to show in cloudy conditions in Monte Carlo.
However, the bad luck transferred to his Renault team-mate Jolyon Palmer as his car went up in smoke just 10 minutes into FP2.
The early pace surprisingly came from Toro Rosso and Daniil Kvyat, who bettered Hamilton's fastest time from FP1 by a tenth with a 1:13:331.
There was then a very nervy moment for Marcus Ericsson in the Sauber as he lost the rear at Casino Square and clattered into the barrier, somehow avoiding serious damage and able to continue after a quick check in the pits.
Daniel Ricciardo struggled to find the right balance in his Red Bull on the first morning, but got a better tune out of it in the afternoon as he eclipsed Kvyat's time by 0.051 seconds.
His time in P1 was pretty short-lived, though, as Vettel switched to the ultras and broke into the 1:12 barrier soon after.
Stroll was complaining about a lack of grip over the team radio and that eventually led to him smashing into the barriers at Massenet/Casino Square, prompting the first red flag of the day and a few race stewards very lucky not be hurt as they stood so close to the action.
The session was not disrupted for too long, though, as the track went green again with 30 minutes of FP2 remaining and drivers switching to used tyres and heavy fuel loads for some longer runs before the checkered flag waved.
It was Ferrari who were also strongest on race pace with the Red Bulls around three tenths behind in the 1:15 region. Mercedes dropped into 1:16s alongside Toro Rosso.
Timesheet
1 Sebastian Vettel Ferrari 1:12.72
2 Daniel Ricciardo Red Bull 1:13.207 0.487
3 Kimi Raikkonen Ferrari 1:13.283 0.563
4 Daniil Kvyat Toro Rosso 1:13.331 0.611
5 Carlos Sainz Toro Rosso 1:13.400 0.680
6 Max Verstappen Red Bull 1:13.486 0.766
7 Sergio Perez Force India 1:13.799 1.079
8 Lewis Hamilton Mercedes 1:13.873 1.153
9 Kevin Magnussen Haas 1:13.890 1.170
10 Valtteri Bottas Mercedes 1:13.902 1.182
11 Stoffel Vandoorne McLaren 1:13.946 1.226
12 Jenson Button McLaren 1:13.981 1.261
13 Felipe Massa Williams 1:14.003 1.283
14 Romain Grosjean Haas 1:14.022 1.302
15 Esteban Ocon Force India 1:14.093 1.373
16 Lance Stroll Williams 1:14.474 1.754
17 Nico Hulkenberg Renault Sport 1:14.870 2.150
18 Jolyon Palmer Renault Sport 1:15.616 2.89
19 Marcus Ericsson Sauber 1:15.691 2.971
20 Pascal Wehrlein Sauber 1:15.695 2.975