FP3: Bottas quickest in fiery practice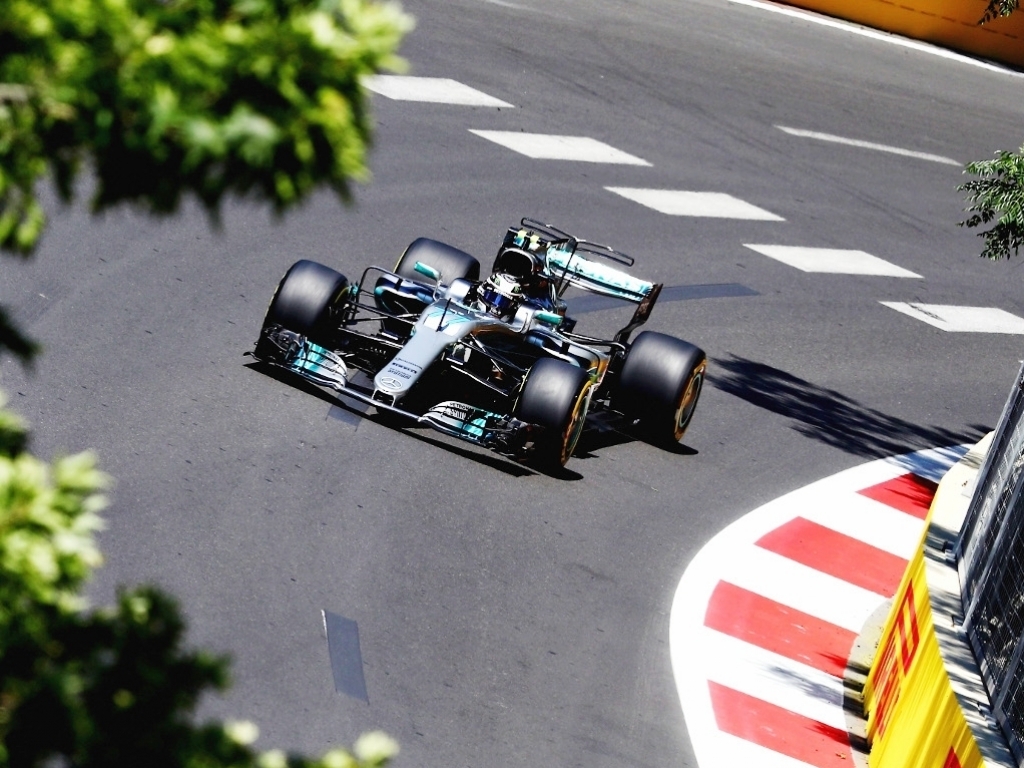 Valtteri Bottas set the pace in final practice for the Azerbaijan GP, a session in which Jolyon Palmer's luck went from bad to worse.
Palmer managed just four laps of the Baku circuit on Saturday afternoon before he was down the Turn 2 escape road with his Renault on fire.
The marshals drowned his RS17 in fire retardant foam, preventing further damage.
? "Stop the car, stop the car"

Agony for @JolyonPalmer as his engine catches fire #AzerbaijanGP ?? #F1 pic.twitter.com/ZAMWnCNRmK

— Formula 1 (@F1) June 24, 2017

With the yellows eventually lifted at Turn 2, the action heated up as did the track temperature – up to 59'C!
Daniil Kvyat set the early pace before losing out to Mercedes with Valtteri Bottas hitting the front with a 1:43.720.
Ferrari and Force India got involved in the tussle as did Williams while Lewis Hamilton climbed to fifth place. The Brit and his team-mate the only two inside the top ten running the soft Pirellis.
Friday's pace-setter Max Verstappen was down in 15th place on the soft tyres, 2.7s down, while Daniel Ricciardo was three-tenths slower than his team-mate.
When Mercedes made the switch to the supersofts they held onto P1 with Bottas again the man to beat, a 1:42.742 for the Finn. Kimi Raikkonen was second, 0.095s down, while Hamilton was third.
Daniel Ricciardo was fourth ahead of Esteban Ocon and Max Verstappen, who had an issue late in the session. The Red Bull driver reported that "everything just switched off" as he stopped on the side of the track on the main straight.
Felipe Massa, who "almost crashed man" at Turn 8, was seventh ahead of Kvyat, Lance Stroll and Sergio Perez.
Sebastian Vettel, who sat out the final 20 minutes of FP3 due to a suspected leak, was P12.
Times
1    Valtteri Bottas    Mercedes    1:42.742
2    Kimi Raikkonen    Ferrari    1:42.837    0.095
3    Lewis Hamilton    Mercedes    1:43.158    0.416
4    Daniel Ricciardo    Red Bull    1:43.287    0.545
5    Esteban Ocon    Force India    1:43.344    0.602
6    Max Verstappen    Red Bull    1:43.614    0.872
7    Felipe Massa    Williams    1:43.738    0.996
8    Daniil Kvyat    Toro Rosso    1:43.908    1.166
9    Lance Stroll    Williams    1:44.040    1.298
10    Sergio Perez    Force India    1:44.138    1.396
11    Nico Hulkenberg    Renault Sport    1:44.312    1.570
12    Sebastian Vettel    Ferrari    1:44.344    1.602
13    Carlos Sainz    Toro Rosso    1:44.692    1.950
14    Fernando Alonso    McLaren    1:44.741    1.999
15    Kevin Magnussen    Haas    1:44.926    2.184
16    Stoffel Vandoorne    McLaren    1:45.143    2.401
17    Romain Grosjean    Haas    1:45.491    2.749
18    Marcus Ericsson    Sauber    1:45.645    2.903
19    Pascal Wehrlein    Sauber    1:45.722    2.980
20    Jolyon Palmer    Renault Sport    1:53.040    10.298