FP3: Vettel leads a Ferrari 1-2 in Montreal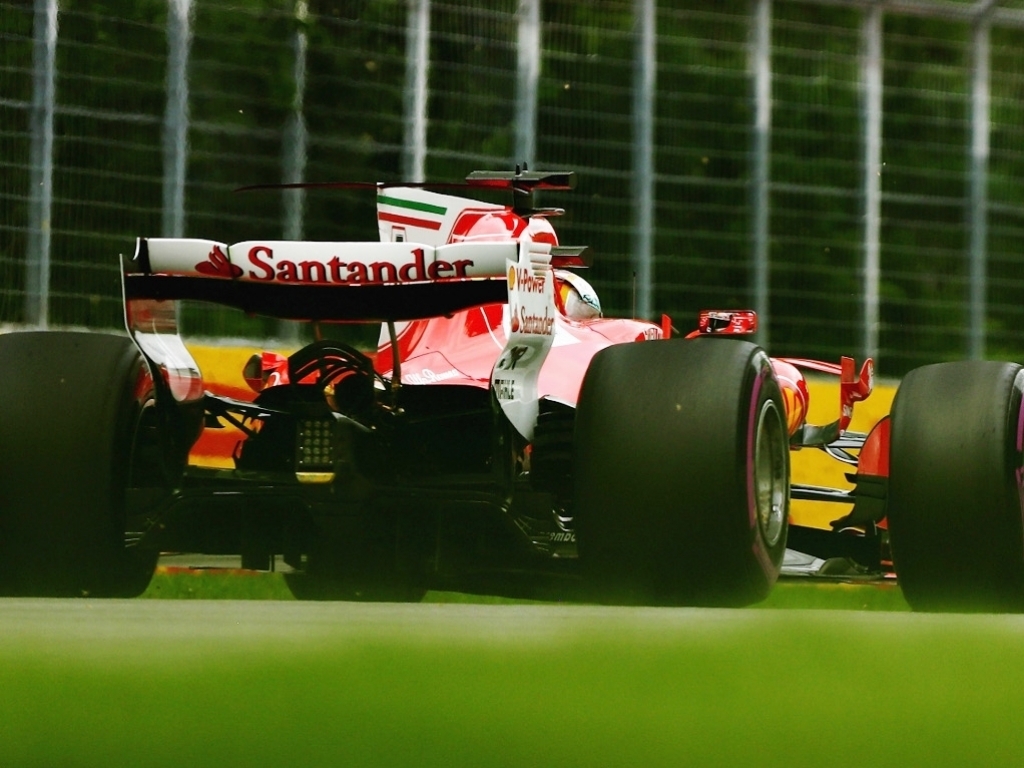 Sebastian Vettel became the third driver to top a practice session in Canada this weekend, edging Kimi Raikkonen in FP3.
Rising track temperature and a near perfect morning in Montreal greeted the drivers at the start of Saturday's third and final practice session.
Vettel set the early pace, lowering the benchmark to a 1:13.015 as Lewis Hamilton slotted into second place.
Raikkonen made it a Ferrari 1-2 as he closed right up on Vettel, falling a mere 0.002s short of his team-mate's best.
Vettel responded by shaving tenths off his time, dropping to a 1:12.704. Finding more pace on his third flying lap, the German crossed the line with a 1:12.572.
That proved to be the time to beat for the session with Raikkonen coming closest but some three-tenths off the pace.
Mercedes were third with Lewis Hamilton ahead of Max Verstappen while Valtteri Bottas was fifth quickest. Hamilton's best, a 1:12.926, was 0.354s shy of Vettel's P1 time.
Nico Hulkenberg made a late improvement on the ultrasoft tyres to finish sixth, edging Felipe Massa and the second Red Bull of Daniel Ricciado. The trio were separated by 0.05s.
Esteban Ocon and Carlos Sainz completed the top ten in what was a relatively trouble-free session for all 20 drivers.
Times
1    Sebastian Vettel    Ferrari    1:12.572
2    Kimi Raikkonen    Ferrari    1:12.864    0.292
3    Lewis Hamilton    Mercedes    1:12.926    0.354
4    Max Verstappen    Red Bull    1:12.965    0.393
5    Valtteri Bottas    Mercedes    1:13.210    0.638
6    Nico Hulkenberg    Renault Sport    1:13.493    0.921
7    Felipe Massa    Williams    1:13.527    0.955
8    Daniel Ricciardo    Red Bull    1:13.545    0.973
9    Esteban Ocon    Force India    1:13.635    1.063
10    Carlos Sainz    Toro Rosso    1:13.667    1.095
11    Daniil Kvyat    Toro Rosso    1:13.788    1.216
12    Fernando Alonso    McLaren    1:13.885    1.313
13    Sergio Perez    Force India    1:13.956    1.384
14    Romain Grosjean    Haas    1:13.994    1.422
15    Jolyon Palmer    Renault Sport    1:14.102    1.530
16    Stoffel Vandoorne    McLaren    1:14.228    1.656
17    Kevin Magnussen    Haas    1:14.392    1.820
18    Lance Stroll    Williams    1:14.409    1.837
19    Marcus Ericsson    Sauber    1:14.883    2.311
20    Pascal Wehrlein    Sauber    1:14.965    2.393