FP3: Vettel quickest with Hungaroring lap record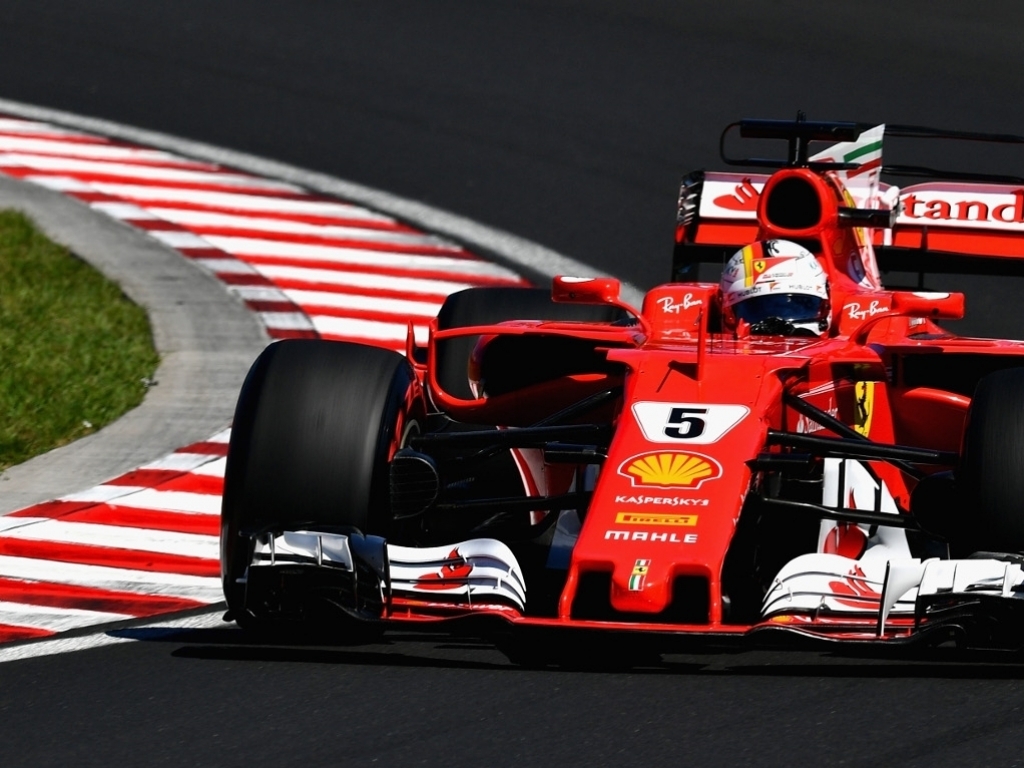 Sebastian Vettel broken the Hungaroring's lap record as he posted a 1:17.017 to top the timesheet in final practice.
On a glorious morning at the Hungaroring, not a cloud in sight, Ferrari set the early pace in final practice for the Hungarian Grand Prix.
Sebastian Vettel and Kimi Raikkonen both went under the lap record as they put in their early runs on the supersoft tyres.
A 1:17.790 for the German put him 0.119s up on Raikkonen while Lewis Hamilton was third on the soft tyres.
There were problems for Daniel Ricciardo, who up to fourth place, broke down on the side of the track with his RB13 stuck in fifth gear.
With a new set of supersofts on his Ferrari, Vettel again lowered the benchmark and the lap record to a 1:17.017.
That put him 0.475s up on Raikkonen while Mercedes' Valtteri Bottas was next in line.
He was third, 0.897s down, while Lewis Hamilton finished P5, 1.417s off the pace. The Brit struggled to get in a perfect lap, making several mistakes as he went along.
Max Verstappen split the Mercedes pairing with Stoffel Vandoorne an impressive sixth ahead of Nico Hulkenberg, Ricciardo and Fernando Alonso.
Jolyon Palmer completed the top ten.
Meanwhile it was not a good morning for Felipe Massa.
The Brazilian, who felt unwell on Friday afternoon, was cleared to contest FP3 by the FIA's medical doctors but managed just 12 laps before he was out of the car and back in Williams' hospitality area.
It remains to be seen whether he will contest qualifying or if Paul di Resta, the Williams reserve, will drive.
Times
1 Sebastian Vettel Ferrari 1:17.017
2 Kimi Raikkonen Ferrari 1:17.492 0.475
3 Valtteri Bottas Mercedes 1:17.914 0.897
4 Max Verstappen Red Bull 1:18.194 1.177
5 Lewis Hamilton Mercedes 1:18.434 1.417
6 Stoffel Vandoorne McLaren 1:18.638 1.621
7 Nico Hulkenberg Renault Sport 1:18.699 1.682
8 Daniel Ricciardo Red Bull 1:18.714 1.697
9 Fernando Alonso McLaren 1:18.884 1.867
10 Jolyon Palmer Renault Sport 1:18.956 1.939
11 Carlos Sainz Toro Rosso 1:19.300 2.283
12 Esteban Ocon Force India 1:19.352 2.335
13 Daniil Kvyat Toro Rosso 1:19.455 2.438
14 Sergio Perez Force India 1:19.609 2.592
15 Romain Grosjean Haas 1:19.622 2.605
16 Kevin Magnussen Haas 1:19.895 2.878
17 Felipe Massa Williams 1:20.255 3.238
18 Lance Stroll Williams 1:20.379 3.362
19 Pascal Wehrlein Sauber 1:20.446 3.429
20 Marcus Ericsson Sauber 1:20.748 3.731