FP3: Vettel sets the pace in Austria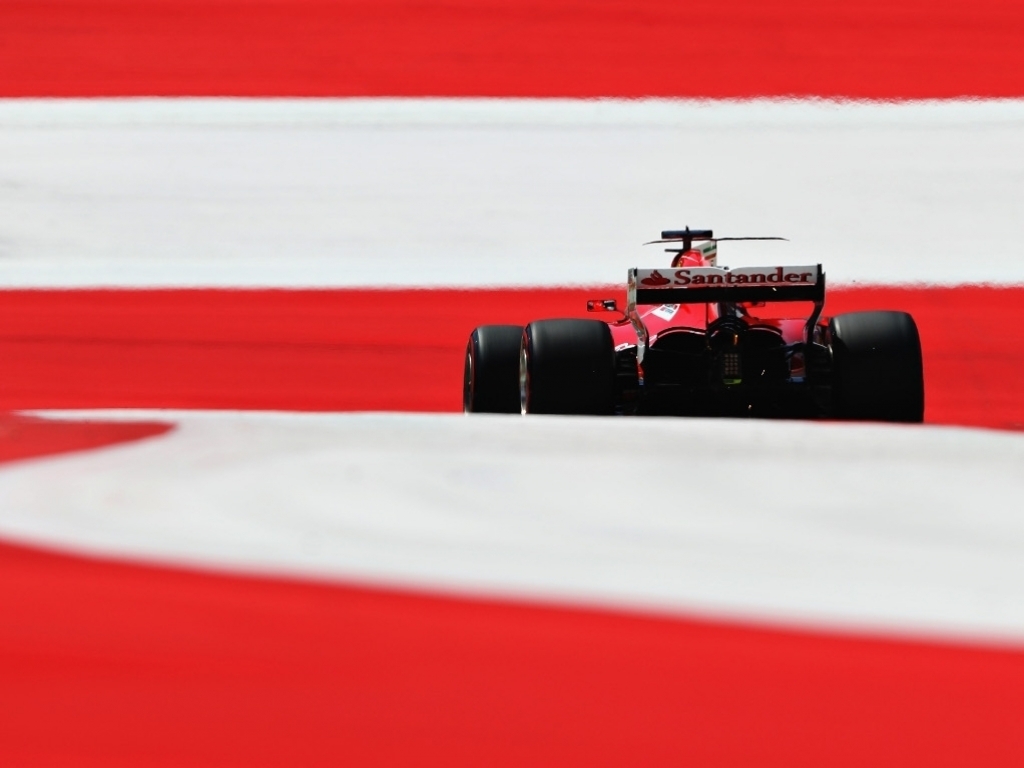 Sebastian Vettel posted a new lap record as he set the pace in final practice at the Red Bull Ring, edging Lewis Hamilton who suffered a right front brake failure. 
With 60 minutes of play available on Saturday morning, the drivers were quickly out with the purple-marked ultrasoft Pirellis the tyre of choice from the get-go.
While Red Bull held the early advantage, the session became a battle between title rivals Hamilton and Vettel for P1.
The duo traded blows – and lap records – as they took turns to top the charts with X quickest of all at the end of the hour with a 1:05.092.
Hamilton was second, 0.269 seconds down.
The Brit had an issue in the final ten minutes as his W08 suffered a right front brake failure that sent him flying off the track.
He was able to recover and work his way back to the pits but that was his session over.
Valtteri Bottas was third ahead of Kimi Raikkonen, Max Verstappen and Daniel Ricciardo, who both spent some time in the pits with damaged floors.
Kevin Magnussen was seventh ahead of Romain Grosjean, Daniil Kvyat and Carlos Sainz.
It was a dreadful start to the session for Sainz as the Spaniard stopped on his out-lap with an engine issue. He was unable to restart the car and was pushed off the track by the marshals.
His car, though, was recovered to the pits and he rejoined the action.
Fernando Alonso, running the Spec 2 Honda engine after an MGU-H issue with his upgraded Spec 3 unit, was P15.
Times
1 Sebastian Vettel Ferrari 1:05.092
2Lewis HamiltonMercedes1:05.3610.269
3Valtteri BottasMercedes1:05.5150.423
4Kimi RaikkonenFerrari1:05.6110.519
5Max VerstappenRed Bull1:05.7840.692
6 Daniel Ricciardo Red Bull 1:05.896 0.804
7Kevin MagnussenHaas1:05.9360.844
8Romain GrosjeanHaas1:06.0150.923
9Daniil KvyatToro Rosso1:06.2791.187
10Carlos SainzToro Rosso1:06.2841.192
11Esteban OconForce India1:06.3741.282
12Nico HulkenbergRenault Sport1:06.5631.471
13 Stoffel Vandoorne McLaren 1:06.578 1.486
14Jolyon PalmerRenault Sport1:06.5951.503
15Fernando AlonsoMcLaren1:06.5991.507
16 Lance Stroll Williams 1:06.776 1.684
17Felipe MassaWilliams1:06.8651.773
18Sergio PerezForce India1:06.8751.783
19Marcus EricssonSauber1:07.3782.286
20Pascal WehrleinSauber1:07.4682.376