Friday: Ferrari, Mercedes, Red Bull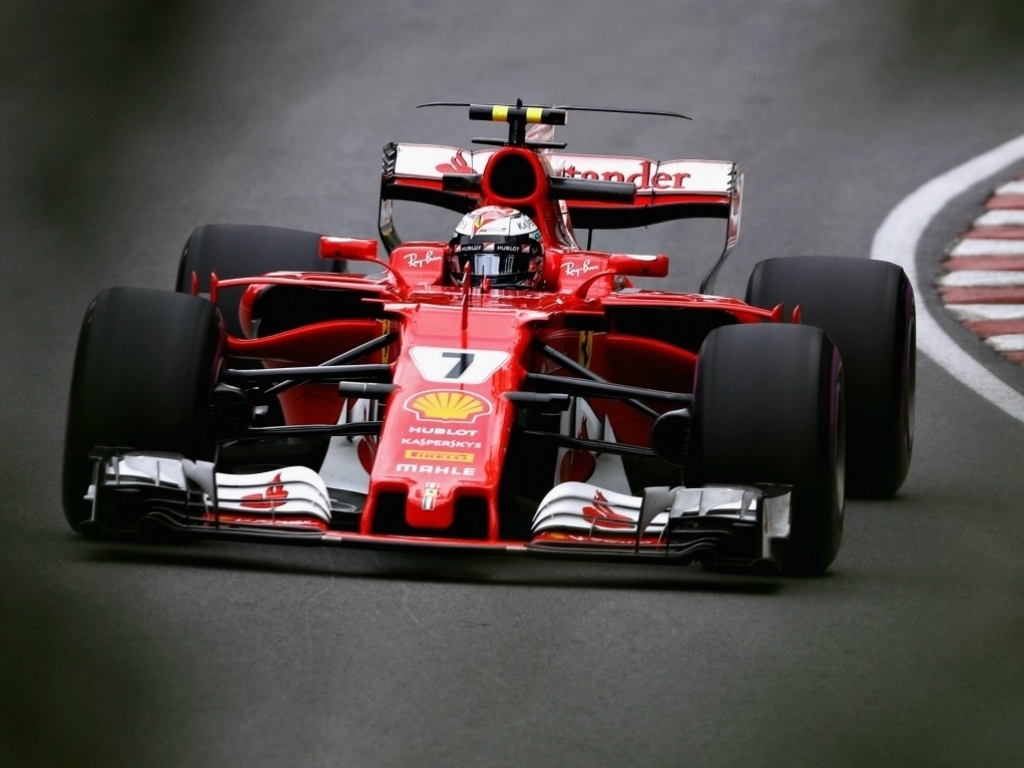 Kimi Raikkonen topped the FP2 timesheets after Lewis Hamilton set the early pace in FP1. Both Red Bulls had to retire in FP2.
Ferrari
Kimi Raikkonen: "It was a good day. Things worked out smoothly and the car felt okay both on high and low fuel; that's the main thing. So far so good, but it's still Friday and obviously there's always things to improve. The nature of the circuit is quite tricky because of the low downforce configuration; in some corners, like in the chicanes, you have to use the kerbs a lot to go fast, but because of the low downforce the car is bouncing and it always feels very slippery. But at this track, given the long straights, to achieve pure lap time you have to drive in that configuration. Today we started pretty well, we keep on doing our usual work, trying to improve for tomorrow."

Sebastian Vettel: "Today I was fighting with the car at the beginning, but in the end I understood what we needed and what we had to do. Tomorrow should be a better day. It was an interesting session. The track was slippery and very dirty this morning. We try to do our best, sometimes it works and sometimes it doesn't. But in the end we found the right direction. So we'll see what tomorrow brings, but I am confident it will be better. We focus on what we have to do. We could have had a better session today, but hopefully we'll have it tomorrow."
Mercedes
Lewis Hamilton: "It's been a pretty good first day for the team. The Ferraris are looking fast here and as the times show, it's super close at the top right now. I feel like we are still just a little bit behind the red cars at this early stage of the weekend, but we'll be pushing as hard as we can to close the gap ahead of qualifying on Saturday. After a tough weekend in Monaco, the main thing is that our car is already feeling a lot better around Montreal. It should be game on for the rest of the weekend."
Valtteri Bottas: "After Monaco it was really nice to start this weekend with a positive feeling from the car. I think that we are looking quite competitive here, but it's only practice. After practice two, it's clear we still have a bit more work to do with the UltraSoft tyre to get more laptime out of those. But the car felt good on the Soft tyres that I tried. We'll focus on finding that edge of extra performance from the UltraSoft and fine-tuning the set-up overnight. Otherwise I really enjoyed it and had good fun out there, but it's the next two days that count."
Red Bull
Max Verstappen: "It wasn't the cleanest of days but in terms of performance I think we were OK. Before the stoppage in P2 it was a positive session, we felt like we had good pace and weren't far off the top four. This is nice to see at this track as it usually is not one of our favourites, we can be pleased with that I guess. The short runs were good and the updates seem to have given us something a little extra, with such long straights here it is always going to be difficult for us. We are not yet fast enough to beat the top two teams so we do our best to finish fifth and optimise what we have. We still need to investigate what the issue with the car was but I'm sure the boys will have it ready to go again tomorrow."
Daniel Ricciardo: "A bit of an uneventful day to be honest as I didn't get a whole lot of running. We had a bit going on this morning and then had an engine issue this afternoon. The positive is that Max's pace on the ultra softs looked pretty good, so hopefully we'll learn a bit more from their set up tonight and then push on for tomorrow. I doubt we got a lot of long run data today but at least Max did some good short runs. For me, we'll take a little bit from today but we obviously didn't get too many uninterrupted flying laps. But that's okay, because I've driven this track before so I'll just get into it tomorrow morning."