Friday: Mercedes, Ferrari, Red Bull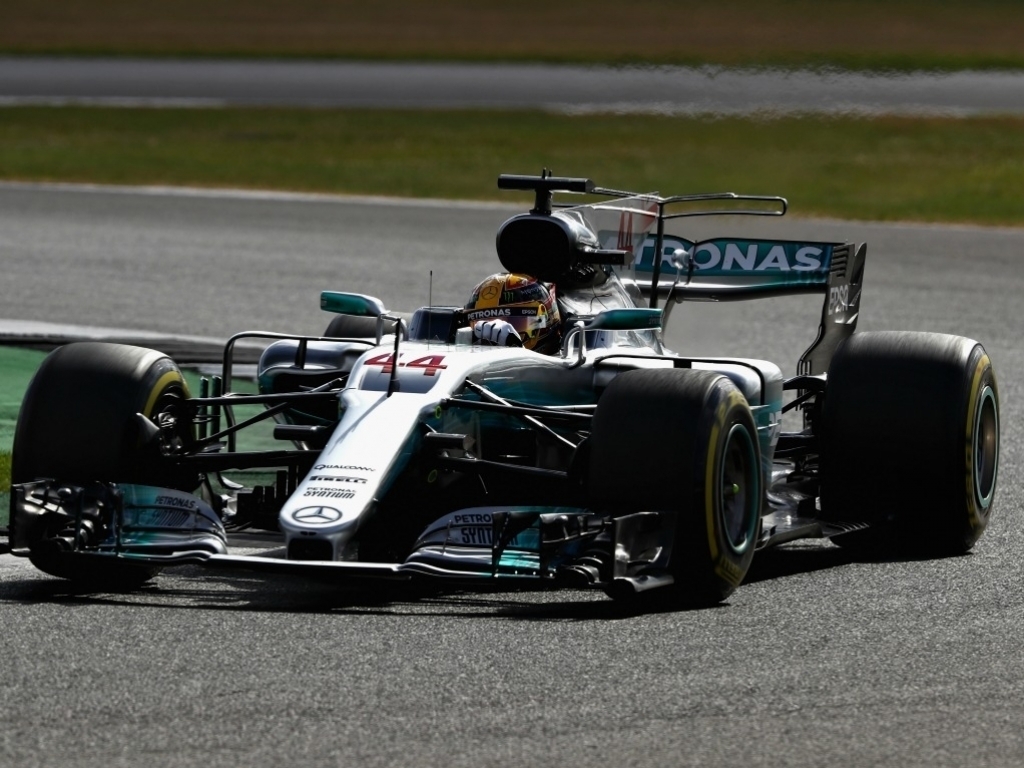 Valtteri Bottas was top in both FP1 and FP2, as Sebastian Vettel gave the 'shield' cockpit protection a very short-lived debut.
Mercedes
Valtteri Bottas: "We've started the weekend really well. In the first session, the balance was not too far away, so a positive start. There is still work to do to get the car more driveable and to be able to trust it more in the high-speed corners. But overall I think it was a good start for the weekend. We just need to work as normal, try and make improvements for tomorrow. I'm impressed by the new cars on this track with its high-speed corners – they're so much quicker than before. I'm definitely enjoying it and had a lot of fun, so I'm looking forward to tomorrow. You feel more G in the corners and there's a greater effect on your body, quite a big step up from last year. But luckily I'm well prepared for that."
Lewis Hamilton: "Today's been a really good start to the weekend and it's great to be back here at Silverstone. The track is absolutely incredible with these new cars. It was already one of the very best circuits in the world, but with this car and the speed we are able to carry through the corners, it's just phenomenal, it's like the greatest rollercoaster ride ever. We worked through all the sessions, fine-tuning the balance and I think we're in a good position at this early stage of the weekend. We still need to build upon it, but it's a great foundation moving forward. Each time I left the garage I gave the fans a wave and I could see them waving back. I just want them to know that I can see them and I really appreciate all the love and support."
Ferrari
Sebastian Vettel: "Today for us it was a bit mixed, of ups and downs. This morning we had difficulties with the balance to start with, but overall I think we improved the car at the end of the session. On Friday you don't seek much the performance and this new engine has a lot of miles to do, so we try to save it. It's working well and we didn't have problems. But we still have to do more and to improve. We have a lot of things to look at. Mercedes looks quick but it's not a surprise. The track today was too slippery and tricky, but I think we can get better tomorrow. Today I [also] tried the Shield cockpit protection. The vision is not very good and I think it's because of the curvature that creates a bit of distortion. We had a run plan but I didn't like it too much. I couldn't see much, but at the end it was fun to drive".
Kimi Raikkonen: "It was a pretty decent day, a bit more straightforward session than on other occasions, and we had no issues. Since this morning the feeling had been ok, but obviously at the beginning there was a bit of guesswork with the conditions, as always when you first run at a track. It could have been a bit better, but it was not too bad either. Tomorrow will be a different day, we can only try to do our best and I'm sure we can improve. In qualifying and mainly on Sunday we'll see if it is enough".
Red Bull
Max Verstappen: "It was good fun to drive today, the gusty conditions are typical here at Silverstone and it is the same for everyone so you just have to get on with it. This year's new cars felt quicker through the fast corners and more enjoyable to drive, I knew it would be different but this is nice to see. The Ferraris went a bit quicker in the second session and I think we didn't have a great one, we still have a bit of work to do as I think we can get closer to the guys ahead and also improve our race pace. We can find some improvement in car balance as I feel it changed for the worse between practice one and two, so we will go away and look into that now. There was a bit of a drop off on the supersoft but I think that was expected, the softs however seem to be holding up ok, even so I think a one stop race is optimistic. No issues so far, I'm happy about that."
Daniel Ricciardo: "Today was an ok Friday. We learned a lot but there is certainly some time to find, judging by the performance last week we can definitely improve in the high speed and we haven't quite optimized the car yet. The conditions were tricky with the low track temperature and the wind, I had quite a moment at Maggots and Becketts at one point and it felt like the wind blew me across the track. Tyre-wise, I think most people are happier with the soft at the moment and that's the trend. The supersoft is a bit quicker but it doesn't seem to last as long so I think most of the race will be run on the soft tyre. I'm still confident that we can fight for a podium on Sunday but we need to make a few improvements to make that happen. Mercedes are very fast but I think if we get everything right we can be challenging Ferrari tomorrow. Qualifying should be a good fight."