Friday's FIA press conference – part two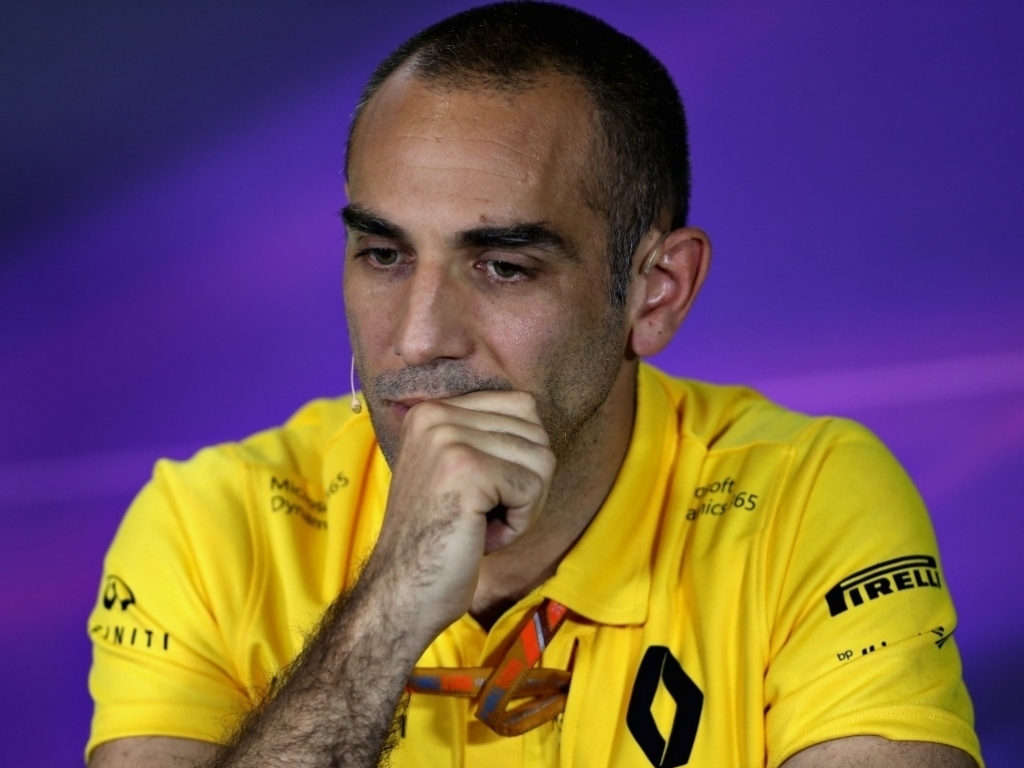 Cyril Abiteboul, Andy Cowell and Jonathan Neale sit down with the press following FP2 at Silverstone.
PART TWO: Cyril ABITEBOUL (Renault), Andy COWELL (Mercedes), Jonathan NEALE (McLaren)
Q: Cyril, 40th anniversary for Renault in Formula One. The retro look that we saw in London, I hear it might roll out again with the team again later this weekend, retro cars on parade. Tell us about this moment and what F1 has meant to Renault?
Cyril ABITEBOUL: How long have you got! Forty years, that's a lot. Lots of success. I think the best way I would summarise it, every time we've been in Formula One and attacking Formula One we've been successful, whether in the late 80s-90s with Williams, 2005-6 obviously with Fernando in the blue car and then later with Red Bull Racing. That's why obviously the pressure is very big, that we've been successful and the expectations are high, that we get back at that level. For Renault it meant also that Renault has moved from being a French carmaker to a European and then a global carmaker. A global brand. Part of a very large alliance and about to become the largest carmaker in the world with Nissan and Mitsubishi. So obviously everything has changed. Formula One has changed. We have changed and that's what we want to celebrate with this anniversary.
Q: Now, Robert Kubica. The comeback seems to be gathering pace. He had a second test this week at Ricard. What can you tell us about that. What are the plans for the Hungary post-grand prix test in the 2017 car, and how close is he to being ready to race in Formula One again?
CA: Well, that's a second test after obviously a first test. The first test was nothing more than an opportunity for him to get back behind the steering wheel into a Formula One car – but there is a big caveat, is that it's a Formula One car from 2012 with demo tyres, with V8 engine, normally-aspirated, fantastic noise but doesn't exactly match the current F1 car. So, whatever we do is not quite representative. That second test, however, we sort-of walked more towards what could look like a plan in order to assess, to give both him and us the opportunity to assess a little bit more his limitation and his abilities. What I can tell you is that he is still quick, he is still very consistent and, more importantly, he still has this energy, this drive, this sort of enthusiasm that he has always had, he always carried to him and to the team. Really too early to talk about next steps. I don't want to add to the speculation. Right now the focus is on, y'know, getting the most out of the overall line-up and package that we have and then we'll be thinking about 2018 in due course – which is not just now.
Q: Has the evaluation shown that he is capable of racing a Formula One car?
CA: I would not say that – and I don't want to say yes or no. It's not like a test that you're passing at an exam. We've not seen any obvious road blocks. Having said that, you know, again testing in this circumstance and testing in a more modern car is something completely different. So, you know, again, this situation is complex. We are not doing that for PR purposes, even though we see that it is creating a lot of media expectation and focus. It's not what we're doing. We care so much more for Robert than this.
Q: Andy, coming to you. New engine for both the works drivers. How far ahead is it from the previous one.
Andy COWELL: Yes. Phase 2.1 engine, installed for both Lewis and Valtteri today. In terms of improvement compared to the previous one, it's actually very similar. It's exactly the same spec as we installed with the customers in Canada and today's been an exercise in checking the health of it and dialling it in from a calibration perspective.
Q: We had an interesting discussion in the previous session about the next generation engines – obviously it's a big decision. Christian Horner was saying that it could be around for ten years. The car industry in 2030 could be unrecognisable compared to where it is today, but it does seem that there is a bit of consensus from the high-ups about what Formula One should do next on the engine rules in terms of parts. From your point of view, as an engine builder, what do you feel about the direction going forward? What would you like to see?
AC: I think there have been two very constructive meetings held in Paris, chaired by the FIA but with Ross Brawn and his team present, with the existing manufacturers and other OEMs that might be interested in coming in and also independent engine manufacturers and suppliers as well, component suppliers. And everybody's expressed their opinion on what 2021 should bring and I think you touch on a very good point that we need to make sure that the technology that's introduced in Formula One in 2021 is ahead of the road car world in 2021 and perhaps mimicking what will be in the showrooms in 2026, so that it's a lead in to it but there's a whole load of other topics that need to be discussed and the conclusion of the second meeting is that we need to do some more work. We need to break out into expert groups and that's not necessarily us, that's people from outside of Formula One that understand about engine noise and how that brings pleasure to people that are hearing it and that's not necessarily (indistinct), the musicality of it, and then more scientific studies that we will be involved in like removing the MGU-H – we have single turbo or twin turbos. And so the FIA are going to chair several meetings, several working groups that conclude over the summer on their particular subject matter and then in September, bring that back together and try and condense that into one overall package. As ever, there will be compromise but I think if we come up with the best package for Formula One, for the manufacturers, for the fans, for the drivers, for the chassis teams etc then it will be a good step.
Q: Jonathan, coming to you: obviously now, six, seven months into the new management structure, working with Zak Brown, can we expect restructuring of the McLaren team as you look to the future? What do you… so good evaluation period, six, seven months, what can we expect going forward now?
Jonathan NEALE: I think it's great for the whole business that we have the kind of footprint that we do, where we have the premium sports car business, a Formula One and the applied technology business, the opportunity to bring that back together under one shareholding is something that I think all of us internally are pleased about. Certainly in terms of our customers, then they don't really differentiate between which group of shareholders own which bit of the product range, so that simplifies things. The executive committee with Mohamed and Mansour are steadfast in terms of the direction of travel of the business and I think what we will see is progressive evolution. I don't think we are going to see another step change or complete restructuring, just a bringing back together, some re-clarification of what the brand is and what the brand isn't and we've got an exciting growth agenda, both in the sports car business and in the applied technologies group and obviously we've got a job of work to do to make our Formula One programme competitive again.
Q: Obviously there's an awful lot of talk about the relationship with Honda; can you clarify the decision-making process and timescale from here; does it depend on the step they make later this year to define where the relationship goes and indeed, whether it even continues?
JN: The simple answer to both questions is no. I can't clarify the process or the timescale because there is no track or no set path. We have a contract with Honda and we're working through some of the challenges that we have and I can't duck the issue that for both Honda and McLaren we're not where we need to be and that this season is not only challenging but frustrating. I think when Hasegawa-san was here last week he recognised some of that frustration and whilst making progress he also acknowledged – and I thought that was very honest of him – that there is still a long way to go between where Honda are currently and the benchmark with the gentlemen either side of me. So, Formula One is all about where the best come to compete and competition is tough and unforgiving. I don't think it's something that we can just sit on lightly – either Honda or McLaren – so that we're having those kind of conversations. They're uncomfortable conversations as you would expect and they're things that we best do behind closed doors. I recognise the speculation, it's Formula One. I've only been in it for 17 years now so one thing I recognise is that when anybody says they're not talking to anybody, the answer is everybody's talking to everybody. Drivers talk to everybody, teams talk to everybody so I don't want to duck that. But we're working through our issues with Honda. We need to get it fixed. It is not sustainable in its current form.
QUESTIONS FROM THE FLOOR
Q: (Marc Surer – Sky Germany) Cyril, you have a new floor on your car. Does it work?
CA: When you say that, everyone wants to keep from everyone, everyone knows everything about everyone too. I'm sorry about that… it's a decent step, you know, but more importantly it's a completely different function philosophy. So it's not just one part in isolation, it's also the start of something: a development programme that we're going to carry through the break and through the later part of the season. And it's going in the direction that we're hoping as far as we are talking on Friday afternoon.
Q: (Dieter Rencken – Racing Lines) Jonathan, you said everybody talks to everybody, so that obviously leads to the assumption that you've been talking to Cyril, you've been talking to Andy, you've probably been talking to Honda again and again, and whatever else. But where do you go from here? I mean have you set a deadline for any form of performance improvement whereby you say 'right, that's the notice period' and can you then just simply tear up the contract and go and strike a deal with Andy? What do you do?
JN: It's like speed dating, isn't it? You can't tear up contracts… let's start there. As Cyril and Andy will attest, there are no performance guarantees, looking forward, so of course we all set our plans. We set plans for chassis, plans for drivers, plans for engines, in terms of making that level of progression where nothing is guaranteed. As I said earlier about there being a set process or some set timescale, then I think that's unrealistic. I think naturally we reach a point of inflection with Honda where we ask ourselves, internally, where do we go from here? What do we have to do differently to restore that level of competitiveness? There are clear constraints and rules, within the sporting regulations… as you pitched at me this morning, you're right, in order for an engine manufacturer to supply more than three teams does require FIA approval. The precedent for that – both the gentlemen either side of me have supplied four teams, I think Andy in '15, '16 and I think Cyril 2014. Ferrari have also supplied four teams in the past but there is a… what we want to do is to try and make sure that what we're doing is professional and good for the sport. It is good having Honda in Formula One and there isn't anybody who doesn't want to see a successful Honda in Formula One. And I say that regardless of anything that's currently going on. Honda are investing a lot and putting a lot of resource into the programme and we're working very hard with them but the fact is, given where we are in the Constructors' championship at the moment, we're not getting the job done. So there are constraints, as I say, in the sporting regulations. Everybody's talking to everybody, we are making sure that we maintain our good relationships with FOM and the FIA during this process, while we work through a difficult situation.
Q: (Graham Harris – Motorsport Monday) Cyril and Andy, possibly some comments. You are both manufacturers and you both would like to keep Honda in Formula One because more competition is good but clearly they are lagging far behind. Would either of you be prepared to assist them in perhaps improving their performance and have they come to you yet or is that something you are not prepared to say or if they do, would you be prepared to help them?
CA: I think there has been some speculation in the past about that and the speculation was not in relation to Renault. But you know from here, in Formula One – in today's Formula One – the engine has become a performance differentiator and even though at the end of this season, as part of the Constructors' definition, I think that as soon as it becomes a performance differentiator, it should be in keeping in the spirit of the regulations that there should not be any IP transfer or support for something that is making a primary impact on the overall performance of the package. So frankly I don't remember anyone volunteering for helping us when we had our problems in the past. I don't think it's something that we would love and I don't think it's something that Honda would really entertain, in all honesty. I think it's really a time issue. I don't think it's a matter of resource, it's not a matter of skill set, it's a matter of… basically when they stepped out of Formula One and when you get out, it takes an awful lot of time to rebuild and that's the sort of time for the manufacturers on the one hand and the customer on the other hand, that is the main limit. It's not about an interim measure and plus, it's extremely difficult to implement such support because their engine architecture will be very different from mine so apart from supplying an engine to Honda, I'm not going to be about to help them. No, I don't think this is really credible.
AC: I think collectively we've helped with convergence in Formula One in the opening season, performance development through the year, but then the opportunity to do a big change with Honda coming in, we all agreed that Honda could have that same opportunity to change everything in the first year and then the request came from manufacturers in addition to Honda saying 'please can we take this crazy token table away because it's bad for the sport?' It's bad if somebody can't train to get better and so we agreed, yeah, take the table away because it's better for the sport because it means that you can innovate, you can introduce whatever you like and I think none of us should underestimate the technical prowess of Honda and of McLaren and I think my money is on that combination coming good and coming good pretty quickly. No pressure!
Q: (Matthieu Piccon – Motorsinside) Cyril, you're lying eighth in the championship. For you is it more linked to the performance of your car or the fact that you're only scoring points with one driver and not two?
CA: You know, it's a combination. I can't break down the elements like that. It's true that if we had two times 18 points that it would be 36, we may have a different position in the championship but equally Jo has had several reliability issues that has hurt him, starting in winter, then in the opening races of the season where in particular we were a bit more competitive than we have been in recent races which has sort of eroded the confidence that he had in himself, in the package which we are trying to rebuild. So it's a combination, but what I can say is that standing eighth in the championship is absolutely not in line with what both the plan and expectation and history that we were mentioning before, of the 40 years of Renault in Formula One. So action must be taken to make a quick change. These things take a bit of time, there are still a number of things happening in the background, we've just had our new head of aero who started last week. Obviously that person is not going to make an impact in the next few races, it's going to take a bit of time but we have to… more importantly, we have to build confidence in ourselves and in the team that what we have, what we are doing will help us be where we want to be which is fighting for the podium in the next few years.
Q: (Dieter Rencken – Racing Lines) Andy, last year in September, I think, Tobias Moers announced the AMG Project One Hypercar project. Further details have come to light. I wonder if you could confirm some of them please. I believe 275 engines will be built by your factory and also something like a 30,000 service interval or something like that. Will you be building them, do you have that durability in those engines and is it based on your Formula One power unit?
AC: It's a fascinating project, the AMG Project One Hypercar. It is taking the Formula One power unit and putting it into the back of a two seater sports car and then two MGU-Ks on the front axle, so independent drive to the two wheels, so 160hp per wheel. So the combined power is over 1000hp. It is a pretty incredible power train, to be honest, both in terms of creating a car that can go round the Nurburgring in impressive lap times but also in terms of driving across town and on a dual carriageway. The fuel economy is impressive; this is something that… Tobias came up with the idea, rang me up, said is it possible? I rang him back after two weeks of doing a little bit of work during lunchtimes, to see what we could. We've now got a group of about 150 people. At Brixworth, that group will grow over the coming year and the target is to build 275 power trains so the power train will be built at Brixworth, having done the development work. Fascinating actually doing that development work and doing the transition from Formula One to road car. The vast majority of it carries across. Clearly things like fuel and emissions need to be managed but that works fairly seamlessly. We're targeting 50,000 kilometers so about that and in terms of the duty cycle it is quite considerably different. If you look at a high performance road car – Jonathan will know this from his McLaren road cars – if you've got somebody that drives at five percent of the time at full throttle, that's quite remarkable. Today we've got people driving Formula One cars round this track with 70 per cent full throttle and so that's where you gain an awful lot of the benefit, swapped from the bespoke fuels that all the fuel companies develop for Formula One into a pump fuel, the cylinder pressure drops, the loading drops and everything comes to you, so in terms of that, that durability, that's the easy bit.