Grosjean an 'easy target' says Haas team boss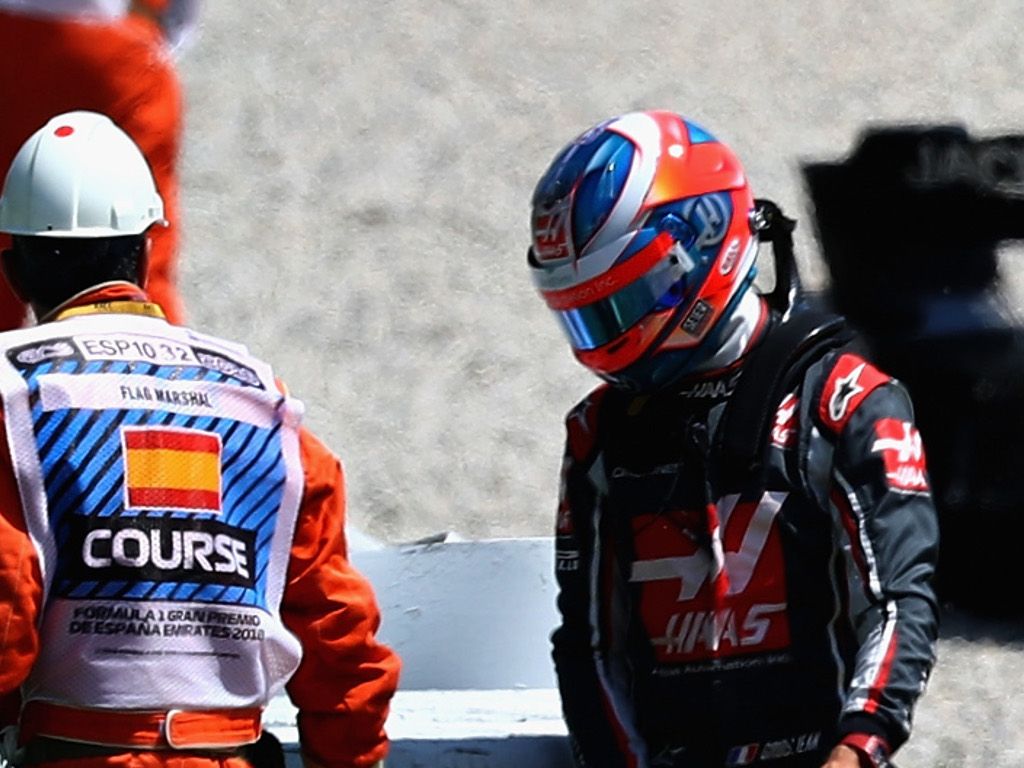 Another day and another round of defending his drivers; this time Guenther Steiner says Romain Grosjean is an easy target given that his reputation is "not the highest one" at the moment.
Last time out in Baku, Grosjean embarrassed himself when he crashed behind the Safety Car. But while that only affected him, his Spanish antics also put two others drivers out of the grand prix.
Grosjean lost control of his VF-18 at Turn 3 on the opening lap of Sunday's Spanish Grand Prix and spun.
Instead of braking, he kept the throttle in and went back onto the track, collecting Nico Hulkenberg with Pierre Gasly also caught up in the smokey chaos.
Although Grosjean tried to explain away his actions, saying he didn't feel he had any choice but to keep his foot on the throttle, the stewards deemed him to be in the wrong and slapped him with a three-place grid penalty for the next race in Monaco.
Seconds into the #SpanishGP – carnage 💥

Take a look at *that* early crash from all the angles 👀

Grosjean OUT

Gasly OUT

Hulkenberg OUT#F1 pic.twitter.com/3RinHMW1BF

— Formula 1 (@F1) May 13, 2018
Steiner has once again had to defend a Haas driver.
"He tried to get out of the way, that is his explanation," said the team boss. "He tried to get across the track to get out of it and he hit two. He was turned and he said 'I had a decision to make, do I stand still or do I go through?'
"He went through and he knocked two out. If he had stood still maybe he would have knocked five out, we don't know.
"It's never a good position to be in, the middle of a car track, whatever you do. For me it's a start incident and whatever you do afterwards will be wrong.
"If you go back into the track into the middle, you try to get out of it somehow, I don't know what would have happened if he had stayed in the middle taken five cars out. Maybe they would have liked that better?
"I think it's one of those things. And he didn't do anything at the start, he didn't try to brake late or understeer into anyone. His car spun around."
Hulkenberg was not at all impressed with Grosjean's driving, stating that the Frenchman "has to look at it and do some work on himself."
And while Steiner admits his driver's antics don't look good, he reckons Grosjean is an "easy target" for his rivals.
Steiner added: "Yes, it doesn't look good when you accelerate when are in the middle of the track, but it's a millisecond decision what you need to make and he made the decision to run across.
"I feel sorry for them that they were taken out but he didn't try an overtaking maneuver to take them out or understeer into anything. At the moment his reputation is not the highest one to do things he shouldn't be doing, so maybe he's an easy target."