Brendon Hartley and Lance Stroll were involved in a dramatic first-lap crash, while the prospect of IndyCar racing will be even more seductive for the unfortunate Fernando Alonso.
Here's how race day unfolded in Canada…
Pierre Gasly was still all smiles despite being demoted to the back of the grid alongside Romain Grosjean due to engine penalties.
The Frenchman was forced to change to an old Honda engine for qualifying after an issue was discovered with his new, upgraded power unit – but had a brand new one fitted again for Sunday's race.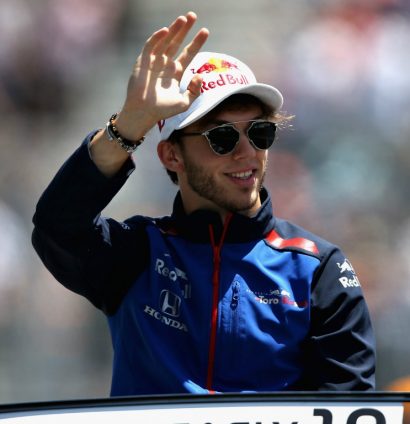 Prior to the drivers' parade, there was a special moment for Jacques Villeneuve on the 40th anniversary of his father's victory at the first-ever Canadian Grand Prix at this circuit.
Jacques Villeneuve driving Dad's old Ferrari 😍#SalutGilles #CanadianGP 🇨🇦 #F1 pic.twitter.com/hg7wqKiHvK

— Formula 1 (@F1) June 10, 2018
The pit lane then opened; no sign of any repeat of Grosjean's engine blow-out which ruled him out of qualifying.
Rollling through the pits for another practice start…then off to the grid.#CanadianGP #HaasF1 pic.twitter.com/xJ7BqjnOoQ

— Haas F1 Team (@HaasF1Team) June 10, 2018
But there was concern that a similar problem would occur for Kimi Raikkonen with his Ferrari engine.
"Ferrari have had to change Kimi's intercooler. It failed on Romain Grosjean's car and after inspection they found it on Kimi's car as well – it would have failed. Vettel's is fine," reports Ted Kravitz
📺 Sky Go: https://t.co/fxH1316WnM
#SkyF1 #F1 #CanadianGP 🇨🇦🍁 pic.twitter.com/A4ftxJ72bP

— Sky Sports F1 🏎 (@SkySportsF1) June 10, 2018
Sebastian Vettel made a very good getaway once the lights went out, whilst Valtteri Bottas was forced to defend hard from Max Verstappen.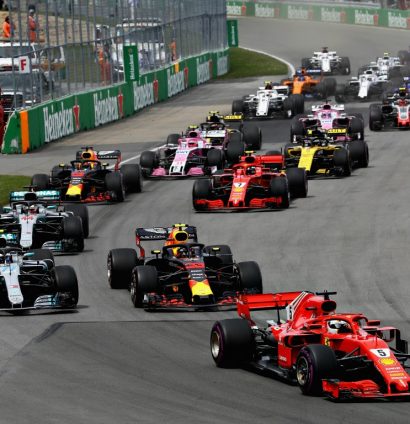 As is so often the case in Canada, there was drama on the opening lap with Lance Stroll and Brendon Hartley colliding with each other. Out came the Safety Car.
HOLY CRAP !!!! #F1 Safetycar. Did Stroll put Hartley in the wall ?? #MsportXtra pic.twitter.com/0wgjEuykEb

— #MsportXtra (@MsportExtra) June 10, 2018
Once the SC came in, Carlos Sainz and Sergio Perez got a little too close for comfort upon the restart.
DEJA VU pic.twitter.com/6EumINXveH

— Mattzel89 (@Mattzel89) June 10, 2018
The first round of pit stops saw Daniel Ricciardo get the jump on Lewis Hamilton with an overcut as the Brit continued to struggle for pace.
RIC is in a lap later and a blisteringly quick in-lap is enough to jump Lewis in the pits… 😐 #CanadianGP 🇨🇦 pic.twitter.com/XoDOdI28oh

— Mercedes-AMG F1 (@MercedesAMGF1) June 10, 2018
Hamilton had issues with his engine cooling system, forced into an early pit stop so the Mercedes mechanics could allow more air into the car.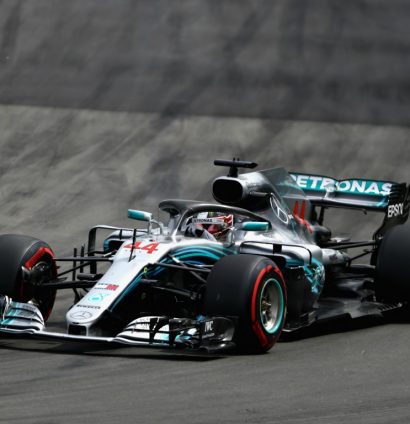 Meanwhile, it was all calm and serene back out in front.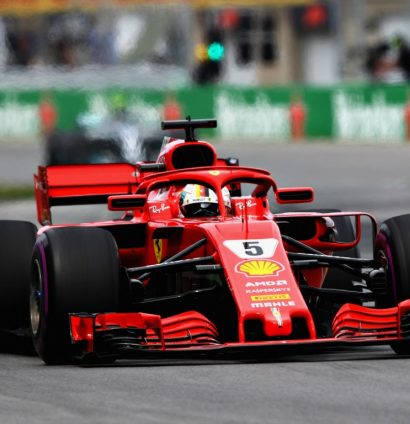 On lap 43, Alonso's 300th Grand Prix appearance came to an abrupt end after he experienced a loss in power and became the third DNF of the afternoon.
LAP 43/70: Heartbreak for Alonso in his 300th GP

Car loses power, @McLarenF1 radio to tell him to retire #CanadianGP 🇨🇦 #F1 pic.twitter.com/rsFZ6f7AjZ

— Formula 1 (@F1) June 10, 2018
Bottas began to eat into Vettel's lead, but he undid all his hard work with a mistake at Turn 2 negotiating traffic.
LAP 56/70: Bottas had closed the gap with Vettel to around three seconds…

Then this happened 😖 #CanadianGP 🇨🇦 #F1 pic.twitter.com/w3mxb463ih

— Formula 1 (@F1) June 10, 2018
It took away the little pressure that was on Vettel, who waltzed to a third win of the season and re-took the lead in the World Championship standings.
GREAT WIN from #ScuderiaFerrari, #Seb5 P1 👆🏼and #Kimi7 P6, GREAT job team! pic.twitter.com/NIqRRAnD5l

— Scuderia Ferrari (@ScuderiaFerrari) June 10, 2018