Max Verstappen could be a little worse for wear on Monday morning as the birthday boy put a pretty dismal season behind him with a dominant race win.
It looked like we were in for another very wet start as a heavy shower arrived at the Sepang circuit not too long before the race.
Yep ☔ ☔ ☔☔☔☔☔👅🏊🏊🏊 pic.twitter.com/ISDbbhiqcx

— Sky F1 Insider (@SkyF1Insider) October 1, 2017
The drivers gathered on the podium to say thank you to Malaysia as it drops off the calendar from next year.
Things then went from bad to worse for Ferrari following Sebastian Vettel's qualifying woes as Kimi Raikkonen's car was removed from the grid after a turbo issue was discovered…
https://twitter.com/F1/status/914383623498891264
The Finn was unable to start, leaving Lewis Hamilton to take the lead into the first corners unchallenged…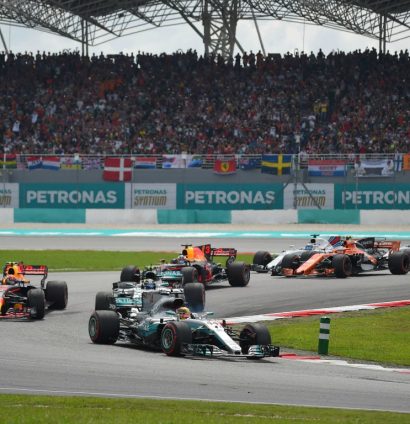 But rather than Hamilton storming away into the distance, it was the Red Bulls who came to life at Sepang with Max Verstappen flying into the lead.
The flying Dutchman 🔥 #F1 pic.twitter.com/T3lCGazR8Z

— Planet F1 (@Planet_F1) October 1, 2017
Daniel Ricciardo got the better of Valtteri Bottas after an early ding-dong battle for P3, as Vettel made quiet progress through the field. He was up to P6 by lap 17.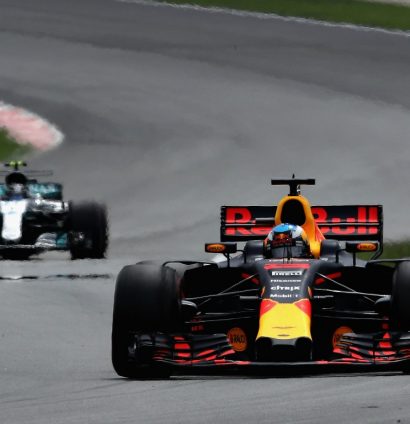 There was also time for Franz Tost to have another dig at Romain Grosjean…
Tost: "I don't care about Grosjean. He is always complaining. He should concentrate on driving." #F1 pic.twitter.com/mh8RbWgy9J

— Planet F1 (@Planet_F1) October 1, 2017
Back on track, Vettel continued to make his way up the field…
But the heat was still getting to some…
Alonso after passing Magnussen: "What an idiot. Hulkenberg was right."#F1 pic.twitter.com/uq00vFOnwl

— Planet F1 (@Planet_F1) October 1, 2017
Yet Verstappen proved to be unstoppable in Sepang, claiming his first victory since last year's Spanish Grand Prix. So, his birthday weekend and a race win? We know how this evening ends…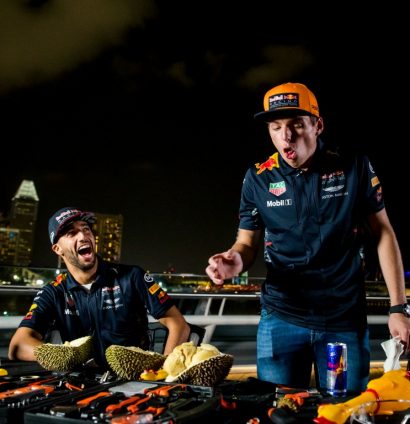 And how about this for a freaky stat?
Spain 2016: Kvyat loses seat, Verstappen wins

Malaysia 2017: Kvyat loses seat, Verstappen wins#F1

— Planet F1 (@Planet_F1) October 1, 2017