Norris 'drugged up' and regretting Q3 showing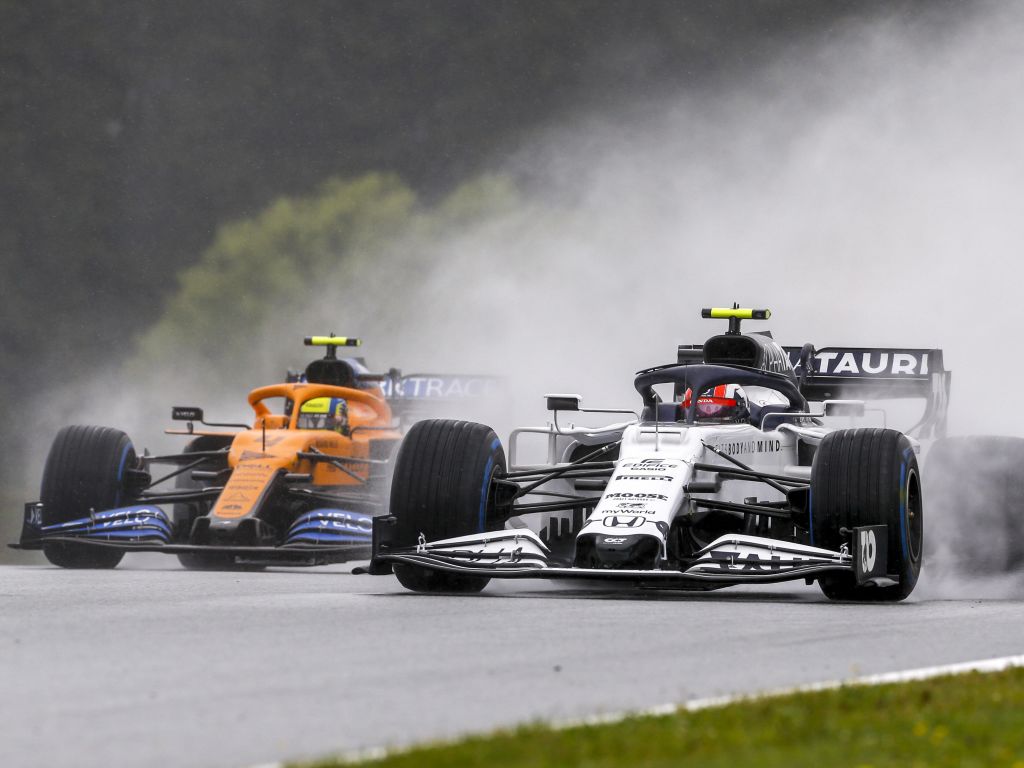 Lando Norris said he was "drugged up" to get through qualifying thanks to his unknown injury, but was disappointed with his Q3 showing.
The Red Bull Ring took a soaking ahead of qualifying for the Styrian Grand Prix, but after a delay the action was able to get underway.
In the end the rain master Lewis Hamilton was able to take pole by an incredible 1.2s over Max Verstappen, but another Briton in Norris was also putting in a good performance.
He would finish the last qualifying session in P6, though his three-place grid penalty for ignoring yellow flags in practice puts him down to P9.
And although he was "happy" with P6, Norris felt he was capable of more. After all team-mate Carlos Sainz put him McLaren in P3 on the grid for Sunday's race.
"You know those times when you know for a fact you should have done a better job,?" he asked when speaking to Sky F1.
"My last lap was my best lap when the conditions were the worst, I had a little oversteer coming round Turn 8 and lost four to five tenths at the second to last corner, so when you know you should have done a much better job that's the very frustrating thing.
"Of course I'm happy with P6, it's better than almost all of my results, but three places with the grid penalty, it's nicer to be where Carlos was."
💦 #AustrianGP pic.twitter.com/kqmYUeSDj2

— McLaren (@McLarenF1) July 11, 2020
Norris also said that his Q3 efforts weren't helped by the Renault in front of him.
"Q1 and Q2 weren't bad, it was more just trying to get used to the conditions more than anything," he said.
"The visibility is the worst thing out of all of it, the fact you can't see the car in front of you.
"It's a bit nerve wracking, you don' know what's going to happen.
"I was in the wrong position in Q3, I had some nice clean laps in the beginning, my times were good, I was purple in the middle sector, and I was confident of improving a lot.
"But then I had the Renault ahead of me and I couldn't see the tram lines that the cars ahead create, so after you go through the kink of Turn 2 you get a lot of puddles and rivers forming across, so I couldn't see where I needed to place my car.
"So I was getting some big aquaplane moments, and making some mistakes when the track was at its best.
"But it was nice because I haven't driven a lot in this wet, especially not in a Formula 1 car, the only time I really did it was in Hockenheim last year and I DNF'd after a few laps so it was nice to go out and have a bit of fun."
The 20-year-old also is continuing to nurse the injury which caused him problems throughout practice, and still being "drugged up" is the only way he can manage it.
"I don't know what it is, but it's not so much my back, it's something inside," he explained.
"And when I really hit the brakes and go through the corners I'm getting the compressions from the G-force and it's causing a lot of pain.
"We're trying to figure out what it is, it's a bit better today, more because I'm drugged up slightly."
Follow us on Twitter @Planet_F1 and like our Facebook page.