Max Verstappen says his battle against Lewis Hamilton at the Sao Paulo Grand Prix was "not the same" as their Silverstone clash.
It is fair to say this year's title fight is a contentious one with Verstappen and Hamilton going at it on the track and their team bosses off it.
Their most recent controversial moment came at the Sao Paulo Grand Prix as Hamilton raced his way from 10th on the grid to victory, passing Verstappen for the lead in the process.
The Mercedes driver needed three attempts to overtake Verstappen, the Dutchman seemingly going as far as to run himself and Hamilton off the track in order to stop him from making the pass.
Hamilton eventually got it done, taking the win by 10 seconds ahead of Verstappen and the much-needed 25 points towards his title quest.
While last Sunday's battle did not end in contact, that has not always been the case for the two with the protagonists having clashed at Silverstone and again at Monza.
In the first battle, Hamilton tried to pass up the inside at Copse corner, Verstappen defended, they made contact and the Red Bull was sent flying off the circuit.
Told their Brazilian clash was 'quite similar' to the British GP one, although this time with Hamilton giving him more room, he was asked 'why is one okay and the other not?'
Verstappen shot that down.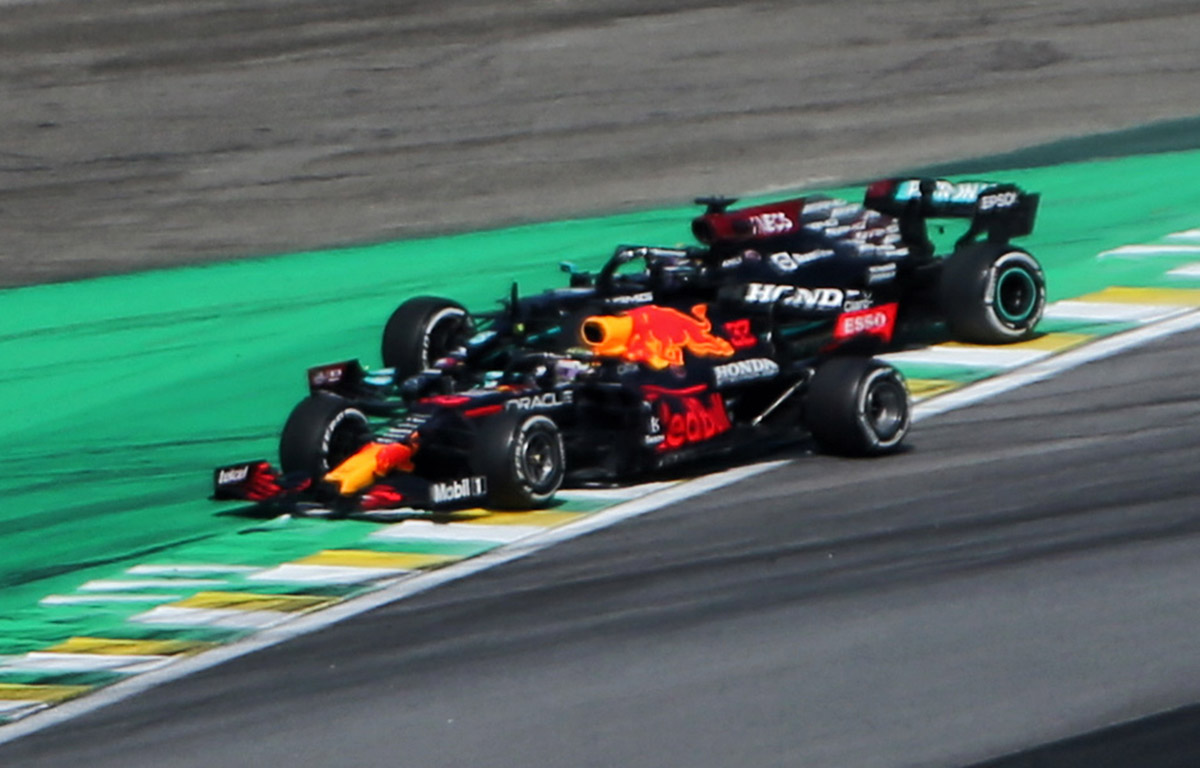 "I don't think it's the same," he said. "I don't know what he is referring to.
"It's a completely different corner as well, so yeah, there's not much more to comment, it's not the same."
Mercedes were aggrieved Verstappen was not penalised for running Hamilton off the track in Brazil and requested the right to review.
That will be heard by the stewards via video link at 1700 local time on Thursday in Qatar.
Mercedes must present a "significant" piece of new evidence, which will be the Verstappen forward-facing on-board footage, to determine whether or not the Right to Review still exists.
Verstappen is adamant he did nothing wrong.
"We both, of course, tried to be ahead into the corner and so I braked a bit later to try and keep the position," he said.
"The tyres were already a bit worn, so I was really on the edge of grip, so that's why I think I was already not fully on the apex so then it's a safer way of just running a bit wide there.
"In a way I was of course happy the stewards decided we could just keep on racing because I think the racing in general was really good."
The Sao Paulo result means the two, at least as things stand now, head into the Qatar Grand Prix separated by just 14 points.
"I mean, it's been like this the whole year," Verstappen said. "It went up, comes down, went behind, I'm back in front, so you know a lot of things can happen still."