Pendulum swings in Hamilton's favour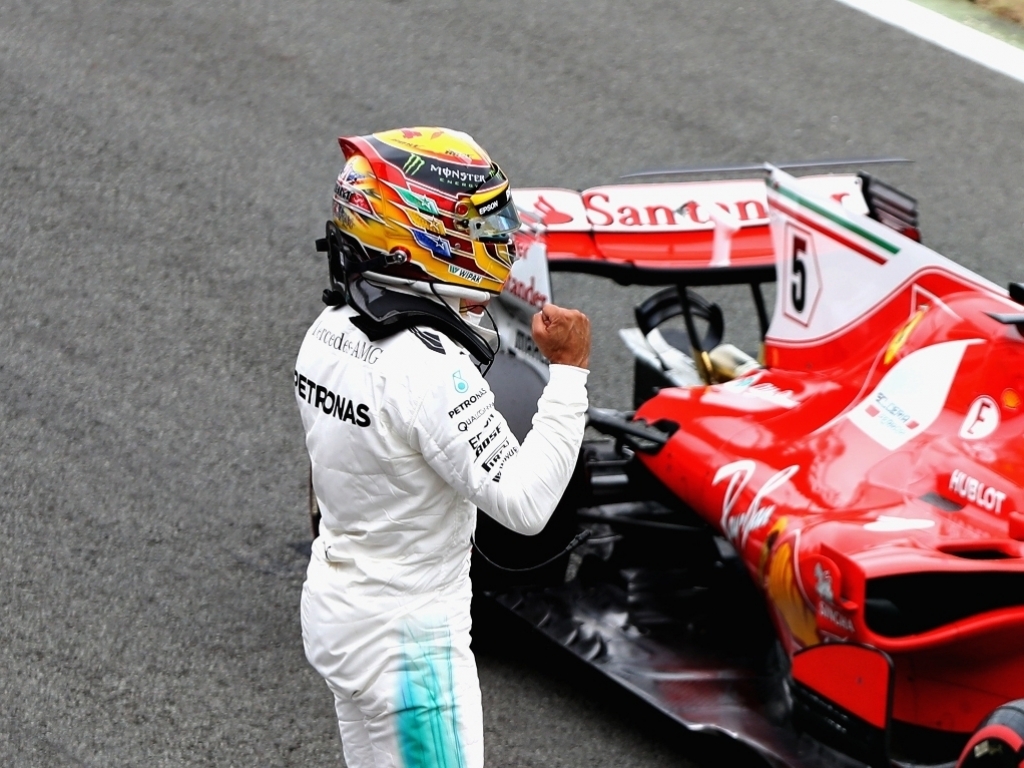 Lewis Hamilton moved within one point of championship leader Sebastian Vettel after producing another masterful display at Silverstone, and the pendulum has swung firmly in his favour in the title race.
Next up is the Hungarian Grand Prix on a track Hamilton loves and he should fancy his chances of soaring past Vettel in the race to be crowned F1 champion by securing another win at Hungaroring. Vettel has not won in four races and, while he is clinging onto the overall lead, it is constantly being eroded and cannot hold out much longer at this rate.
The German got off to a flying start, with three wins from the first six races and looked set to give Hamilton the fight of his life in the race to win the Drivers' Championship. But the wheels have since come off a bit for Vettel.
He struggled at Silverstone and finished seventh, seeing his lead over Hamilton cut from 20 points to just one. It was his fourth race without victory and were it not for Hamilton's ill luck – a five-place grid penalty for an unscheduled gearbox change in Austria, a loose headrest costing him a certain win in Azerbaijan – the Brit would already be clear in the lead by a healthy margin.
Unless Ferrari can improve it seems inevitable that Hamilton will overtake Vettel and leave him behind in the championship battle. For all the talk of the sport finally getting a two-horsed race between extremely talented drivers from different teams, it could turn out to be another year of domination for Hamilton and Mercedes. The German team is already 55 points ahead of Ferrari in the Constructors' Championsip – largely because Valtteri Bottas has performed so much better than Kimi Raikkonen and Mercedes is now just 1/10 to win the title.
After winning at Silverstone, Hamilton equalled the record of five British Grand Prix wins jointly held by Alain Prost and Jim Clark, which is esteemed company to be in. He has now been made 8/13 favourite to win the Drivers' Championship, with Vettel out at 11/5.
Not so long ago they were neck and neck in the betting so that is a real indication of Mercedes improving while Ferrari stagnates somewhat. The momentum is with the Brit and he has a fantastic chance of winning the next Grand Prix in Hungary.
Hamilton won this race last year and he is even more dominant at Hungaroring than he is at Silverstone, having won more times there than any other driver in history. He cruised to a comfortable victory in Hungary in 2016 and should fancy his chances of doing so again this time around. He has taken pole in three of the last four races and also set the fastest lap in those races.
Mercedes appears to be constantly learning and improving and they are opening up a bit of a gap ahead of Ferrari in terms of pace and reliability.
Vettel is all the way out at 4/1 to win it, and some bookies are even offering 5/1, but given his recent form that is not particularly tempting right now. In fact, the greater threat to Hamilton could come from his own teammate, and Bottas looks a good each-way bet at 5/1 as the calm and collected Finn has an excellent chance of finishing in the top two.