At the penultimate race of the 2017 campaign we saw both sides of Fernando Alonso, the usual side of Kimi Raikkonen and one of the more ruthless put-downs of the season courtesy of Martin Brundle.
And first…
There can be only be one place to start and that is with Kimi Raikkonen, who lit up the incredibly dull drivers' press conference in Brazil…by being incredibly dull.
Here are three answers which scream "get me the hell out of here".
Q: 10 years on from that dramatic day when you won the World Championship here in Brazil. Can you share some special memories from that day?
A: It was a long time ago. Obviously it was a great day but it wasn't just about that it was about the whole season. There were some great moments, some not very nice moments but in the end it worked out ok. I've not really thought about it too much for a while as it doesn't really change my life today, thinking about it, so I try not to make a big story out of it.
Then Raikkonen opened with the following line when asked about the retirement of his former team-mate Felipe Massa…
Q: Kimi, Massa is retiring, you were his team-mate, what can you say about him?
A: "He's retiring again…so let's see if it actually happens or if we see him at the first race next year."
Raikkonen then finished off with a blunt-as-ever assessment when asked his season as a whole…
Q: Kimi, what is the summary of your season?
A: "I think it is where we are in the championship and it is how good or bad we have been."
It just so happened that Kimi's ideal press conference took place the following day…
Ja/Nee
Another Finn in the form of two-time World Champion Mika Hakkinen was interviewed in Brazil over the weekend as he was the latest participant of Ziggo Sport's Ja/Nee game.
It was more what he didn't say than what he actually said. Some of the those looks after answering…
Bonkers over Bottas
The notion that the Finns are quiet, understated and reserved went flying out of the window, though, when Valtteri Bottas pipped Sebastian Vettel to pole position.
Paalu!!! Hieno veto @ValtteriBottas!! #cmoref1 pic.twitter.com/496R93rJLX

— Ossi Oikarinen (@Ossi_Oikarinen) November 11, 2017
Max Ver-snap-pen
The Finns may be difficult to read but that is not the case with Max Verstappen, who can get a bit ratty when he knows he is not going to be contention again so soon after bagging race victories.
Sky Sports F1's Ted Kravitz (more on him later) got the 'Mad Max' treatment.
And then, out of nowhere, came this dig at Daniil Kvyat…
We did at least see his pleasantly cheeky side when told his engine is turned down.
The smiling assassin
Daniel Ricciardo was in his usual good form and got the weekend off to a strong start with this brilliant response after practice.
WATCH: "We bought some new mattresses…had a slumber party" 😂

What on earth is Daniel Ricciardo on about? #SkyF1 #F1 #BrazilGP pic.twitter.com/iVcEpZemfw

— Sky Sports F1 🏎 (@SkySportsF1) November 10, 2017
Then there was a great exchange between him and Christian Horner on team radio as patiently waited at the end of the pit lane.
Ricciardo: "Can you sing me a song or something?"
Horner: "You could always sing knock, knock, knocking on Renault's door Daniel."
SSF1: https://t.co/BNikV8W5jq
Blog: https://t.co/W4Jk8Z66xd #SkyF1 #BrazilGP #F1 pic.twitter.com/2iP2WIG4Ms

— Sky Sports F1 🏎 (@SkySportsF1) November 10, 2017
But his best answer came when Martin Brundle, facing an uphill battle on his grid walk, asked the following:
Brundle: "Who are you listening to, Daniel?"
Ricciardo: "You wouldn't know mate. You're not down with the kids."
Owner of a lonely Hartley
Spare a thought for one of Danny Ric's mates, Brendon Hartley, who had a birthday weekend to forget.
After his Renault engine went up in smoke in FP1, he cut a very lonely figure as he was left stranded out on track. He was just missing a deckchair.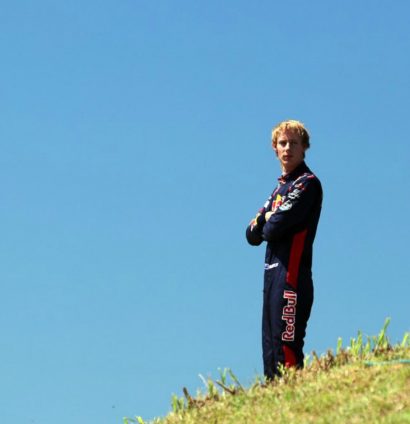 He was also the victim of a little prank from the Toro Rosso team, who put the Australian flag on his birthday cake in a nod to FOM messing up his graphics on debut.
Scroll to the end of their Facebook live video and have a look…
Thankfully, the standard of FOM's graphics have improved significantly since then…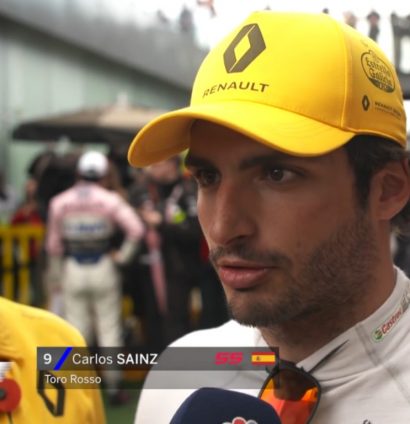 Fight, fight, fight!
You may have heard that Toro Rosso were involved in an ever-so-slightly bigger incident which involved airing their dirty laundry with Renault in public.
Renault boss Cyril Abiteboul said that Toro Rosso's recent engine failures were of their own making. The response, that included accusing Renault of sabotage with money at stake in the World Constructors' Championship, had us reaching for the popcorn.
Team Clarification: 👇 pic.twitter.com/ySDY2dQYyy

— Toro Rosso (@ToroRossoSpy) November 11, 2017
But we seriously thought Abiteboul was going to start throwing punches when he caught up with Dr Helmut Marko, who is all about keeping the peace.
A angry moment between Cyril Abiteboul and Helmut Marko, and perhaps a seminal moment in the Red-Bull/Renault relationship… pic.twitter.com/ODbiWme3Mo

— F1i (@F1icom) November 11, 2017
Friends?
Looks like Renault and Toro Rosso need cheering up…and if this doesn't do the trick then nothing will.
Hello Bernie
We admit we groaned a little when we saw Bernie Ecclestone being interviewed on the grid ahead of the race. He was at least the subject of a great story told by Christian Horner about a bet he had with Sebastian Vettel.
Hamilton in paradise
There was another cool moment away from the track, as Lewis Hamilton was presented with an awesome gift in the homeland of his idol Ayrton Senna.
You may remember Hamilton driving the real thing on some show called Top Gear many moons ago…
Lesson learned
Ted Kravitz got in very early with the puns about Hamilton being involved in the Paradise Papers leak…
Cheeky dig at @LewisHamilton by @tedkravitz 👏 #seewhatyoudidthere #BrazilGP pic.twitter.com/sBlkLv0jEi

— Team Mates (@Teammatestoon) November 9, 2017
But his live broadcasts would not continue to go that smoothly. Look what happened when he used his phone to explain why Brendon Hartley had chosen to race with the number 28.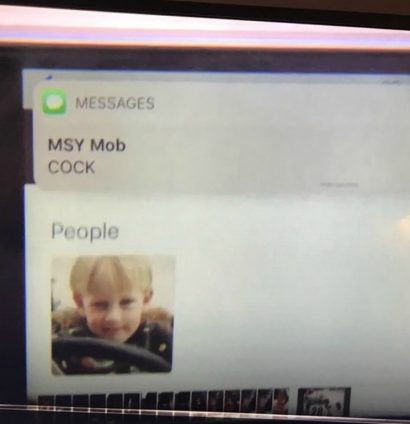 Whoever 'MSY Mob' is, we salute you.
Love/Hate
We had a whole section ready to go on Fernando Alonso and about how his mood had improved in recent weeks after signing a new McLaren deal and obviously preparing for a Le Mans outing next year.
Just look how happy he is…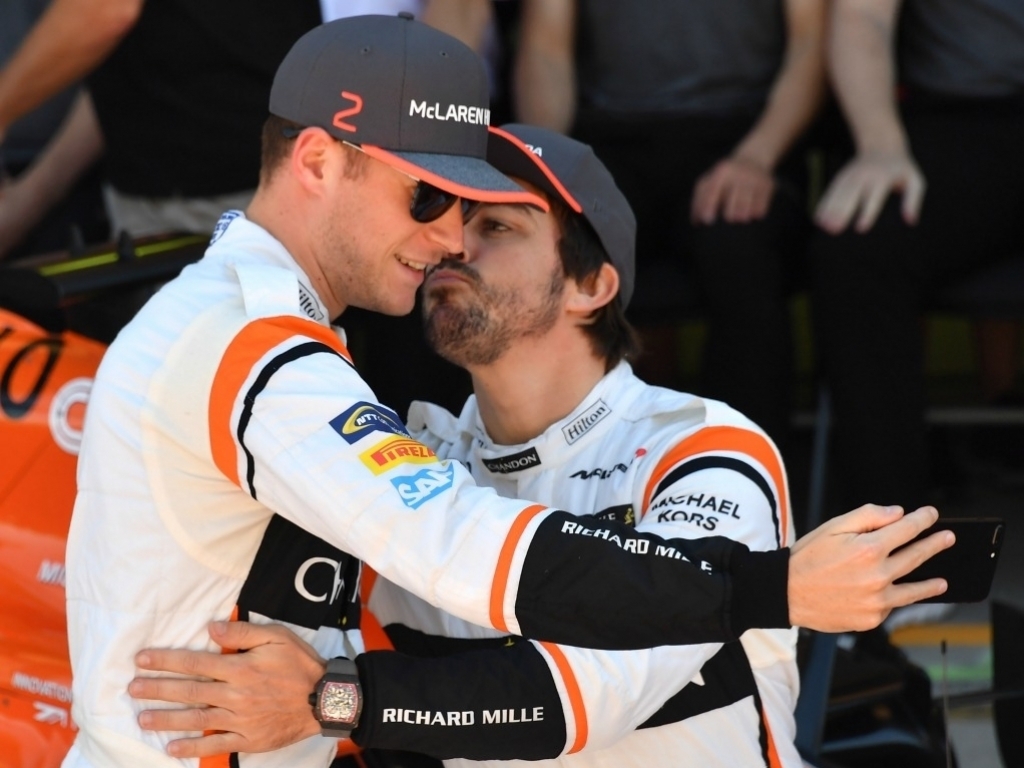 Then another race with Honda 'power' happened…
"We had a fantastic car all the race through but we could not overtake," Alonso said in the paddock.
"The lack of power was amazing, the same in Mexico. I was very close to Felipe out of the last corner a few times and thought 'now is the time I will pass him' but even with DRS he was pulling away.
"The lack of power is quite worrying for Toro Rosso next year."
Tell us how you really feel, Fernando.
Take two
But Alonso also provided a lovely touch after losing out in the battle with Felipe Massa for 7th spot in the Brazilian's final home grand prix (we think).
After the battle, a moment of pure class from @alo_oficial as @MassaFelipe19 celebrates P7 in his final #BrazilGP 🇧🇷 pic.twitter.com/ORwcNUxe7l

— Formula 1 (@F1) November 13, 2017
Massa may need a third and final goodbye next year, though, just so he gets the right flag to wave…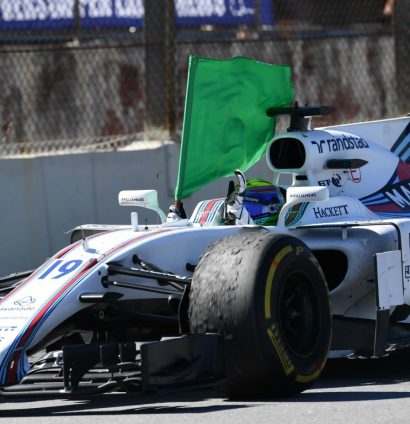 Although we were very much ready for Massa's retirement this time around. One thing we weren't ready for was the radio message from his son. Tissues at the ready…
"Daddy I'm so proud of you." @MassaFelipe19 brings us all to tears 😢#ObrigadoMassa #BrazilGP 🇧🇷 #F1 pic.twitter.com/nxZJa4eJcg

— Formula 1 (@F1) November 12, 2017
Last word
Martin Brundle also caught us off-guard during the race, here's how he described Romain Grosjean ending Esteban Ocon's race on the first lap.
"Grosjean ran out of grip, then talent."
Ouch!
Until Abu Dhabi…