Lewis Hamilton, Daniel Ricciardo and now Kimi Raikkonen have been struck by the curse of Monaco, while Jose Mourinho seems to have a favourite Red Bull driver.
But first…
Don't call it a comeback
Long before Raikkonen and Fernando Alonso broke out hearts on Sunday, crash extraordinaire Pastor Maldonado inflicted more damage with some sad news…
"I had an offer to drive in F1 in 2017," said Maldonado.
"However, I chose not to do it, because I had no guarantee that it would be a competitive car."
Whilst we are a little bit sceptical about this claim, we cannot help but wonder if we have been cruelly denied a Maldonado/Stroll dream team at Williams – just imagine the size of the bills.
He added: "If I do something, I do it right."
Now that, we definitely do know.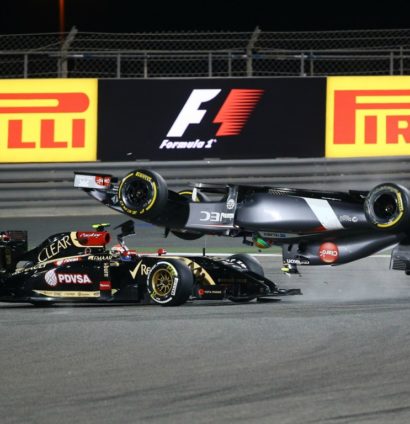 Red Bull does Top Gear
Daniel Ricciardo and Max Verstappen were also very busy during their non-race weekend, finding out exactly what is like to drive a McHonda down a straight…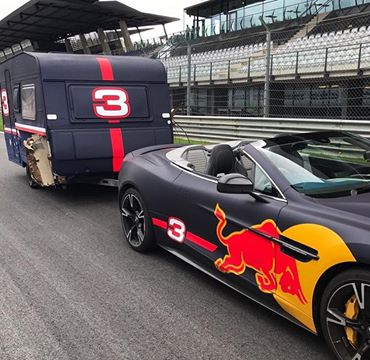 If Ricciardo was having fun then, it was absolutely nothing compared to the press event where he got a very bad case of the giggles. Credit to Verstappen for just about staying professional…
Who's the daddy?
Speaking of professional…
We absolutely loved Kimi going full pre-season in Barcelona mode when discussing the small matter of the birth of his baby daughter.
Reporter: Congratulations, Kimi, with your second kid now at home. So what's like with two girls and your wife?
Raikkonen: Thank you, it's all good. Everyone is healthy, obviously it's very early days so it doesn't change too much."
All that was missing? "Well it's the same for everyone."
Finding out the hard way
It is impossible for Kimi to go under the radar at any race weekend and the same can be said of Lance Stroll, too. Monaco is renowned for eating rookies alive and Thursday was no different when Stroll suffered his latest crash at Massenet in FP2.
Stroll did his best to play down the incident, but even when his joke backfires and ends up adding more weight to the argument that he is not ready for Formula 1, you do wonder if he can do anything right.
"It really pisses me off," he said.
"Because every time I play the PlayStation game, it's always those corners that I couldn't get right, and in reality it's still those two corners!
No, Lance, don't say that now.
And you can definitely tell that chequered flag was within touching distance when this panicked message on team radio came through:
"I'm losing a lot of brake temp. This is really bad. I have no grip."
"If I have no brakes and no temperature I'm going to crash as soon as we restart so…"
"I don't have brakes, I don't have tyres, I don't know what to do. Please help me."
Why did Stroll retire? Because of overheated brakes. D'oh!
And for any It's Always Sunny in Philadelphia fans out there…
A new low
At least Stroll has not set a new lowlight for the 2017 season. That now firmly rests with Sauber's Marcus Ericsson, who crashed after a bold overtaking move…on the Safety Car.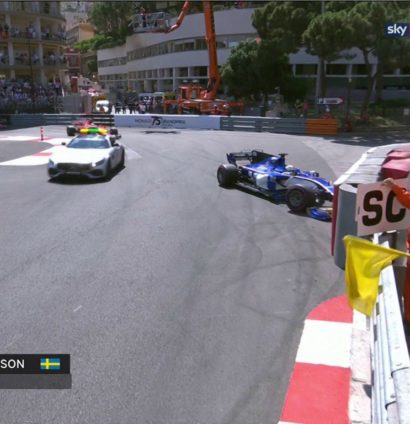 Facepalm.
Oh Buttons!
You don't know what you got until it's gone and that was certainly the case when Jenson Button returned in Monaco. He was a breath of fresh air, although Pascal Wehrlein won't agree with that statement.
When he wasn't busy overtaking a Mercedes in practice and forgetting how to speak in the paddock, there was this wonderful exchange with Fernando Alonso on team radio.
Listen in: Fernando and Jenson go transatlantic with some, er, light relief#F1 #MonacoGP pic.twitter.com/WE406GVnII

— Formula 1 (@F1) May 29, 2017
Yeah, about that looking after your car thing…
Winner, most creative #MonacoGP parking job ?
(We're glad you were safe, Pascal!) #F1 pic.twitter.com/QIG56Xg4e6

— Formula 1 (@F1) May 29, 2017
Spot the difference
We are no detectives, but we reckon Manchester United boss Jose Mourinho has a favourite Red Bull driver. Can you guess which one?
Ricciardo?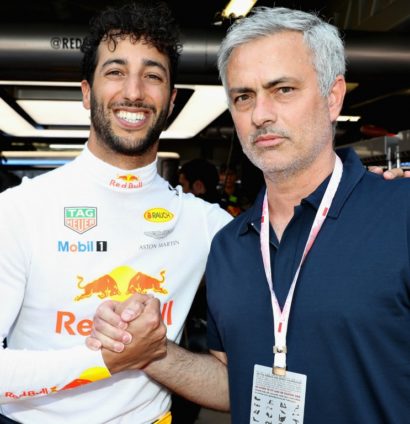 Or Verstappen?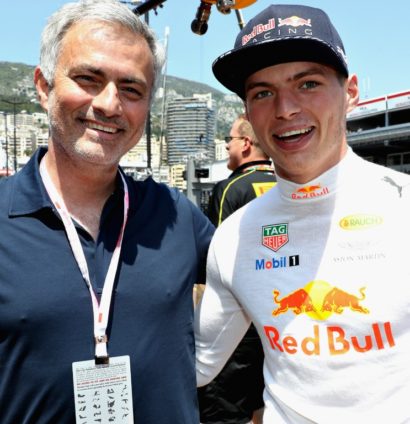 Mike Tinder?
There was plenty of the rich and famous to be seen on Martin Brundle's grid walk in Monaco, included esteemed software developer Mike Tindall.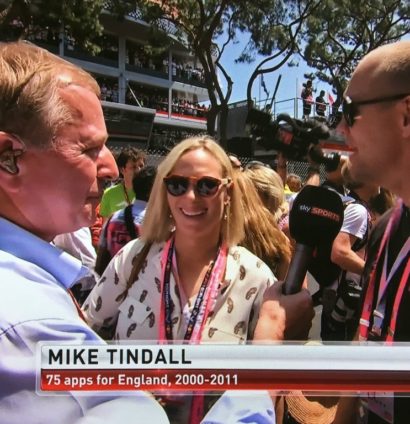 Shame he didn't earn 75 CAPS for England, he could have been a half-decent rugby player.
Torpedo time
Rant of the weekend, possibly the season, goes to Daniil Kvyat after his little incident with Sergio Perez. The lack of self-awareness makes it even funnier…
"I think I was just doing my job today, it was as simple as that," Kvyat said.
"I was doing a good race, very calm, bringing the car within the points, and you always find that one guy who f***s your whole day, and it's Perez.
"I knew he was going to try. I saw what he did to Vandoorne and I thought 'this guy is really desperate' So I was just covering my line to be honest, all the time, then he tried to go from really far away I didn't even see him coming.
"What I felt was just a hit and my race was over, so very disappointed, I think it was completely desperate.
"He just tried to lean on me like it was PlayStation. It doesn't work like that."
Had a bad day?
If Mr Torpedo himself was angry, we cannot begin to imagine how broken Raikkonen was after he lost P1 to Sebastian Vettel.
The lesson? For the love of God, please do not start on pole position in Monaco any more.
Has anyone checked on the Kimi kid?
Regrets, we've had a few
And if that wasn't bad enough…
With Lewis Hamilton completely out of the picture in Monaco, we missed a glorious opportunity for a incredibly awkward post-race interview with host Nico Rosberg had the Brit finished in the top three. Ferrari will want the reigning World Champion hosting at every race from now on.
We also get the sense that Rosberg absolutely loved being a part of the immediate aftermath of a controversial race finish with tensions running high.
To Kimi: "I know how it feels, it's not a good feeling."
Meow!