Now that was more like it. The Bahrain Grand Prix had just about everything, including Formula One Management subtly getting on board the Robert Kubica bandwagon.
But first…
Guess who's back?
Arguably the biggest talking point from the Australian Grand Prix was the birth of an epic sibling by the two Lastname brothers.
We thought we would never see them again, but not only did they turn up in Bahrain…the gap between the two has closed significantly as well.
They'll be giving Senna v Prost a run for their money at this rate.
Look who's already on track! Lastname made it from Australia to Bahrain.#AMuS pic.twitter.com/tDaq0RPm5I

— Tobi Grüner 🏁 (@tgruener) April 4, 2018
The above is probably why F1TV has still yet to launch after two races this season, and it seems everyone involved with the production still has a way to go to reach and maintain a high standard.
Just ask Brendon Hartly…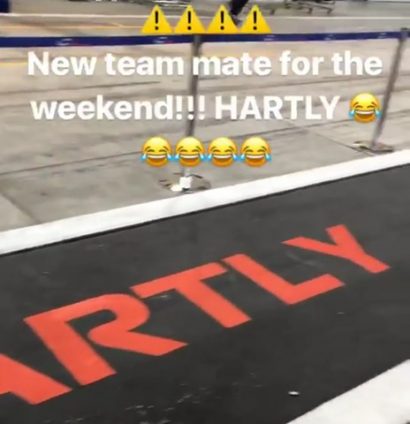 And whilst we are on the subject of presentation, please *gets down on knees* please bring back tyre information on screen instead of the pointless car badges.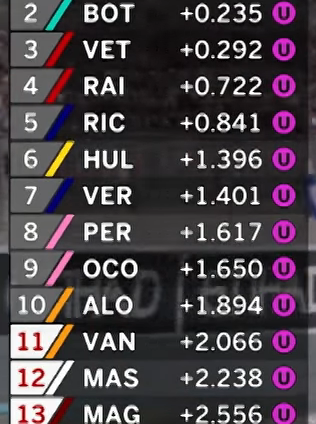 And even though the Bahrain race was brilliant, it wasn't that good, FIA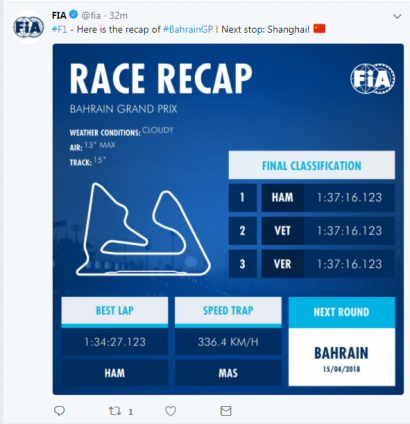 Stirring the pot
The directors knew exactly what they were doing though when Sergey Sirotkin spun out of control in free practice.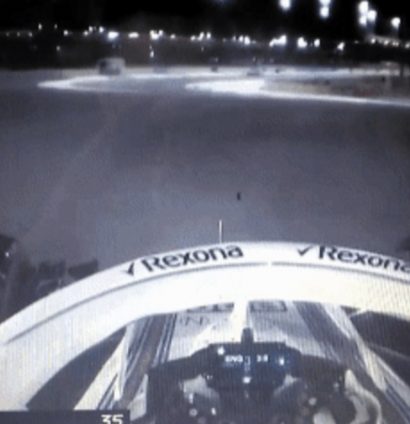 The next shot?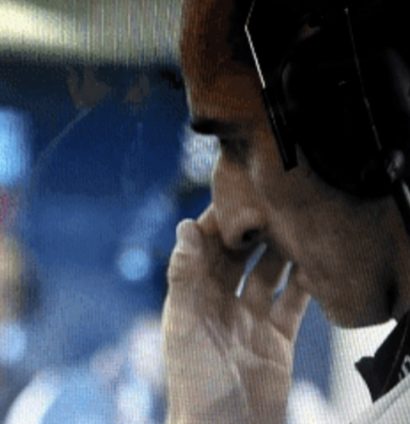 We see you, FOM.
We would have also loved to listen in to this conversation between Williams chief Paddy Lowe and Lance Stroll's father, Lawrence.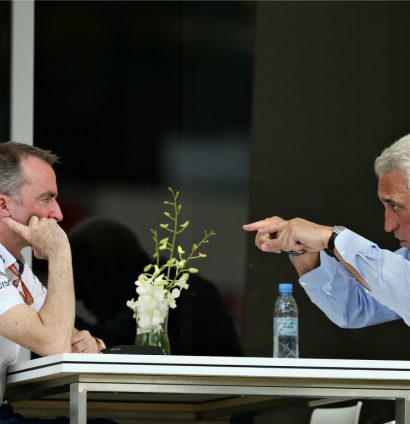 Cloudy with chance of…balls
What is it with Kevin Magnussen and balls?
First he told Nico Hulkenberg to suck them back at the Hungarian Grand Prix and in Bahrain he mentally flicked through his classic schoolyard prank book to give us this glorious moment…
It's fair to say @KevinMagnussen was feeling a bit testy during #FP1 😂#F1 #BahrainGP pic.twitter.com/n0eoRIn0it

— Formula 1 (@F1) April 6, 2018
The little smirk after gets us every time we watch it, which is 1,405,442 times at the last count.
Kimi corner
Usually it's pretty chilly in Kimi corner, but it was ice, ice cold over the weekend.
He had zero time for your stupid hypothetical questions in the Drivers' Press Conference on Thursday.
"What would you change in Formula 1?" 🤔

Kimi, please make sure YOU never change 😂#BahrainGP #F1 pic.twitter.com/PsRFp0JeDL

— Formula 1 (@F1) April 5, 2018
And get your stupid camera out of his face as well whilst you're at it.
#F1 #BahrainGp 🇧🇭
Best #KimiRaikkonen Mode ever… LEAVE ME ALONE!!!😎#Ferrari #JustKimi pic.twitter.com/Mp0yY5nDF6

— Alessandro™️🏎 🏁 (@BerrageizF1) April 6, 2018
But that was nothing compared to his initial reaction after unintentionally breaking the leg of one of his mechanics with a botched pit stop.
He stormed off down the garage and gave this frozen response to reporters:
"I go when the light is green. I don't see what happens behind. Unfortunately he got hurt, but my job is to go when the light changes."
Like we said, ice cold.
His heart did melt a little afterwards with the other comments he made to the press and he showed he was human after all by wishing his mechanic well.
He's a unique individual, isn't he? He even has a part-time job at the local co-op.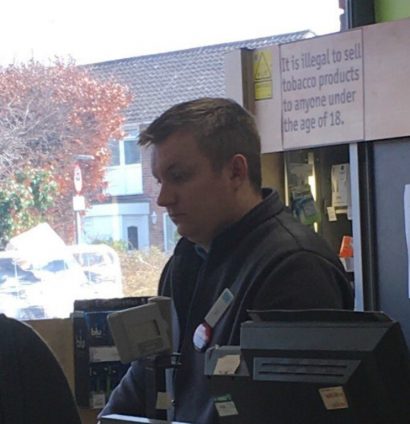 Radio ga ga
We didn't quite reach the levels of Fernando Alonso asking for more enthusiasm on team radio like he did in Australia, but a couple of moments are worthy of a mention.
Daniel Ricciardo after Bottas block in FP2 – "What a f*cktard."
Hamilton: "What does pull back mean?"
Team radio: "You pull back on the paddle, Lewis."
Checks out.
What a d*ckhead
We have only had a little taste of Hamilton v Verstappen thus far, but in Bahrain we got our first mouthful after the two made contact in the early stages and resulted in the latter retiring from the race.
In came Hamilton into the ironically-named 'cool-down room'…
Seb's little smile afterwards!
Then for Vettel to come leaping to the defence of Hamilton in the post-race press conference, especially when he has been far from squeaky clean himself and is not Verstappen's biggest fan anyway, is priceless.
You do have to watch out for Verstappen, though, look at how he almost sent this old fan crashing to the ground…
Choo Choo
Similar to 2017, the Ferrari hype train is at full steam ahead after back-to-back opening victories again this season.
So much so, memes new and old are coming out of desktop folders…People clearly have a lot of spare time on their hands.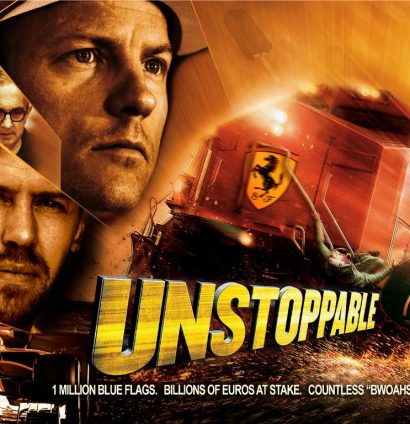 And, ok Ferrari, we get it, you vape.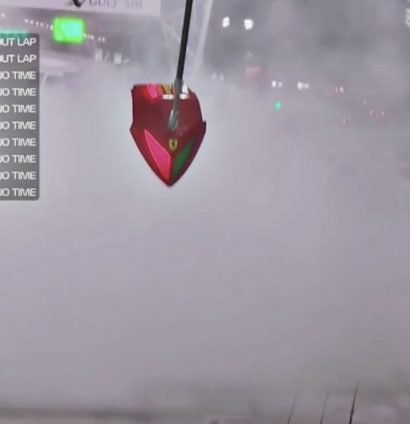 Anyone for pie?
We couldn't finish without mentioning one of the worst pie charts we have ever seen.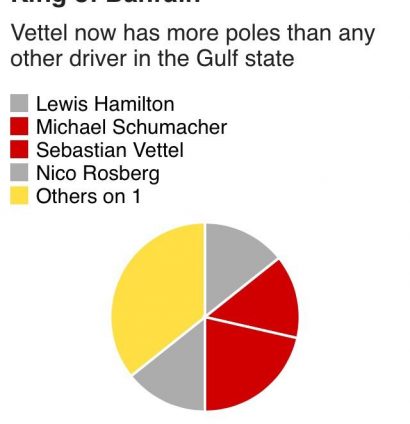 Where do you even start?
– Lewis Hamilton and Nico Rosberg are the same colour and have the same portion
– Michael Schumacher and Sebastian Vettel are the same colour
– And Others on 1 looks to be a real prospect. Looking forward to seeing their career develop in the future.
Last word
It can be left to none other than the Ferrari mechanic, Francesco Cigarini, giving everyone the good old thumbs-up after surgery on his broken leg. We wish him a speedy recovery.
Next stop China.