The Austrian Grand Prix was never going to live up to bonkers Baku, but that did not stop some from trying anyway.
But first…
Special delivery
Monday 3rd July will be known (hopefully not for long) as the day that the FIA decided to take no further action on Sebastian Vettel following his little incident with Lewis Hamilton in Baku.
But it also happened to be Vettel's 30th birthday, which brought this very pleasant surprise from one of Ferrari's sponsors: UPS.
#Kimi7 has made a special gift for his Scuderia Ferrari teammate #Seb5 on his birthday, but has he left it too late? Lucky for him, UPS is faster than ever before…Happy Birthday #Seb5!

Posted by UPS on Monday, July 3, 2017
We cannot begin to imagine how much Kimi Raikkonen was not looking forward to filming this.
Jump start
But then, laughing time was over. The race was on to see who could be the first to find out Vettel's fate and The Mirror left everyone eating their dust…just a shame that a few, very minor details were not factually correct.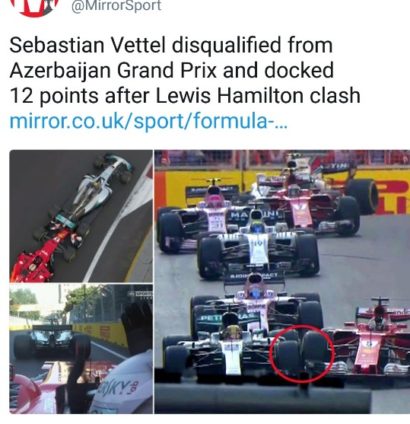 20 minutes later…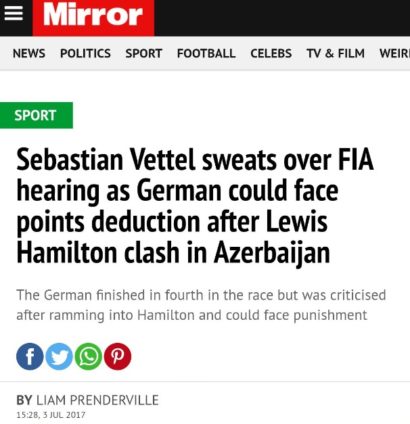 It's magic!
Milking it
Sadly, the FIA verdict was not the end of this drama turned pantomine as Hamilton and Vettel were to feature in the same press conference alongside Jean Todt Kevin Magnussen.
The circus started at 2pm UK time on Thursday, prompting Sky Sports F1 to run a live blog from 10am which may have been a bit too early. You decide…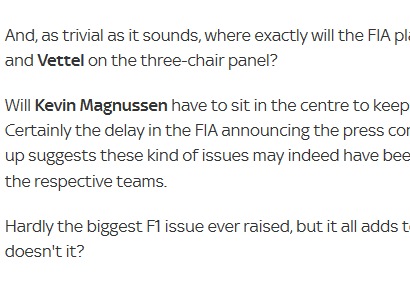 All adds to the theatre, doesn't it? Erm, no.
However, Magnussen sitting in the middle did give us this great image. What did he do to deserve this?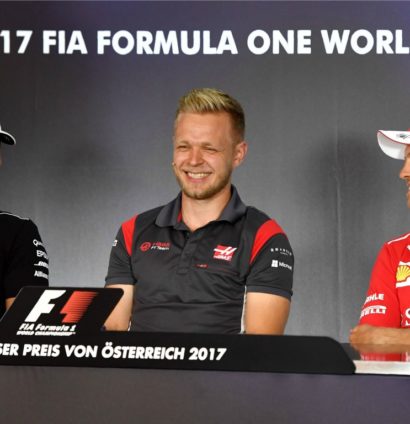 Temper, temper
Finally, that was the end of Hamilton v Vettel for now and we could all mo…no, wait, we're not done.
Step forward Sky Italia's Davide Valsecchi, who tried to steal some of the spotlight by attempting to become the peacemaker and organise a handshake after qualifying.
It was all rather awkward and Hamilton just casually walked off, which of course automatically meant that this was Baku all over again.
The Mirror then excelled themselves once more…
There were certainly a lot of tempers flaring just before those interviews…
And just look at how Vettel completely loses the plot again with this sickening attack on an elderly man…
Fortunately Seb never changes ? pic.twitter.com/szUrbyHYWT

— Gianlu D'Alessandro (@Gianludale27) July 9, 2017
Honestly.
Danny boy
Thankfully, Daniel Ricciardo brought us back to a very calm and tranquil place by being on top form all weekend, and not just on track.
He set the bar pretty high just by getting uncomfortably close to Max Verstappen on the plane to Austria…
But the Dutchman would then launch a vicious attack on his so-called team-mate as tempers flared…
Is this the worst ice hockey fight ever? ? ? What do you think @ecrbs? #PuckOff pic.twitter.com/ZExIUNbVbT

— Red Bull Racing (@redbullracing) July 5, 2017
And while the weekend would finish with another retirement for Max, the 'Honey Badger' did very well to finish third considering he has now actually retired from Formula 1.
You can tell his heart's not in it any more…
"I am @danielricciardo, hear me ROAR" pic.twitter.com/0h8plqyeSA

— Formula 1 (@F1) July 10, 2017
Stuck in the middle
It was a busy weekend for Red Bull's junior team Toro Rosso and not just because we saw the return of the 'The Torpedo' Daniil Kvyat.
Carlos Sainz had quite the experience…
Thursday – Sainz says it is "unlikely" that he will stay for a fourth year at Toro Rosso
Friday am – Christian Horner labels Sainz "disingenous" as he then confirms the option has been taken on Sainz at TR next year
Friday pm – Sainz says he is still ready to take the step up from Toro Rosso
Friday pm – Bond villain Dr Helmut Marko tracks him down…
Awkward…Marko stops Sainz and says "nice stories I hear about you" live on #SkyF1 Blog: https://t.co/b3qcRtGXrA pic.twitter.com/F5E4A5Phu1

— Sky Sports F1 ? (@SkySportsF1) July 7, 2017
Last word
We'll leave it to K-Mag to best sum up the events of the past week…
Kevin Magnussen echoing how we all feel going to work on a Monday morning haha #SkyF1 #F1 #AustrianGP pic.twitter.com/zbPDkMmWpn

— John-Paul Lumsden (@Geordieman91) July 9, 2017
Until Silverstone…