Divine intervention helped Lewis Hamilton extend his World Championship lead in a crazy Singapore race won by Jolyon Palmer of all people.
But first…
I can't get no sleep
There is only one place you can ever start when the Singapore Grand Prix is in town: the meltdown of a man in the right place at the wrong time. And we're not talking about Fernando Alonso.
It's old, but it's gold…
Start your engines
You wait all week (and what feels like all season) for three big pieces of the 2018 puzzle to finally fit together and all it happens between FP1 and FP2 on Friday.
McLaren sealed a not-so-quickie divorce from Honda, who have now jumped into bed with Toro Rosso, while Renault's reward for letting all this happen was that they could finally tell Jolyon Palmer that it's definitely you and not me.
It's been a steep curve for Honda, but at least they are learning their lessons and not putting too much pressure on themselves with high expecta…oh no, wait a minute, here's Honda's chief officer of brand and communications operations Katsuhide Moriyami.
"Honda's spirit is to come back and next year our goal is to fight for the top three at the top of the grid."
Honda truly are the power of dreams.
Is this thing on?
Bernie Ecclestone (remember him?) of course had his say on the matter…
"I can't see why McLaren will be any happier with Renault than they are with Honda.

"It wasn't Honda's fault things didn't work out, it was McLaren's.

"Every day they had a fight about everything, instead of working with them, which was a little bit stupid."
He will give an 'exclusive' to anyone these days…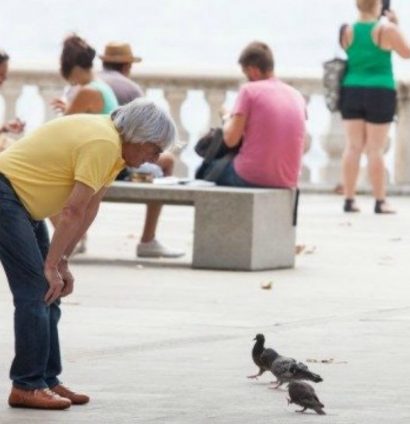 Shiny happy people
Thankfully, you can always rely on one Daniel Ricciardo to lighten the mood. Renault cheekily asked Red Bull for the Aussie as part of the engine deals. Of course they did…
Ricciardo was particularly keen to stress the good-looking part…
Just watch those modelling contracts roll in, @DanielRicciardo 😜#SingaporeGP #F1 pic.twitter.com/qSAYRV4tBT

— Formula 1 (@F1) September 15, 2017
Picture perfect
Ricciardo and Max Verstappen also unfortunately found time to try out the revolting durian fruit, inadvertently providing the perfect symbols of their respective seasons.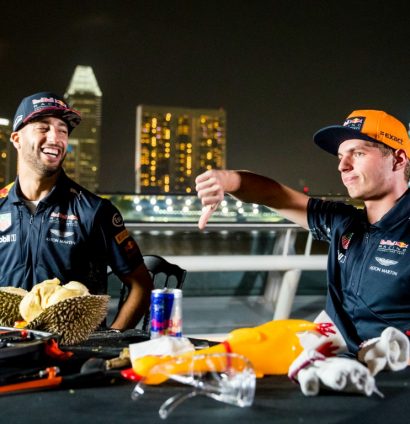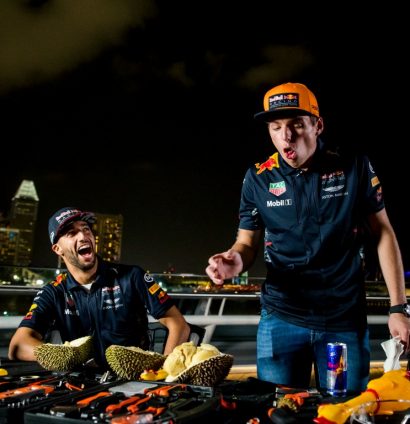 Ricciardo also managed to bring out his artistic side with a touching tribute to his former team-mate…
Playground antics
Sometimes it's like being back at school with these F1 drivers. There's Sebastian Vettel with the classic 'that's not yours, it's mine'
Will Buxton getting a nipple tweak for bringing up something he shouldn't have done…
A throwback insult courtesy of Nico Hulkenberg…ok maybe not the 'f**k yeah, baby' bit.
"**** yeah baby, in your face!" Enjoy that much, @HulkHulkenberg?#SingaporeGP #F1 pic.twitter.com/UMjEQeNj0t

— Formula 1 (@F1) September 16, 2017
Toto Wolff even got in on the act…
Toto Wolff with the nutshot on Coulthard 😂😂 pic.twitter.com/HIScoy6bLy

— Hayden (@_Hayden_97) September 17, 2017
And so did Ricciardo in the post-race conference, making everyone else aware of his presence with a, let's say, unique smell.
Kenenkäs vika tämä oli… 😂 pic.twitter.com/q4NzwuHknb

— Jani Toropainen (@email_jani) September 17, 2017
The gifts that keep on giving
Kimi Raikkonen and Fernando Alonso are particular favourites of Pit Chat, given that they also produce the goods in one way at least.
This season we have seen Kimi become a master of disguise, a world-class spy, a health and safety officer, and now he has developed the power to mutate.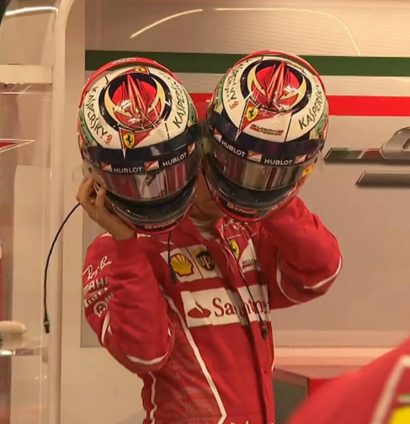 Alonso, meanwhile, continues to provide some radio gold…
Hamilton > Nostradamus
Many were in a state of shock after that start to the Singapore Grand Prix, but Hamilton was not one of them. He's got God on his side for goodness sake.
His filter of choice said it all after qualifying down in P5…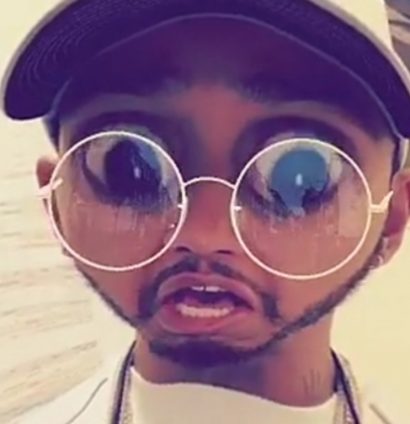 Before stating:
"I am going to have to figure out how to pull a miracle out of somewhere."
Lo and behold, Hamilton's words summoned the weather gods with heavy rain, thunder, and lightning all converging on Marina Bay. And, of course, the biggest factor of them all…
#LH44: "Sebastian has Verstappen next to him, so anything can happen at the start." #SingaporeGP pic.twitter.com/Vk4mAguvHM

— Mercedes-AMG F1 (@MercedesAMGF1) September 16, 2017
Even Ricciardo saw it coming…
.@danielricciardo is hoping for some help from his teammate 😂

"I still believe we can do it, ideally Max takes Seb out"#SingaporeGP #F1 pic.twitter.com/h7oMnQJeKt

— Formula 1 (@F1) September 17, 2017
And, if in any doubt that Hamilton hasn't got superior power, he's even produced the Halo effect…
My heart will go on
Let's have one last look at the start, even at the time there was something clearly missing. It just needed that final touch…
Fake news
It was clear Sebastian Vettel was not going to be punished by the stewards for his part in the start, especially when it was Ferrari reserve driver Sebastian Yetal involved in the incident.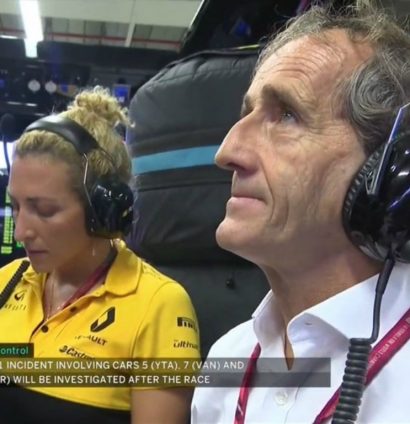 And a big congratulations to Palmer. The perfect way to respond after been given the boot. That'll show 'em.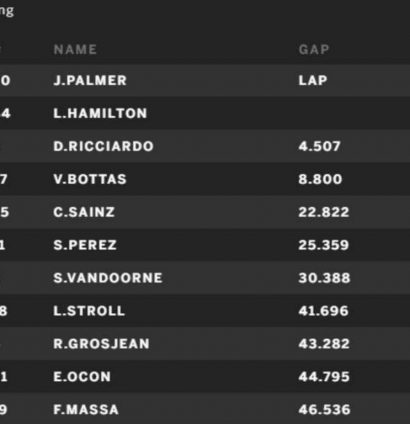 Last word
Over to you, Murray.
"In Formula 1 anything can happen, and it usually does."
Until Malaysia…