Pit Chat: Hamilton can't resist Rosberg dig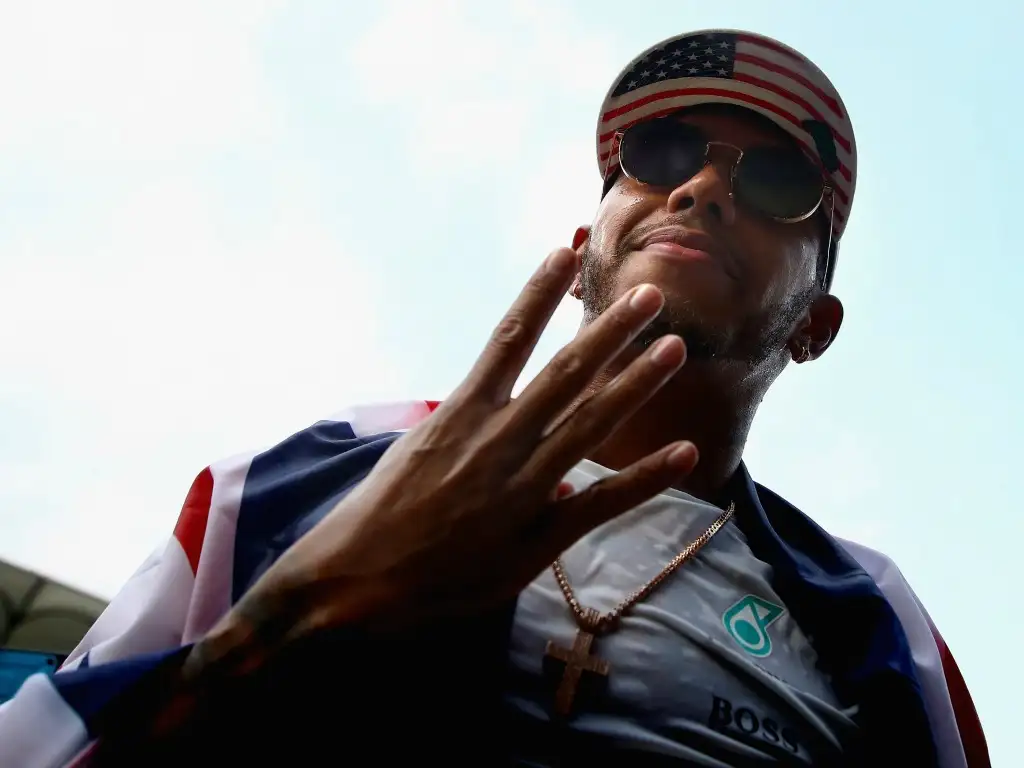 He may have been crowned a four-time World Champion, but losing the 2016 title still hurts Lewis Hamilton. Plus Kimi being Kimi and a contrast in emotions for Max Verstappen.
But first…
Oh Honda
The Mexico Grand Prix weekend did not get off to the best of starts for those poor souls at McLaren-Honda.
Stoffel Vandoorne and Fernando Alonso both arrived with yet more engine penalties, and the former's new engine didn't even fancy completing an installation lap before wanting to pack in.
Honda's reliability is now breaking other things as well, namely the FOM graphics showing each power unit element used this year.
Still not ruling out a fully red screen before the end of the season.
The latest penalties for Alonso and Vandoorne meant that another tough afternoon lay ahead in Mexico.
The grid #F1 #MexicoGP pic.twitter.com/YrAW6eZcjX

— WTF1 (@wtf1official) October 29, 2017
The show must go on
On the subject of FOM, there was drastic change in the pre-race build up after those driver introductions in Austin which mean we'll never be able to listen to Michael Buffer in the same way again.
Over-the-top, cheesy and cringe worthy were some of the words that came to mind for many, so FOM listened and really went back to basics with the drivers' parade in Mexico.
One new feature we did like was the speed trap graphic popping up on entry into Turn 1.
So, in true FOM style, we're looking forward to never seeing it again after an all-too-brief trial just like those snazzy, MotoGP-influenced sector graphics that have disappeared off the face of the earth sine the start of the season.
Missed opportunity
We were delighted to see that it was Lewis Hamilton's turn to take part in Ziggo Sport's Yes/No game and was looking forward to some juicy gossip from years past. Judge for yourselves, but we can't help but feel the questions could have been a whole lot better…
Wacky races
We interrupt our regular schedule with a race start that was simply too good to leave out at the Formula Renault Eurocup. Take Baku, add Singapore and you get this…
Meanwhile in Barcelona #thatwillbuffout pic.twitter.com/Vhv6mGAjkK

— Mattzel89 (@Mattzel89) October 29, 2017
Tanked engine
The weekend may not have got off to the best of starts for McLaren-Honda, but at least both cars managed to finish the race. The same cannot be said for the Renault-powered cars with four DNFs all due to technical faults.
Thank god there's no new engine deals coming into effect for 2018.
It left Toro Rosso's Brendon Hartley going to extreme measures to stop the flames spreading on his car…
That's one powerful piss @BrendonHartley… pic.twitter.com/KEpKCG6zia

— Giedo van der Garde (@GvanderGarde) October 29, 2017
Grazie ragazzi
Congratulations are still in order for Sebastian Vettel, who has now received full Italian citizenship after saying the final, all-important phrase left on his checklist.
We also found out that Vettel is learning Morse code, too…
Does anyone know what language he's speaking (before the Italian)?!? 🤔 😂

This is how it feels to be on pole for the #MexicoGP 🇲🇽 pic.twitter.com/8R1biL4GVv

— Formula 1 (@F1) October 29, 2017
Snappy Verstappen
Some week for that Max Verstappen chap, wasn't it? From the dismay in Austin to delight in Mexico City, but it still took quite some time for that transition in mood to happen.
How can you look this angry eating Mexican food?
Then, via Instagram, there was the front-runner for the most insincere apology ever for his post-race comments in Austin…
Whilst that was being written for him, he was no doubt doing this…
But, after getting the better of Vettel off the start, Verstappen was soon back having fun again – just try slowing him down though…
Red Bull: "Okay Max we just want to cover Bottas' lap times."
Max: "Okay, I'll take it easy son."
Red Bull: "Max, that lap was the same time as the last one."
Verstappen: "I'm really sorry."
Kimi corner
Someone else who did not end up having a care in the world was, of course, Kimi Raikkonen. First, there were two classic Kimi interviews…
Post qualifying:
18 seconds (subbed) interview with #Kimi7 after #MexicoGP #Quali by @MerviKallio @CMoreF1, classic style from him. 😆 #F1 pic.twitter.com/8FeZKynK6B

— Juuso Peltola (@peljuu) October 29, 2017
Pre-race:
But that was eclipsed by arguably the highlight of the weekend. He's not called the 'Ice Man' for nothing.
The last word
It would be rude to do a whole Pit Chat without mentioning the now four-time World Champion Lewis Hamilton. Yet what stood out the most is that his rival Vettel can be a class act when he doesn't see red.
This was a seriously nice touch after the race…
RESPECT

Classy stuff from Sebastian Vettel 👏#MexicoGP 🇲🇽 #F1 pic.twitter.com/qIaS3qg7ek

— Formula 1 (@F1) October 29, 2017
And the two hugged it out in the paddock afterward…
Whilst there is a lot of respect between Hamilton and Vettel, there is still clearly none between Hamilton and his former team-mate Nico Rosberg.
Rosberg actually posted a video congratulating Lewis…
Congratulations Lewis 👊🏼 Well deserving champion! Also brilliant for Team Mercedes to clinch both titles 🏆🏆 https://t.co/aEHzGc5qZb

— Nico Rosberg (@nico_rosberg) October 29, 2017
But Hamilton is still sore about 2016 it seems…
"Obviously each year I could do the easy thing which is stop & retreat like Nico did with these 4 titles, but I think there is more in me." pic.twitter.com/9qGrAbLCAs

— Sky Sports F1 🏎 (@SkySportsF1) October 29, 2017
Whilst that comment did not go down too well, Hamilton causing chaos when running back to the garage and sparked this collision between two fans…
Like the start between Vettel, Verstappen and Hamilton, the FIA have 'noted' the incident and penalties could be forthcoming.
Until Brazil…