The Canadian Grand Prix weekend had pretty much everything: drama, tears, the return of the raft race and Lewis Hamilton incurring the wrath of IndyCar.
Stirring the pot
The build-up to Montreal started with Hamilton firing shots at the IndyCar series, questioning the quality of competition.
"I looked at the times and, frankly, for his first ever qualifying for Fernando to be fifth — what does that say about Indy?" the Mercedes driver told France's L'Equipe.
If Hamilton was looking for a reaction, he certainly got one. The best zinger going to Tony Kanaan, who said:
"The guy (Hamilton) competed in a two-car world championship last year and was second, so I don't think he can say much."
Ouch.
And, if that wasn't enough. The Indycar fans at the Texas 600 last weekend had this playful dig…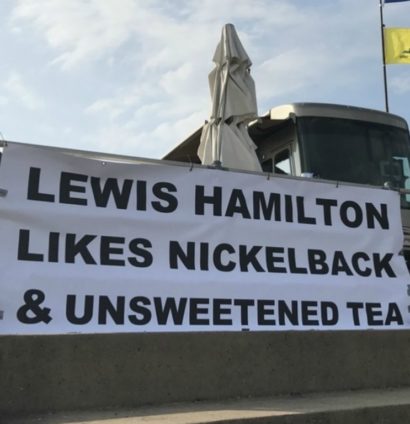 Hopefully this rumbles on. We're really quite enjoying it.
Freak out
One thing we certainly wasn't expecting was that incredible gift from Ayrton Senna's family to Hamilton after the Brit equalled his icon's record of 65 pole positions.
Only Sir Patrick Stewart's 'shoey' got close to rivalling this iconic moment over the weekend, but that pole position feat wasn't the only one that Hamilton would match.
Hamilton also secured his fourth career Grand Slam – the same number as Senna – and what makes it even more impressive is that he nailed the fastest time on lap 64 after stopping for supersofts on lap 32.
But, freakiest of them all…
Odd coincidence I just noticed in passing. Both Senna and Hamilton took their 65th career pole positions by 0.33s #CanadianGP #Senna #65

— Sean Kelly (@virtualstatman) June 10, 2017
Vet-tel
The 2016 Canadian Grand Prix brought us this wonderful interview between Hamilton and Sebastian Vettel, with the latter accusing his now title rival of "not braking for animals".
And the circuit attracted plenty of wildlife this year, too, just look how concerned Seb was when he looked down to Turn 1…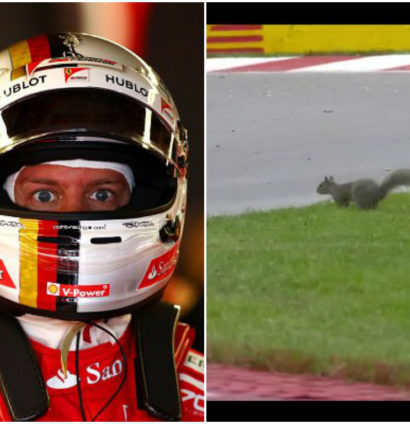 Yes or No?
There are a lot of run-of-the-mill interviews on race weekend, but certainly not this one as Vettel was grilled on Dutch television. The hesitations are quite delightful, as is his answer to the Mark Webber question…
Man of the people
From one World Champion to another now and Canada marked the (most probably reluctant) return of Fernando Alonso to Formula 1 after his Indy 500 exploits. It pretty much went as expected…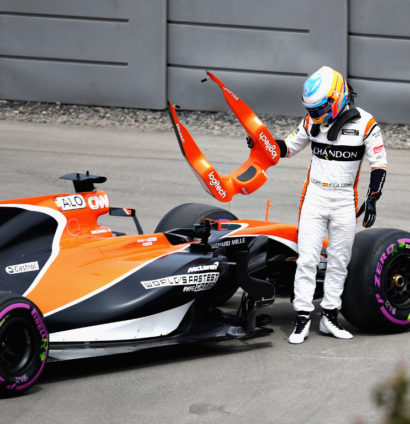 Pretty much all the focus was on Alonso in Thursday's press conference, too, where he declared:
"If we [McLaren] are winning by September, I will stay."
Well, it's time to find a pen, Fernando, as not only have McLaren supplied you with a competitive car…
Ok, even if it is Mika Hakkinen's title-winning car to go into your museum.
Not only that, but McLaren also won the raft race!
Winners! Congrats to our speedy crew stormed to victory in the #F1RaftRace. ??? pic.twitter.com/f0hPYmF0Hv

— McLaren (@McLarenF1) June 10, 2017
Winning by September? Done.
Other enjoyable Alonso moment #1: Referring to Jolyon Palmer as "this guy".
Other enjoyable Alonso moment #2: Getting absolutely mobbed by the fans after breaking down in the race
When there aren't any deckchairs, you have to improvise…#F1 #CanadianGP pic.twitter.com/ALEdpMIoS1

— Formula 1 (@F1) June 11, 2017
Captain Steiner
It was great to see the raft race return after a near 20-year absence and it's well worth a watch if you missed it on Saturday. Yes, it's 30 minutes long but you're supposed to working anyway…
If you want to take away just one key highlight, then look no further than this…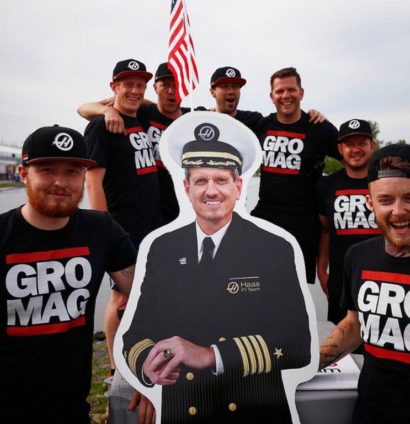 More, more, more
The return of the raft race represented another sign that Liberty Media are trying to make race weekends more memorable and more accessible to the fans.
And getting a sneak-peek into the FIA Driver Briefing after Monaco was another great surprise…
WATCH: For the first time in two decades, we have footage from an @FIA Driver Briefing. Go inside the #MonacoGP briefing here! pic.twitter.com/z7GqShcOjb

— Formula 1 (@F1) June 10, 2017
Of course, Vettel is at the back playing the class clown. We wouldn't have it any other way.
Seriously, though, much more of this: it's great.
Kimi's got talent
This feature has already discovered that Kimi Raikkonen would make a great detective and now we can add two more roles to his ever-growing list…
Firstly he picked out the two idiotic photographers who almost certainly had a death wish. Health and Safety officer: tick.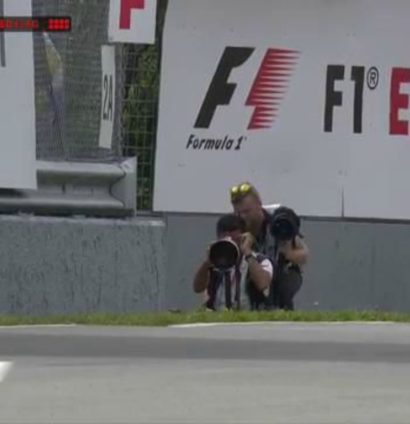 And it turns out Kimi is also a time-traveller, which would explain an awful lot.
Ricciardo 4:20
There is a clear contrast of emotions at Red Bull between Max Verstappen and Daniel Ricciardo.
The Aussie was having none of Felipe Massa's attempt to wind him up in the paddock…
Felipe goes trolling after qualifying #F1 #CanadianGP pic.twitter.com/wtekw20oM0

— Formula 1 (@F1) June 10, 2017
But, how does Ricciardo stay so cool?
Are drivers more relaxed with new owners? RIC: "They supplied everyone with a good dose of marijuana. I just got it naturally in my system."

— Tobi Grüner ? (@tgruener) June 10, 2017
Checks out.
Meanwhile, Verstappen came to Canada still seething after his "f**king disaster" in Monaco when Ricciardo managed to make the over-cut stick.
And for evidence of that, we didn't need to look far…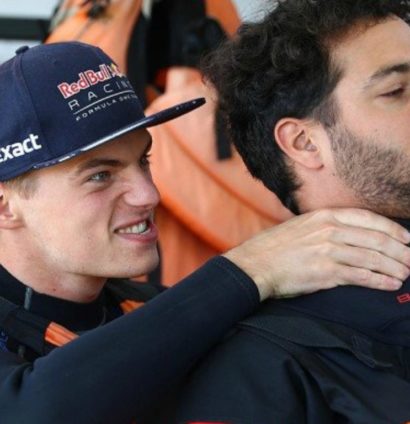 It just wasn't meant to be for Mad Max after his flying start on Sunday, even his parade car broke down for goodness sake, but at least he was able to channel his inner Alonso…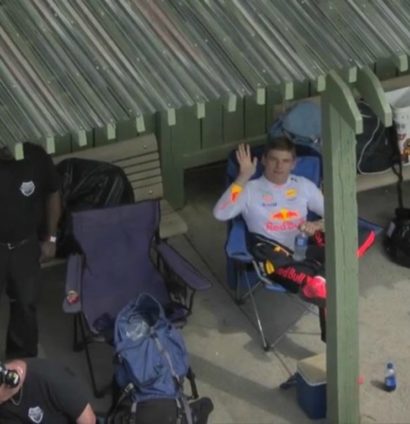 Penny for the swear jar
Daniil Kvyat after being hit with two penalties for the same incident: "It's a circus, a stupid f*****g circus!"
Christian Horner after being asked what he was talking to Niki Lauda about in FP1: "I was finding out why he is such a miserable bugger and not taking part in the raft race."
Kimi Raikkonen after his brake problem: "Vittu!" (Well done getting that one past the censors)
And finally…
How can we not end on Sir Patrick Stewart's, a knight of the British Empire, doing a 'shoey'? That podium presentation will live long in the memory.
Erm, enjoy…
"Cheers!" @SirPatStew joins @DanielRicciardo in a podium shoey ??

(A sentence we never thought we'd write)#CanadianGP ?? pic.twitter.com/r4y1RmRGBL

— Formula 1 (@F1) June 11, 2017