Thank you Winnie Harlow for making the Canadian Grand Prix remotely interesting…and giving us a priceless reaction from Daniel Ricciardo.
But first…
Location, location, location
Ferrari's race week did not get off to the best of starts when getting their Canadian city skylines mixed up.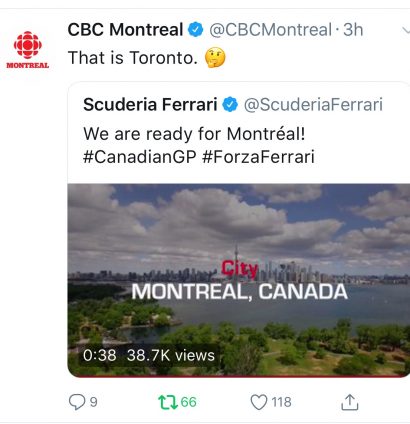 Thankfully no other teams decided to tease them about it. Well, not everyone.
SPY: Buongiorno from Montréal.. #RBspy 🕵️‍♂️ #CanadianGP 🇨🇦 pic.twitter.com/1p6LsqLiix

— Red Bull Racing (@redbullracing) June 7, 2018
And, with that in mind, we are really looking forward to the return of French Grand Prix in a couple of weeks on the outskirts of Marseille. It's beautiful, especially at night.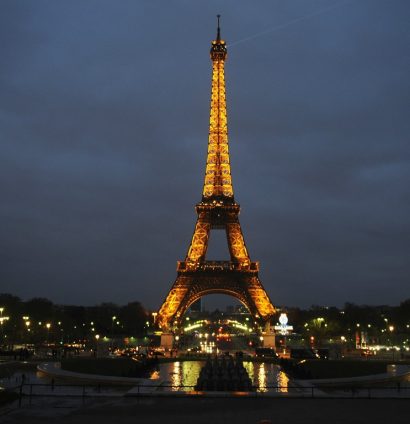 Speaking of pre-race gaffes, BBC Sport are giving out World Championships to anyone these days…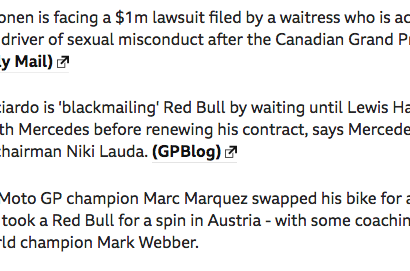 Typos, typos everywhere
There was also a strong case of typoitis doing the rounds, so bad that we also caught it too.
With Marc Marquez testing with Red Bull in the previous week, we took the MotoGP/F1 crossover a little too far with a full-on team name change.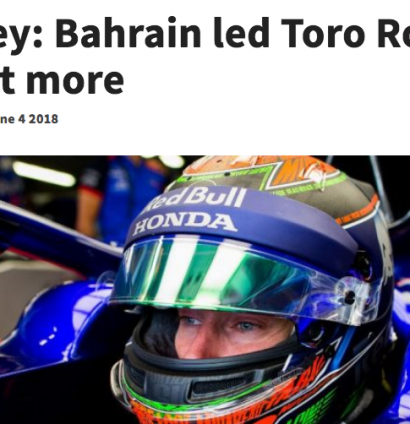 But, we weren't the only ones to come down with it.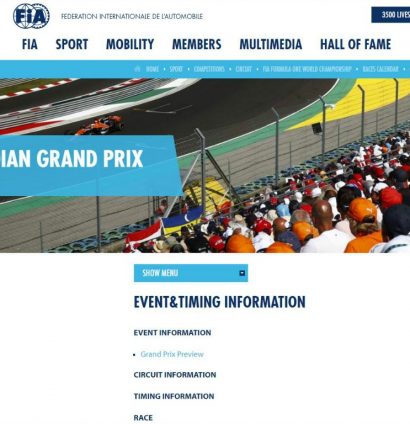 It happens to us all.
Groundhog Day
It wouldn't be Montreal without these fellas… 🙂 #CanadianGP #F1 pic.twitter.com/Bo1cOxsovQ

— Formula 1 (@F1) June 8, 2018
"Aww!" was our first response when we saw our little furry friend in Montreal. That soon turned to apprehension when you see just how close it was to the track.
And of course it had to be Romain Grosjean who crashed into it. Who else?
WATCH: @RGrosjean crash with a groundhog in today's practice session in the #CanadianGP. #F1 pic.twitter.com/sS52VEkDom

— Schnixel (@_Schnixel) June 8, 2018
Not the #GroundhogDay we wanted!

The aftermath of @RGrosjean's 'meeting' with the Canadian wildlife in #FP2.

🇨🇦😱😢 @F1GPCanada pic.twitter.com/XaW4J3zQ6y

— Haas F1 Team (@HaasF1Team) June 8, 2018
Poor soul. At least Grosjean had the decency to speak to the immediate family members.
We made up with the local wildlife!

😘🇨🇦👍 @F1GPCanada #HaasF1 pic.twitter.com/EfQ5JNSyzj

— Haas F1 Team (@HaasF1Team) June 8, 2018
Then, on Saturday, the groundhog community joined forces with another of Grosjean's old foes, Marcus Ericsson, by making his engine go pop.
Is that Ericsson behind him? 🤔 pic.twitter.com/NFJvMqjYoF

— Will Ponissi (@WillPonissi) June 9, 2018
We won't end groundhog chat on a sad note, so here's the Red Bull boys trying to get through a tongue-twister and Max dropping a lovely F-bomb.
So.. how much wood? 😂🍁#CanadianGP 🇨🇦#F1 pic.twitter.com/C9lB9Vi9y1

— Red Bull Racing (@redbullracing) June 8, 2018
Mad Max
Before Max finally let his driving do the talking, there was some left over aggression he needed to get rid of. Lots said he was joking, but he looked deadly serious to us.
If I get more questions on my driving I will headbutt someone, says Verstappen https://t.co/fVqlPuYu1l pic.twitter.com/36nDPmfFQR

— Guardian sport (@guardian_sport) June 8, 2018
Then Max got all sassy after his excellent performance in qualifying…
Verstappen: 'Guess I still know how to drive' #CanadianGP #F1 pic.twitter.com/QAOJJunqoC

— The_Pamas (@The_Pamas) June 10, 2018
That race strategy sure paid off though.
Verstappen reveals race strategy for #CanadianGP #F1 pic.twitter.com/OsKoIt9vcJ

— Peter Leung (@BaronVonClutch) June 8, 2018
IDGAF
Fernando Alonso deserves so much better than what is happening to him at McLaren. But at least we can still enjoy his no bullsh*t responses before he no doubt leaves Formula 1 at the end of the season.
"We are not fighting for the World Championship here so WEC is my biggest priority right now" @alo_oficial ouch! #F1

— Jennie Gow (@JennieGow) June 7, 2018
And strong contender for best clip of the weekend:
"That's the reason I will not do it," says Alonso after Crofty's terrible attempt at "the floss"
📺 Sky Go: https://t.co/fxH1316WnM #SkyF1 #F1 #CanadianGP pic.twitter.com/pJtKVqJ5Rj

— Sky Sports F1 🏎 (@SkySportsF1) June 9, 2018
Seeing as Crofty has made an appearance, he had zero shame in crowbarring in this toe-curling joke in Sky F1's coverage. So bad, it's good.
Fake news
We struggled to contain ourselves when hearing this quote from Stoffel Vandoorne:
"I don't think [the stats] tell the whole story," Vandoorne said. "In reality we are very, very closely matched."
Just a reminder: it's 7-0 to Alonso in qualifying and it's 12-0 since Malaysia last year. We reckon the stats tell the whole story and the sequel.
Vandoorne also gave us strong Austin Powers flashbacks this weekend.
Almost there…
You had one job…
Ok, we can't wait any longer. Let's get to the early checkered flag.
The look Winnie Harlow gave to the steward, who was actually to blame for the whole incident, said it all.
It was at this point, Winnie Harlow knew she f*cked up. #F1 pic.twitter.com/moSusuR2cw

— Planet F1 (@Planet_F1) June 10, 2018
She did us all a favour by ending it early.
But, as priceless looks go, you're not getting any better than Daniel Ricciardo's face when he learned that his fastest lap had been chalked off due to the early classification. Bye bye to that bonus.
The outrage! 😂😂😂 pic.twitter.com/Qnh8yw7xg9

— Red Bull Racing (@redbullracing) June 10, 2018
Home truths
With the race in serious danger of sending us to sleep, an unlikely saviour in the form of Nico Rosberg was on hand with an in-race Q&A on Twitter to save us with some insightful comments for once.
On Kimi:
past his prime and messing up Q3s in qualy and vettel doing great job! #skyf1 #asknico https://t.co/2bJkZJFE1l

— Nico Rosberg (@nico_rosberg) June 10, 2018
And on Alonso:
we all want to see that. but noone wants him because of his team internal politics games #skyf1 #asknico https://t.co/IrrjJpUGm6

— Nico Rosberg (@nico_rosberg) June 10, 2018
Best of the rest
One of the best things about Formula 1 is that even when there is seemingly nothing going on, there is still actually plenty going on.
Vettel shared a funny story over a game of backgammon with Ted Kravitz.
WATCH: This story from Vettel is brilliant! 🤣🤣🤣

Police: "What was the purpose of your visit to the country?
Vettel: "Visiting the F1."
Police: "Did you have a good seats?"
Vettel: "…well I had one seat…"

📺 Sky Go: https://t.co/fxH1316WnM #SkyF1 #F1 #CanadianGP 🇨🇦🍁 pic.twitter.com/mBGLhtaFh7

— Sky Sports F1 🏎 (@SkySportsF1) June 8, 2018
Lewis Hamilton took a lot of time out with his fans in Canada. Awesome to see.
Williams actually bloody won something.
And we have watched this gif on loop more times than we care to admit.
Last word
We're giving it to Jacques Villeneuve this weekend for the predictable, but still rather savage comment about Lance Stroll.
💥 Another scalp for the "Wall of Champions" #CanadianGP #F1 pic.twitter.com/vnP0kLkz4Y

— Formula 1 (@F1) June 8, 2018
Villeneuve on Canal+: "It's no longer the wall of champions."
Until France…