Lewis Hamilton may have hogged the headlines on home soil, but Daniel Ricciardo delivered both on and off the track.
But first…
Just Kimi things
The British Grand Prix weekend kicked off with a huge 'F1 Live' event in London as Trafalgar Square and Whitehall was caressed by the sweet sounds of some roaring V8, V10 and V12 engines.
The anticipation and excitement was building all day long, and what better way to keep that going by opening the parade show with the ever-enthusiastic Kimi Raikkonen?
After going for a few spins around the streets of London and having to endure the likes of Little Mix and the Kaiser Chiefs, the drivers (bar you-know-who) made their way onto the stage, where a champagne celebration was organised.
Kimi, of course, was having absolutely none of it…
Run, Kimi, run! ? #Raikkonen #F1LiveLondon pic.twitter.com/K6xpTItmrX

— Gianlu D'Alessandro (@Gianludale27) July 12, 2017
And that prompted a cheeky response from Mercedes…
That's the quickest we've seen Kimi move all season! ??

— Mercedes-AMG F1 (@MercedesAMGF1) July 12, 2017
If that event was bad for Kimi, it was not a patch on the weekend itself where he would have felt even more deflated.
Raikkonen was set for a second-place finish behind the dominant Hamilton, but a sudden puncture in the dying moments saw his race unravel very quickly. He only kept his place on the podium due to team-mate Sebastian Vettel suffering the same issue.
You couldn't tell just by looking at him though…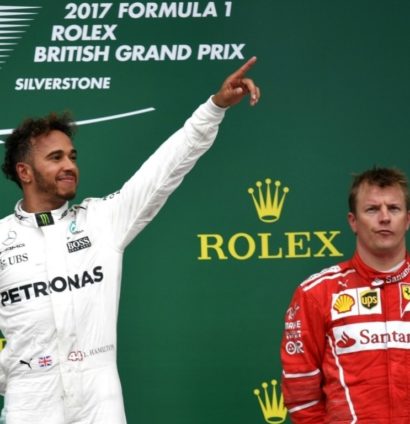 And to make matters worse, he also had a dentist appointment straight after the race. Here he is in the waiting room…
Then, more waiting…
That's rich
Vettel and Max Verstappen were involved in a ding-dong battle for third in the early stages of the British Grand Prix and the former was not happy with the Dutchman's "jumpy" nature when he tries to defend.
It also prompted this response, which had we been drinking tea at the time it would have been spat out everywhere.
Vettel said: "I'm sure he will calm down, it's still not that many races he has done."
Yes, Sebastian, because we all know what a mature, mellow driver you have become with 188 races under your belt.
Good, old British humour
The fall-out from Baku is finally over, well, it is now the Silverstone crowd have got their digs in…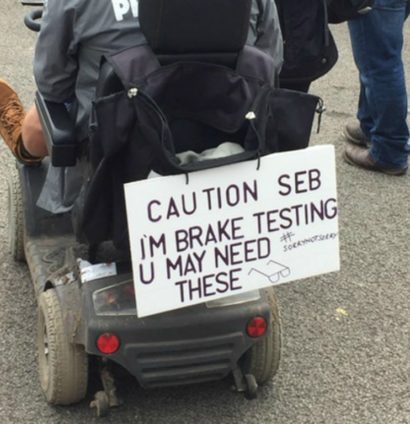 and…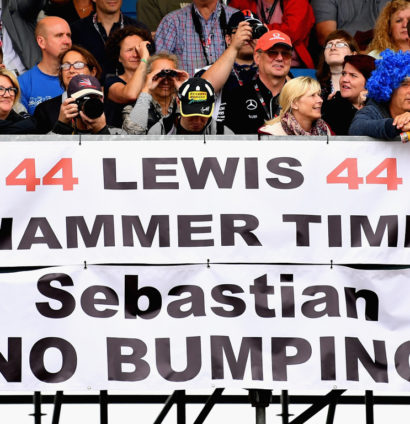 On the subject of banners, some of the spectators clearly started very early on the drink after unfurling these beauties. Whatever they were on, we want some.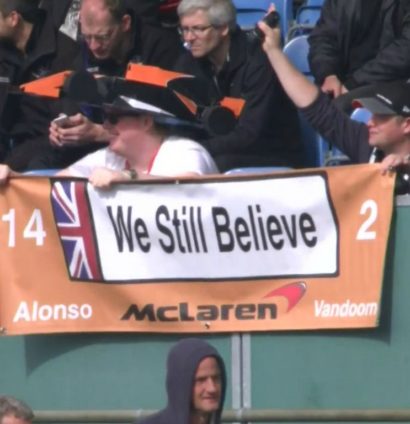 Just when you thought that would not be topped, along came this in qualifying…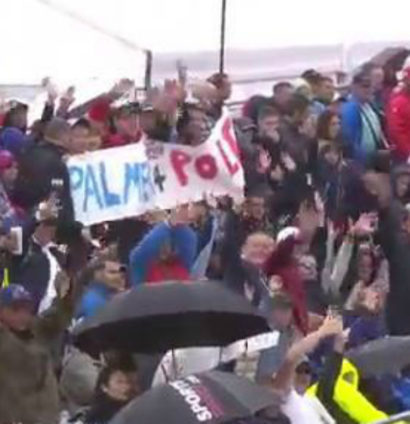 Unless they meant Palmer for Kubica, in that case we are all for it.
GP2 engine
Fernando Alonso has on several occasions dismissed Honda's pitiful excuse of an engine as something that belongs in GP2. He must have felt right at home this weekend then…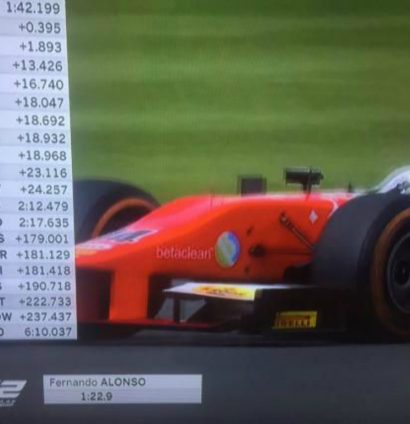 This was a bit of a recurring theme, as after Q1 on Saturday the on-board graphics had Alonso in P1. Clearly some sort of glitch in the system.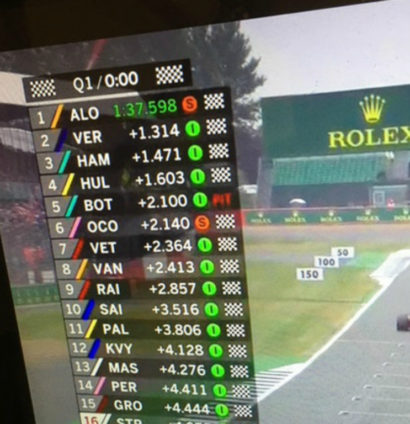 Oh sh*t, that did actually happen.
But Alonso would get another taste of things to come after having time for a spot of scalextric racing.
The Ricciardo Show
Let's get onto the real star of the week: Daniel Ricciardo.
It got off to a very strong start with this awesome display inside the Red Bull RB7. We could watch this over and over again…
WATCH: We had to share it again, easily the best run of the night from @danielricciardo https://t.co/JCUsCPpX23 #SkyF1 #F1 #F1LiveLondon pic.twitter.com/8zq0wV6Djk

— Sky Sports F1 ? (@SkySportsF1) July 12, 2017
Whilst we are back on the subject of London, the drivers were told in the briefing not to do any donuts. Only Lance Stroll seemed to listen; here's exclusive footage of his run…
Ricciardo then gave his thoughts on his day in London. It was simply, simply spiffing.
Stirring the pot
After the Daily Mirror's antics after Baku, the wooden spoon for the sh*t-stirring pot was handed over to the Daily Mail.
They thought that Hamilton stayed away from the live event in London because Toto Wolff went to Sebastian Vettel's 30th birthday bash, somehow forgetting that Lewis is no longer a six-year-old child.
It was brought up in the drivers' press conference on Thursday, but thankfully Ricciardo was on hand first to give that question the response it deserved.
Mentioning 'The Torpedo' with Danill Kvyat next to him was a pretty brave move. But the Russian would do well to shake off that tag come Sunday. No, hang on…
NOOOOOOO!! Daniil and Carlos touch and this means Carlos' race ends here. Daniil comes in for a nose change… ??? #BritishGP pic.twitter.com/Ckcr9cPUun

— Toro Rosso (@ToroRossoSpy) July 16, 2017
Oh they touched, alright…
Google is so accurate these days. pic.twitter.com/gYggzWGDNb

— Giedo van der Garde (@GvanderGarde) July 16, 2017
And before Ricciardo began his recovery mission from P19 to P5, he even had time for a photobomb…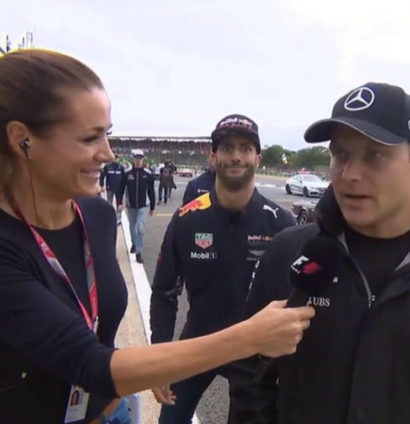 Cars 3-Honda
Rumours of a new team joining the grid came true when a new garage was set-up on the Silverstone pit lane.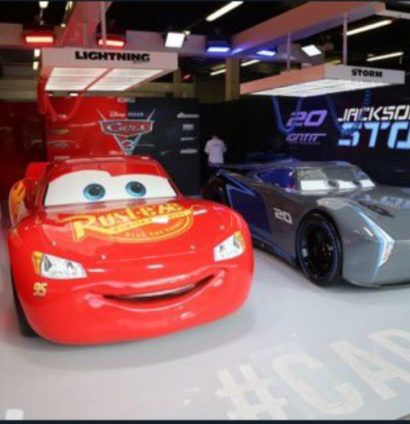 However, both cars failed to start the race, so we can only assume there are some Honda engines hidden away under an interesting choice of livery.
A spokesperson for the team said they were "disappointed" not to start, but are hopeful about leapfrogging the works team in the Constructors' Championship in Hungary.
The Last Word
First of all, well done to this spectator for grabbing an interesting piece of memorabilia at Silverstone. We only hope that he was  aware that someone was in DRS range for a quick swoop.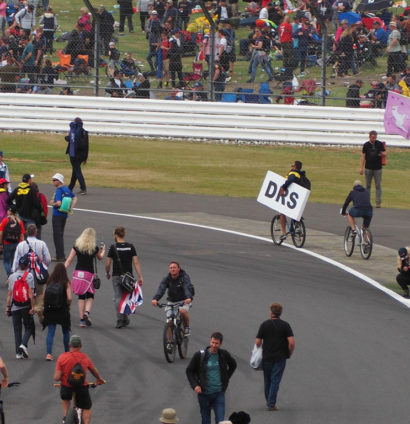 But, it is only fair that Hamilton gets the final say after all the stick he got for missing the London event for a holiday in Greece. It clearly worked for him and that pole position lap will live very long in the memory.
1…2…3….Mykonos!
Until Hungary…