Red Bull's recent revival means we are getting to see more of Daniel Ricciardo and Max Verstappen. Works for us.
But first…
Wet, wet, wet
It was a slow start to the Japanese Grand Prix weekend, with Friday's second practice session limited to just five timed laps going up on the board because of the rain.
For a long time, this little fella was top of the timesheets and is now the latest to be linked with Williams for 2018.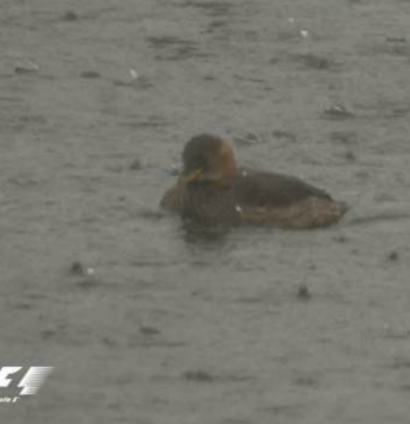 The biblical downpour resulted in an impromptu boat race which not only ended up reflecting motorsport in general (driver needs help from engineer), but also Sauber's performance (very slow).
Kimi corner
Kimi Raikkonen, of course, had no time for these fun and games, pretty much stating after FP2 that Ferrari basically took the whole day off.
Kimi, how much could you learn today?
"We didn't even try to learn anything." #SkyF1 #F1 #JapaneseGP pic.twitter.com/XNapsFaQkb

— Sky Sports F1 🏎 (@SkySportsF1) October 6, 2017
Friday was not a complete waste of time though for Kimi. He found ice cream.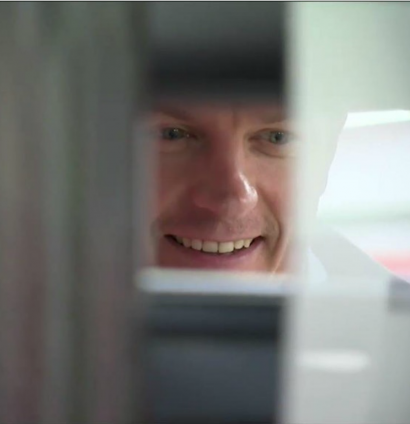 Overall, there isn't much confidence in Ferrari at the moment. Even FOM tried to save time setting up their on-screen graphics by predicting Kimi's fate on Friday morning. Almost right.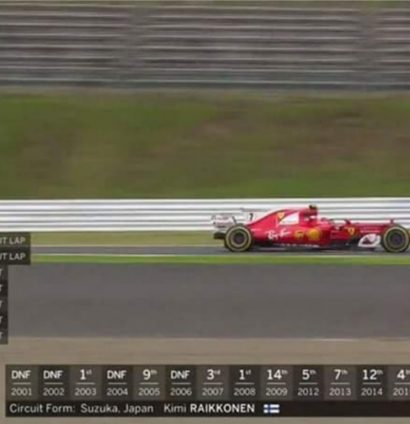 But at least the lessons from Malaysia were learned at Ferrari…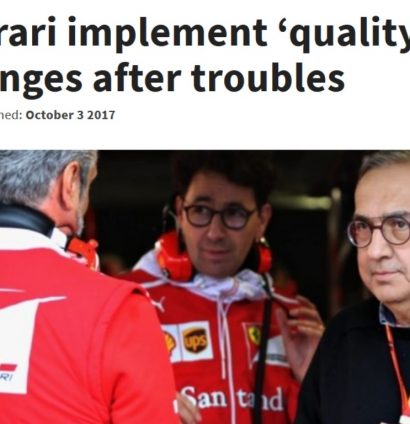 Has the season finished yet?
But if anyone is going through the motions, it's the poor folks at McLaren-Honda counting down the days before their divorce agreement goes through.
Their failure to get with the program even came through on social media…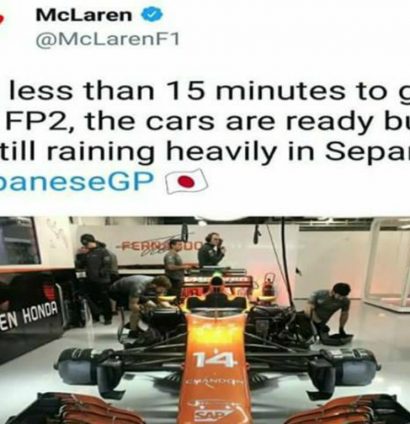 At least the other teams let them off the hook and didn't pounce on the error before McLaren deleted the tweet.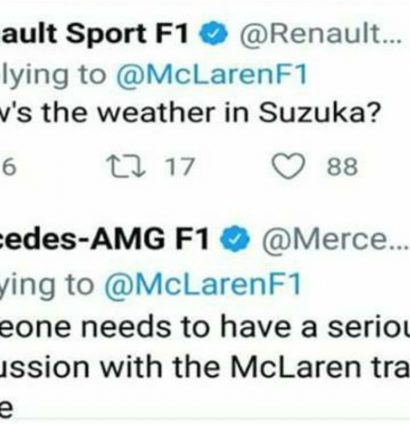 Whilst on the subject on deleted tweets, Channel 4 gave Sebastian Vettel the finger. Just not the one he usually shows us.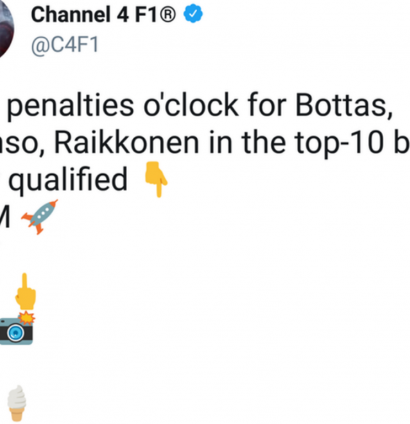 Back to McLaren-Honda, who really did not think their latest advertising campaign through. It all started innocent enough.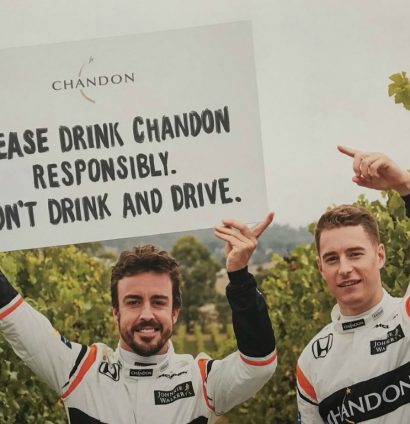 But then the Photoshop battles commenced…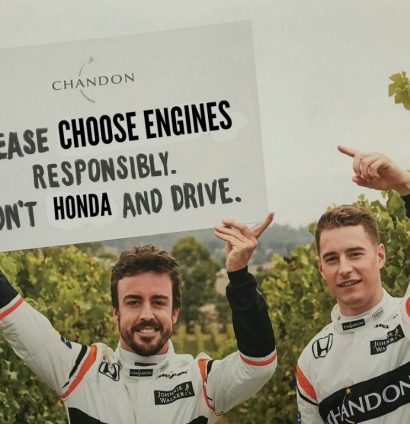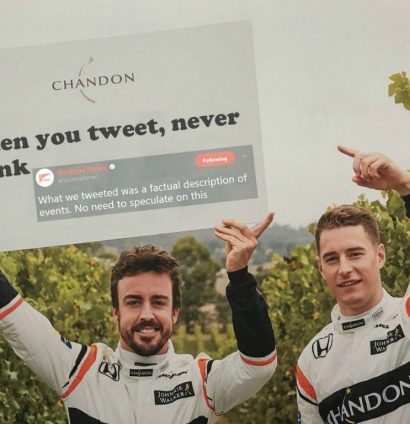 And the absolute pick of the bunch…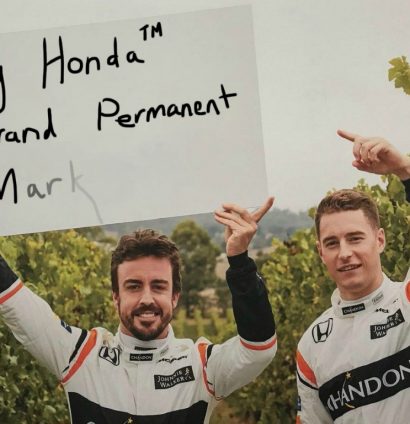 McLaren-Honda provided some other memorable moments in Japan, starting with some beautiful synchronicity in qualifying.
Stoffel Vandoorne with an [un]intentional dig at Honda.
Vandoorne about differences between F1 & Super Formula at Suzuka: "Straights feel quite similar". Joke unintended. Hasegawa not impressed.

— Tobi Grüner 🏁 (@tgruener) October 7, 2017
And Fernando Alonso calling out a fan on Instagram after the Spaniard got tangled in a blue flag incident again.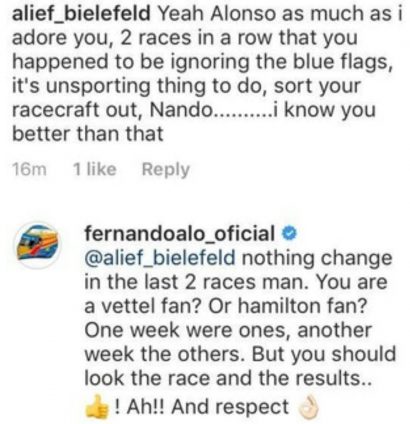 Budding bromance
But that was all trumped in Japan by the antics of Ricciardo and Verstappen, who are just having the time of their lives and my word is it showing.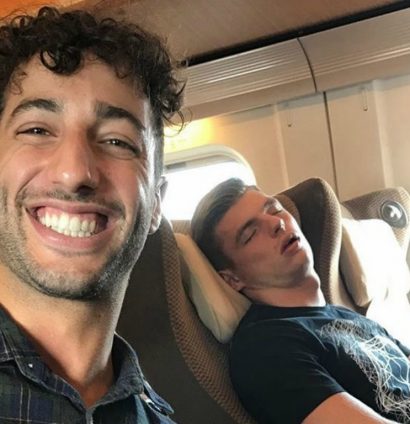 They also tried out Kendo earlier on in the week, with Verstappen still not losing all of his teenage innocence despite recently turning 20.
Think you know Kendo @Max33Verstappen & @DanielRicciardo? ⛩ 🇯🇵
→マックスとダニエルが剣道に挑戦 #F1jp #JapaneseGP pic.twitter.com/YnPtmctcLD

— Red Bull Racing (@redbullracing) October 5, 2017
But, of course, it was Ricciardo who stole the show when he spotted Lewis Hamilton's unlocked phone on the podium. His eyes must have lit up.
And here's another clip for good measure…
Ricciardo and Verstappen were not done there, though…next came the post-race press conference.
And this lovely exchange with Hamilton…
LH: I've never seen drivers such good friends
MV: You should see us at home
LH: Do you guys share a room?
MV: We actually share a bed
DR: The team is like 'Do you want a front wing or your own hotel room?'
Best of the rest
Niki Lauda was the next participant in Ziggo Sport's Yes/No game. It looked like they were going easy on him but there are a few interesting responses in there.
Chase Carey met his number one fan…
En Japón la F1 se vive d otra manera….e incluso más allá! pic.twitter.com/UY2BiZqyGk

— Albert Fabrega ES (@AlbertFabrega) October 7, 2017
And Liberty are listening to what the fans want, which is more driver briefings. This time Romain Grosjean takes over the role of snitch from Felipe Massa and things get a little awkward between Hamilton and Vettel.
And props to @chainbearf1 on Twitter for this excellent reply to our Jolyon Palmer story.
Jolyon in the pub now telling his mates the break up was his idea and he never liked her anyway https://t.co/Byi8NTNQno

— Stuart F1 Taylor (@chainbearf1) October 8, 2017
Last word
Palmer said that the truck load of extra cash two-week gap to Austin was the reason why it made sense to leave Renault now.
We'll let him have one, final goodbye.
🎥 "Thanks to the whole team, here and at the factory, we've been through a lot together."@JolyonPalmer's message after his #JapaneseGP. pic.twitter.com/g9Xv84Wd71

— Renault Sport F1 (@RenaultSportF1) October 8, 2017
Until the US… (That's just our sign-off, by the way)