The Spanish Grand Prix weekend is set to live long in the memory, especially for one young Kimi Raikkonen fan.
But, before we get all teary-eyed again…
It's not over yet
Just when you thought Formula 1 had moved on from Lewis Hamilton and Nico Rosberg, the memories (and the questions) all came flooding back as we returned to the scene of last year's coming together which allowed Max Verstappen to go on and record a historic win in the Red Bull.
The Circuit de Catalunya couldn't resist the temptation on Twitter…
⚠️⚠️ GRASS FLOOR ‼️‼️ #F1 #SpanishGP pic.twitter.com/Eilci5MLVr

— Circuit BCN-CAT (@Circuitcat_eng) May 9, 2017
And if you're wondering where Valtteri Bottas got his inspiration from as he got rid of Kimi Raikkonen and Verstappen…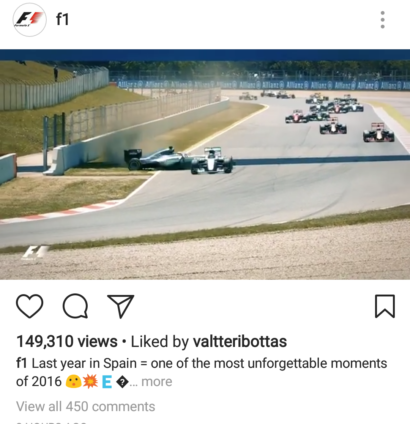 Hamilton was of course asked about whether he has been keeping in touch with Rosberg in Thursday's press conference (which to us seems like a real waste of question).
But Hamilton + Rosberg = clicks, and Sky Sports had a 'surreal story' to share.
That 'surreal story' was that they had bumped into each other when Hamilton was out jogging in London. Wow.
Love is in the air
Something else that isn't really any of our business is who Hamilton spends his time with away from the track, but we couldn't help but smirk at the Daily Mail's article as they tried to extract every last drop out of a 'lunch date' with Sofia Richie.
So, are the pair dating? We must know…
The article read: 'While the pair have yet to confirm whether they are dating, they walked along very close to one another as they headed into the eatery.'
Walked along very close to one another? We hear wedding bells already.
A case of the ex
Looking further down the calendar, it will be nice for Hamilton to arrive in Baku ready for a fresh start after his horror show there last year. New race, no baggage. Perfect.
Oh, hang on. Who's that performing with the Black Eyed Peas on the eve of the race?
Ready to meet our next stars? Black Eyed Peas and Nicole Scherzinger will perform at the stage of Formula 1 #AzerbaijanGP on 24th of June!

— Baku City Circuit (@BakuCityCircuit) May 3, 2017
Who put Ferrari in control of booking?!
Water for that burn?
Fernando Alonso was in fine form at his home race and not just in qualifying with a P7 start that we're still struggling to come to terms with.
Thursday's press conference produced this gem…
Who would you like to be fighting in the last corner, Vettel is asked?
Alonso says: "Pick me. You could overtake on the straight."

— Andrew Benson (@andrewbensonf1) May 11, 2017
And while his McLaren car was literally taking the p*ss in Friday practice…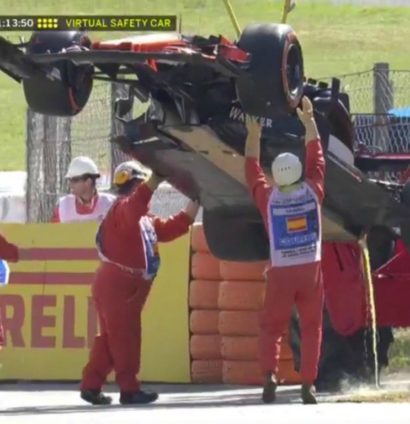 Alonso thought he would do the same by going off to play tennis!
It wasn't quite a 'deckchair moment' but Alonso knew exactly what he was doing and what message it would send out. Good on him for doing so as well.
Massa moans
Not everyone is happy with Alonso, especially Felipe Massa who is finding something new to moan about with every race that comes.
The Brazilian was asked whether he agreed with the decision to let Alonso miss Monaco for the Indy 500…
"For sure not," he told Fox Sport. "I think that's not correct anyway.
"You can ask any team boss in F1 in all history, you stop to one race in the championship that you're doing and you're very committed to do another championship, it's not correct."
Well, you cannot ask any team boss in F1 in all history because juggling F1 and the Indy 500 in the same year has never been done before.
Also, has Massa seen McLaren-Honda lately? They are not really 'doing' any form of F1 World Championship this year. Let Alonso go off and have some fun!
A new low
Have a look at the message that pops up when you visit: https://hasmclarenbrokendown.com/
Special agent Kimi
In Sochi, suspicions were raised when we saw this image of Raikkonen going incognito…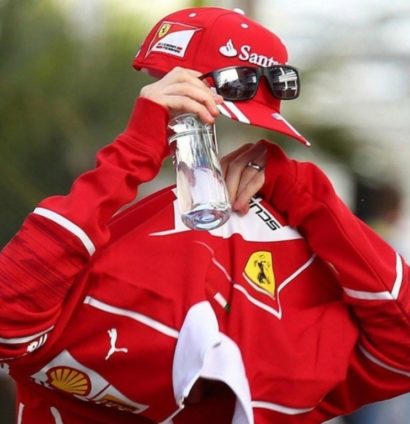 Now there is more evidence from Spain that the 'Iceman' is in fact doubling up as a special agent. Look how he was checking out all the new bits on the Mercedes' W08…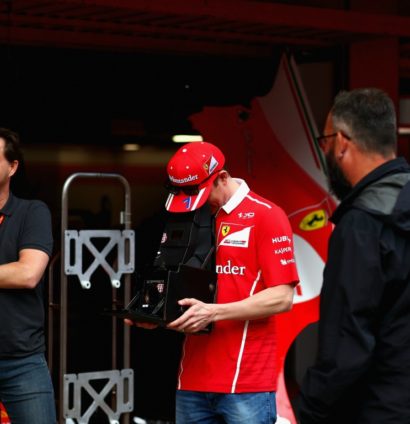 You may have missed this
When you have an action-packed race like the Spanish Grand Prix, it can be easy to miss some of the details.
So we were grateful to the Daily Mail for publishing: 'Five things you missed from the Spanish Grand Prix'
Well, we were until we saw that one of them was the young Ferrari fan who had a day he will never forget at the Circuit de Catalunya.
Yeah, we all missed that one.
A tear to the eye
But what a wonderful moment that was. If that was a sign of Formula 1 being more connected with the fans then bring it all on.
Remember the kid crying at the start after Kimi's early exit? He's now met the iceman LIVE: https://t.co/QeM8TCAJqt #SkyF1 #F1 #SpanishGP pic.twitter.com/x0zpGbeBeU

— Sky Sports F1 ? (@SkySportsF1) May 14, 2017
It also led to this…
Tweet of the week
Another great gesture – Mercedes inviting an elderly fan into the pits #SpanishGP #F1 pic.twitter.com/cSiqHJfuB9

— Mattzel89 (@Mattzel89) May 14, 2017