As we unfortunately bid farewell to Malaysia, Mercedes call in one of their agents, nature calls for Max Verstappen and Felipe Massa calls out Sergio Perez.
But first…
Kimi corner
Yes, Kimi Raikkonen got us off to a very strong start when asked about what he would miss about the Malaysian Grand Prix. A favourite sequence of corners perhaps? The food? The culture?
And how about the hot and humid conditions, Kimi? Surely there is extra preparation for the most physically demanding track on the circuit?
How do you deal with the heat in Malaysia?
"I probably drink a bit more."
To the point again Kimi. pic.twitter.com/7MQEHOhnOv

— Sky Sports F1 🏎 (@SkySportsF1) September 28, 2017
It's easy to see why he is so straight to the point. Look what happened when he intentionally tried to crack a joke after qualifying…
Saturday – "We'll try to get further than 100 metres."
And, on Sunday of course…
BREAKING: Bad news for @ScuderiaFerrari – turbo issues mean Kimi Raikkonen is being moved for a pit lane start #MalaysiaGP 🇲🇾 pic.twitter.com/R4gTPCbXVP

— Formula 1 (@F1) October 1, 2017
Feeling drained
It was a hectic start to the race weekend with FP1 and FP2 both shortened. The former due to rain and the latter because of a loose drain cover which sent Romain Grosjean flying into the wall.
Thankfully Giedo van der Garde was on the case to find out who caused the accident.
'Loose drain cover' ….. pic.twitter.com/kWEUUUDEEn

— Giedo van der Garde (@GvanderGarde) September 29, 2017
It was obviously a very serious safety concern and every steward wanted to show they were in control of the situation, especially those with a broom.
Back to school
FIA bigwig Charlie Whiting updated all the drivers on the drain situation as another drivers' briefing was made available for the fans to watch. We couldn't press play quick enough.
Proper schoolboy antics were on show once again. Felipe Massa grassing up Sergio Perez for corner cutting in Singapore and the Mexican staying behind after class to explain himself.
Just when we thought it could not get any better than that…
End of a great day, I'll leave you with this from the Drivers' Briefing in Malaysia. Editted by Phineasfogg on the @reddit F1 page, it is absolutely brilliant. Enjoy. https://t.co/1jDcbI2RZZ

— Will Buxton (@thebuxtonblog) October 1, 2017
Malaysia memories
But the drivers aren't all bad like big blabbermouth Massa. Lewis Hamilton, Sebastian Vettel and Daniel Ricciardo provided some cool moments for the fans…
Took my buddy Brandon for a tour of the Garage 😃 pic.twitter.com/pCJolQAebl

— Lewis Hamilton (@LewisHamilton) September 29, 2017
Then the reactions from these are also priceless…
A little bit of hotline bling with @danielricciardo thanks to @Mobil1! ☎️ #SpeedDialDaniel #F1 pic.twitter.com/okoX8XCavW

— Red Bull Racing (@redbullracing) September 29, 2017
Question time
Ricciardo wasn't the only one facing some interesting questions as it was Jacques Villeneuve's turn to take part in Ziggo Sports Yes/No game.
Worth a watch if you can bring your focus away from his blonde hair and some sort of weird hair transplant…
Malaysia moans
After Villeneuve, we can link nicely to the best weekend moans and it will come as no surprise to see Fernando Alonso has made this section.
Fair to say he is not a big fan of Kevin Magnussen…
He wasn't finish there either as after the race he said: "For his driving, we more or less agree with the other drivers, it's 19-1."
Savage.
Franz Tost's rant about Romain Grosjean made the race that little bit extra special…
And Renault will be pleading with Jolyon Palmer to please take the money and run, especially after this excuse for his first spin in Sepang…
"We saw there was a big tailwind, which is affecting you in the tow, and you're in the gust.

"I lost a lot of aero. I turned in pretty much the same as the other laps and suddenly I had no rear."
That bloody wind. Probably should have kept that one to yourself, Jolyon.
Every little helps
Ricciardo joked that he gave team-mate Max Verstappen half a tenth for his 20th birthday present as the Dutchman pipped him by 0.053 seconds in qualifying.
Yet it turns out Verstappen came back for Q3 a little bit lighter…
Verstappen said: "I didn't do a second run (In Q2), because I had to go to the toilet."
Speaking of taking the p*ss, Ricciardo having to be restrained in the post-race press conference was another weekend highlight.
Agent Stroll
After seeing Sebastian Vettel slice his way through the field and Lewis Hamilton miss out on victory, it was time for Mercedes to launch Operation Japan. Come in Agent Lance Stroll…
Mercedes radio: "Come in Agent Stroll. Report to base." #F1 pic.twitter.com/WmCpHE67mp

— Planet F1 (@Planet_F1) October 1, 2017
But imagine waking up and this was first thing you saw on tv…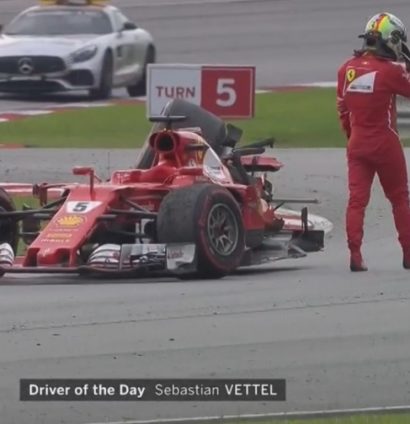 That wasn't the only conspiracy doing the rounds after that bizarre crash. Some think Vettel crashed deliberately in order to cover something up.
Here are the times for his final five laps:
Lap 52 – 1:36.279
Lap 53 – 1:36.365
Lap 54 – 1:37.454
Lap 55 – 1:39:368
Lap 56 – 1:41.345
So a five-second drop-off from Lap 52 to the final lap, was he running out of fuel or was his Ferrari illegally running light? Why did he take his steering wheel with him after the crash ?
Did he intentionally damage the gearbox in order to try and get special dispensation from the FIA (which Ferrari are said to have immediately asked for) to change it without a penalty ahead of the final five races?
Either way you look at it, something doesn't feel right.
At least [Sa]uber came to his aid…
Picture = 1000 words
There is only one winner for best image of the weekend, though…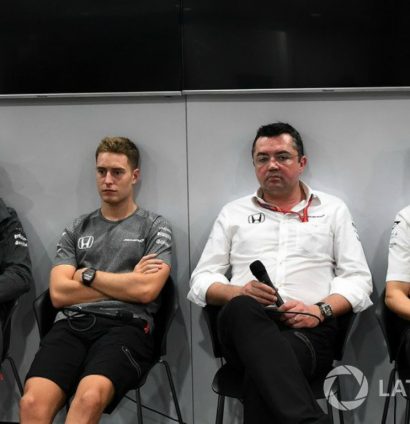 The last word
We'll leave it to the drivers to say goodbye to Malaysia. That was one hell of a finish to create that podium…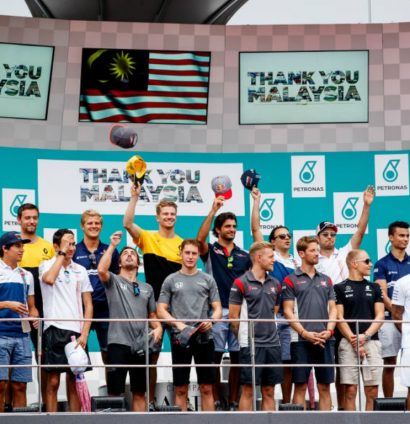 Until Japan…