Qualy: Hamilton pips Vettel, Alonso seventh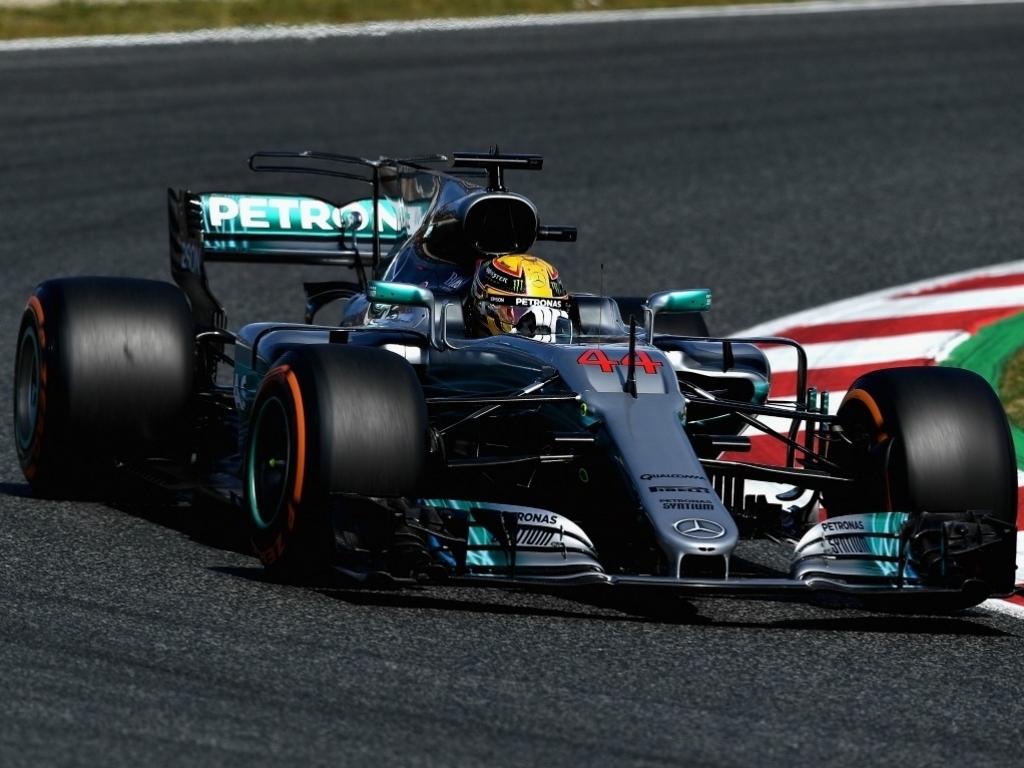 Lewis Hamilton claimed his third pole position in four years at the Spanish Grand Prix after edging out a resurgent Sebastian Vettel in qualifying.
Vettel almost had to come to a stop at the start of Q1 after a quick-fire engine change but recovered well throughout the afternoon to finish five hundreths behind Hamilton who cranked up the engine in Q3 and set a blistering 1:19.149.
Team-mate Valtteri Bottas overcame his engine troubles to claim P3, with Kimi Raikkonen completing the second row.
It was a familiar story for Red Bull as Max Verstappen and Daniel Ricciardo locked down the third row in P5 and P6 respectively, while Fernando Alonso sent the home fans wild with a P7 slot for Sunday's race.
There was tension even before the qualifying session began, as Ferrari opted to move Vettel onto his third engine of the season after a water leak on his old power unit brought his FP3 session to an abrupt end on Saturday morning.
Mechanics were in a race against time to get Vettel's car ready in time for Q1 and, after just two and half hours' of work, were able to get the German back in the driver's seat with minutes to spare.
However, on his installation lap, Vettel was told to stop the car – which would have ended his entire qualifying session – but the four-time World Champion reported an improvement in performance as he tried to nurse the car back to the pits instead.
Vettel kept his composure and went on to post a 1:20.939 on his first flying lap, which saw him comfortably reach Q2.
Williams rookie Lance Stroll was the first major casualty to be eliminated from Q1, managing to only qualify in P18.
He was joined by Marcus Ericsson, Jolyon Palmer, Stoffel Vandoorne and backmarker Daniil Kvyat, but less than one second covered P7 to P20 in a very tight Q1 session.
Hamilton, who was top of the timesheets in FP1 and FP2, placed down the early marker in Q1 with a 1:20.511 and went on to find an extra three tenths with his first run in Q2.
Bottas, using an old power unit after a water leak was discovered with his new engine, ruined his first run in Q2 with a tiny lock-up, but improved to within nine hundreths of his team-mate on his second flying lap.
Vettel, with his engine problems behind him, then split the two Mercs by being just 0.085s off the pace and teasing a dramatic battle for pole in the process.
With three minutes of Q3 remaining, the mad scramble for the top 10 shoot-out began to heat up.
Huge cheers came from the grandstands as home favourite Alonso squeaked into Q3 with a phenomenal last-ditch effort.
It was a session to forget for Haas' Romain Grosjean, though, who had two scrappy attempts to reach the top 10 and had to settle for P14 on the grid.
Also eliminated from Q2 were Kevin Magnussen, Carlos Sainz, Nico Hulkenberg and Pascal Wehrlein.
Mercedes then turned up the wick for Q3 and Hamilton went over a second quicker with a very competitive 1:19.149 to increase his stranglehold on P1.
Bottas had initially been on provisional pole but found himself two tenths behind his team-mate ahead of their second and final runs in Q3.
Raikkonen was five hundreths further back in P3, while something went amiss with Vettel's first Q3 effort as he was half a second back.
Hamilton was not able to improve on his earlier Q3 lap and held off a resurgent Vettel, who closed to within five hundreths of a second to claim the second spot on the front row.
Bottas was forced to settle for P3, with Raikkonen in fourth. Alonso continued to defy expectations by placing the MCL32 P7 on the grid for his home grand prix.
Times
1 HAM Mercedes 00:01:19.149
2 VET Ferrari 00:01:19.200
3 BOT Mercedes 00:01:19.373
4 RAI Ferrari 00:01:19.439
5 VPN Red Bull 00:01:19.706
6 RIC Red Bull 00:01:20.175
7 ALO McLaren 00:01:21.048
8 PER Force India 00:01:21.070
9 MAS Williams 00:01:21.232
10 OCO Force India 00:01:21.272
11 MAG Haas F1 00:01:21.329
12 SAI Toro Rosso 00:01:21.371
13 HUL Renault 00:01:21.397
14 GRO Haas F1 00:01:21.517
15 WEH Sauber 00:01:21.803
16 ERI Sauber 00:01:22.332
17 PAL Renault 00:01:22.401
18 STR Williams 00:01:22.411
19 VAN McLaren 00:01:22.532
20 KVY Toro Rosso 00:01:22.746