Race: Hamilton claims fifth British GP win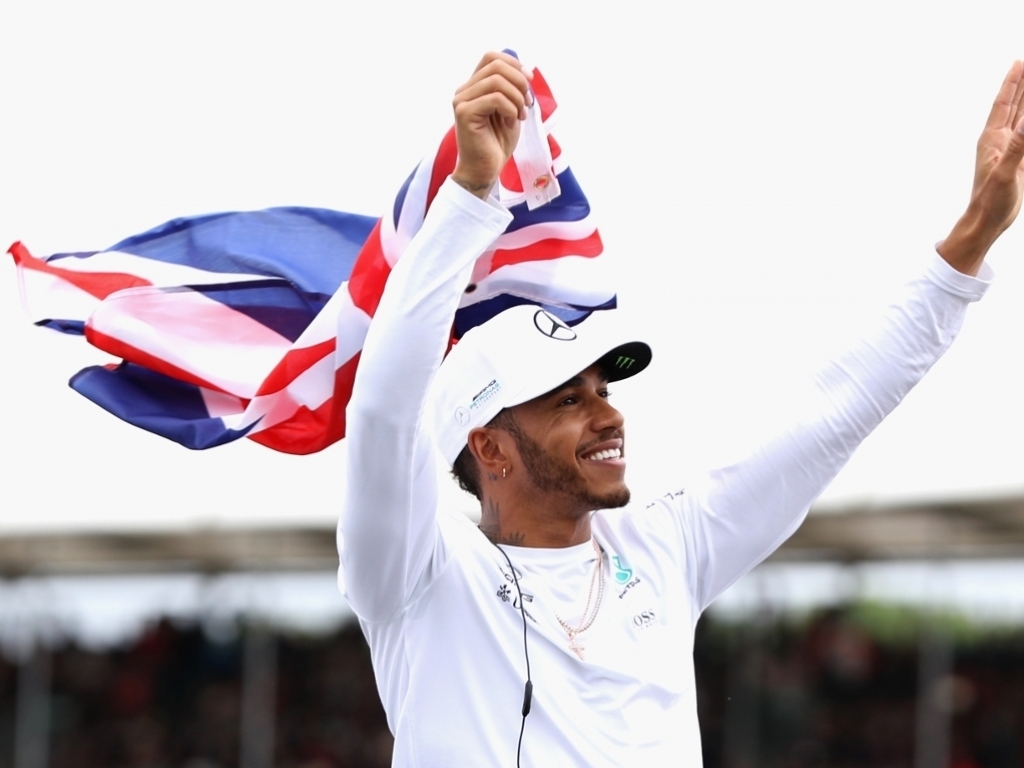 It was the tale of two championship contenders at Silverstone as Lewis Hamilton romped unchallenged to his fifth British GP while a late puncture cost Sebastian Vettel third place.
Jolyon Palmer's RS17 lost hydraulics on the formation leave forcing the Brit parked on the grass as the grid formed. The start was aborted, resulting in an extra formation lap and a 51-lap race.
The drama was compounded when Daniil Kvyat hit Carlos Sainz on the opening lap with the latter retiring. The Toro Rosso team-mates both complained about the others' driving while the Safety Car was deployed and Hamilton's 2.7s lead slashed.
That barely bothered the Brit who, on the restart, stormed away from the chasing Kimi Raikkonen while Max Verstappen and Sebastian Vettel again battled for position.
Settling into the race, Hamilton laid down fastest laps to build an advantage over Raikkonen while Verstappen kept Vettel at bay despite the Ferrari being within DRS.
Vettel made his move on lap 14 through Stowe, pushed Verstappen wide and got ahead but the Dutchman fought back and pushed Vettel wide to regain third. Great racing.
A few moves later and Vettel was not able to pass Verstappen so he pitted on lap 18 with the Red Bull driver in a lap later. The undercut worked and Vettel emerged ahead of Verstappen, who also had a small delay with a wheel nut.
While Vettel and Verstappen provided the excitement, Hamilton set the pace as he had an advantage of over 10 seconds when he pitted on lap 24 to swap his supersofts for a set of soft tyres. He pitted from first, re-emerged in first.
Controlling the race and completely unchallenged, Hamilton raced to the victory, finishing ahead of Valtteri Bottas. The Finn recovered from his gearbox penalty to finish second as he put his strategy – a long first stint on the soft tyres followed by a quick short stint on the supersofts – to work his way onto the podium.
It should have been a third place for Bottas were it not for a late puncture for Raikkonen, who was running second. He finished third instead as he had to make a late pit stop.
But there was more drama at Ferrari as Vettel could only finish P7 as he too suffered a late puncture. He was fourth at the time but was passed by Verstappen, Daniel Ricciardo – who started P19, and Nico Hulkenberg.
Esteban Ocon, Sergio Perez and Felipe Massa completed the top ten.
Result
1 Lewis Hamilton Mercedes
2 Valtteri Bottas Mercedes 14.063
3 Kimi Raikkonen Ferrari 36.570
4 Max Verstappen Red Bull 52.125
5 Daniel Ricciardo Red Bull 1:33.838 65.955
6 Nico Hulkenberg Renault Sport 68.109
7 Sebastian Vettel Ferrari 93.989
8 Esteban Ocon Force India 1 LAP
9 Sergio Perez Force India 1 LAP
10 Felipe Massa Williams 1 LAP
11 Stoffel Vandoorne McLaren 1 LAP
12 Kevin Magnussen Haas 1 LAP
13 Romain Grosjean Haas 1 LAP
14 Marcus Ericsson Sauber 1 LAP
15 Daniil Kvyat Toro Rosso 1 LAP
16 Lance Stroll Williams 1 LAP
17 Pascal Wehrlein Sauber 1 LAP
Did not finish
Alonso McLaren engine
Sainz Toro Rosso crash
Palmer Renault hydraulics