Race: Hamilton gets the better of Vettel in Spain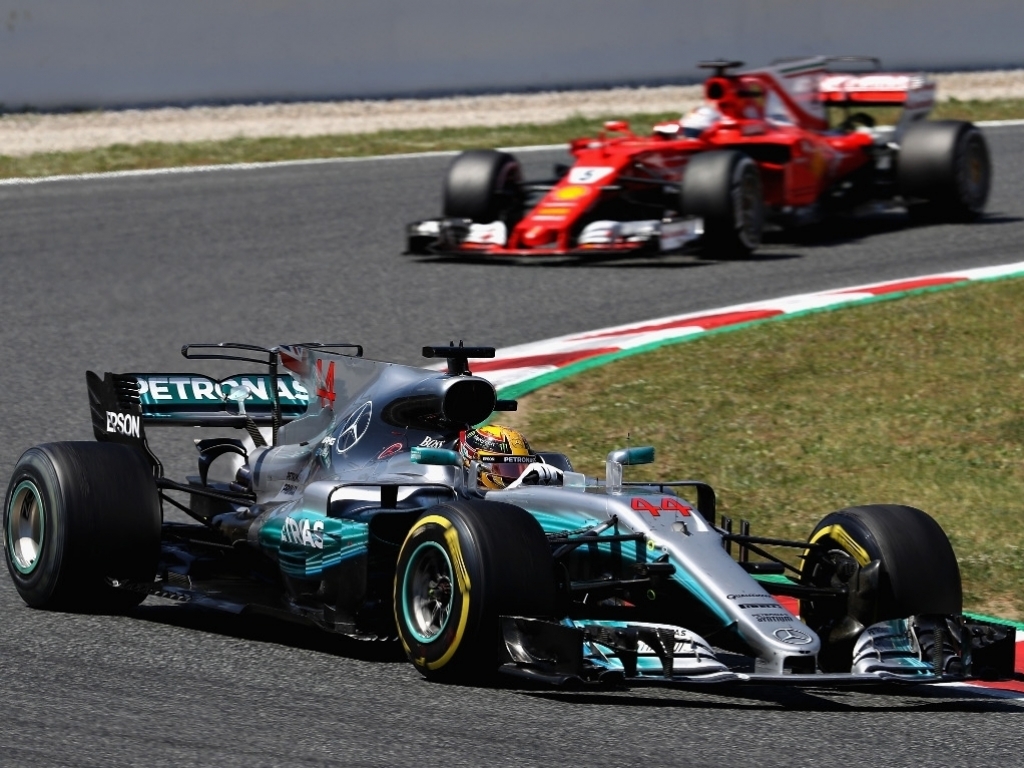 Mercedes team game, tyre strategy and a Virtual Safety Car added spice to the Spanish Grand Prix, a race that Lewis Hamilton won ahead of Sebastian Vettel.
Vettel got off the line well to run alongside pole-sitter Hamilton into Turn 1. He pulled ahead while Bottas found himself battling Kimi Raikkonen and Max Verstappen.
The latter two were left with damaged cars when Bottas tagged Raikkonen, who in turn hit Verstappen – broken steering arm for Raikkonen and suspension for the Red Bull driver. Both out of the race.
Felipe Massa and Fernando Alonso clashed with the Williams driver suffering a puncture and Alonso losing places, bumped off the track and down to 11th.
At the end of the crazy start, Vettel was leading by two seconds ahead of Hamilton. Bottas was third ahead of Daniel Ricciardo, Sergio Perez, Esteban Ocon, Nico Hulkenberg and Kevin Magnussen. Carlos Sainz and Romain Grosjean made up the final two places in the top ten.
A thrilling battle played out between Vettel and the Mercedes drivers with the German the first to pit with Hamilton in seven laps later. Softs for the Ferrari, mediums for the Mercedes. As that played out Vettel was stuck behind Bottas, who was yet to pit, for four laps which allowed Hamilton to close the gap to the Ferrari. Vettel eventually overtook Bottas at Turn 1 on Lap 25 while Hamilton making short work of his team-mate, who pitted a lap later.
The race was paused on Lap 34 when the Virtual Safety Car was brought out for Stoffel Vandoorne's stricken McLaren. He broke his suspension turning in on Massa, who was coming to pass him.
Just prior to the lifting of the VSC, Mercedes pitted Hamilton on Lap 37 for softs. He came out second, 24s down on Vettel who needed a second stop. Vettel came in a lap later, put on the mediums, and came out side-by-side with Hamilton with the two almost touching as they battled for position.
Vettel won that battle but only briefly as Hamilton swooped by the Ferrari driver to lead on Lap 44. Meanwhile Mercedes were down to just one car as Bottas retired with an engine failure.
Using the better rubber Hamilton put time between himself and Vettel, the gap up to 2.5s when Ferrari suggested "Plan C" to Vettel – a three-stopper. But as the laps counted down, Ferrari opted against.
Hamilton raced to the victory, his second at the Barcelona circuit, by just over three seconds ahead of Vettel while Ricciardo had a very lonely race on his way to third. He was over a 70 seconds down on the race winner.
It was a great Sunday for Force India with Perez fourth to Ocon's fifth while Hulkenberg was sixth ahead of Sainz.
Pascal Wehrlein, handed a five second penalty for failing to stay to the correct side of the pit entry bollard, was eighth as Sauber scored their first points of the championship.
Daniil Kvyat and Romain Grosjean completed the top ten while Alonso finished a disappointing P12 at his home race.
Result
1 Lewis Hamilton Mercedes 1:35.56.497
2 Sebastian Vettel Ferrari 3.4
3 Daniel Ricciardo Red Bull 75.8
4 Sergio Perez Force India 1 lap
5 Esteban Ocon Force India 1 lap
6 Nico Hulkenberg Renault 1 lap
7 Carlos Sainz Toro Rosso 1 lap
8 Pascal Wehrlein Sauber 1 lap
9 Daniil Kvyat Toro Rosso 1 lap
10 Romain Grosjean Haas 1 lap
11 Marcus Ericsson Sauber   2 laps
12 Fernando Alonso McLaren 2 laps
13 Felipe Massa Williams 2 laps
14 Kevin Magnussen Haas 2 lap
15 Jolyon Palmer Renault 2 laps
16 Lance Stroll Williams 2 laps
Did not finish
Valtteri Bottas Mercedes engine
Stoffel Vandoorne McLaren crash
Max Verstappen Red Bull suspension
Kimi Raikkonen Ferrari broken steering