It was a tale of two Red Bulls in a thrilling Chinese Grand Prix, where strategy was the key at the Shanghai International Circuit.
Daniel Ricciardo was one of the early arrivals, given his faith in the Renault engine is running out, we wonder who he is on the phone to? His stunning race win would have done no damage whatsoever to his stock.
Looking up Mercedes' number? #F1 pic.twitter.com/PY8oR6RBrn

— Planet F1 (@Planet_F1) April 15, 2018
The front two on the grid were sizing each other up at the drivers' parade…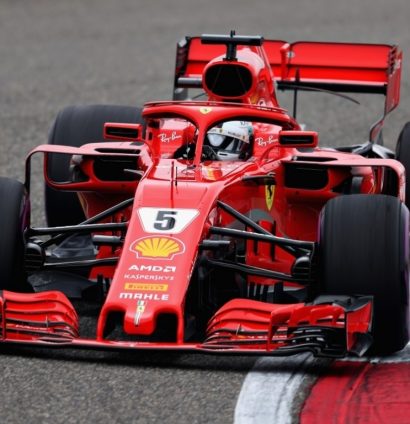 The grid was its usual colourful and vibrant self ahead of lights out…
The grid entertainment is quite something! 🐉 #ChineseGP pic.twitter.com/KrxOvlouXV

— Sahara Force India (@ForceIndiaF1) April 15, 2018
And the Chinese fans are certainly unique…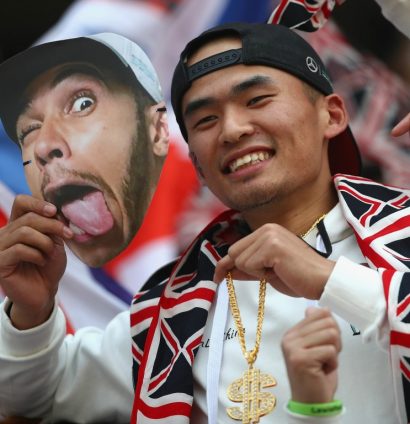 A reminder of the final starting grid before lights out.
Final STARTING GRID | La GRIGLIA di PARTENZA#ChineseGp #F1 #Vettel #Raikkonen #Bottas #Hamilton pic.twitter.com/vOruPyV3I6

— Andrea Gallazzi | CircusF1.com (@CircusFuno) April 15, 2018
It was a commanding start from Vettel, squeezing out Raikkonen who had lost ground behind Bottas and Verstappen.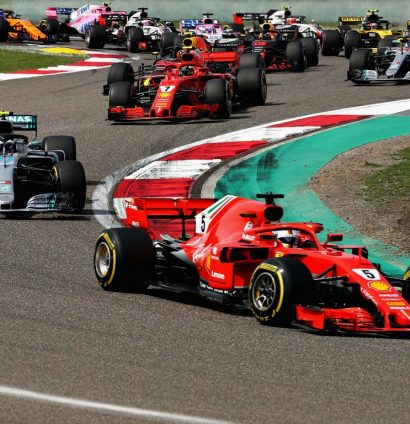 Vettel then wasted little time in stringing out the field, dictating the pace out in front.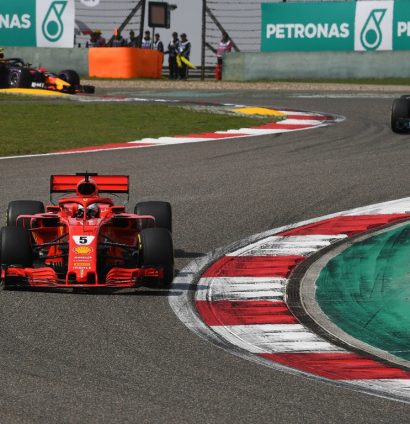 But Ferrari were caught napping on pit strategy, slow to react to Bottas' pit stop and the Finn managed to make the undercut stick with a great out-lap.
LAP 21/56: Vettel's turn to pit now and it's not the quickest stop. Bottas takes full toll and overtakes the Ferrari! #ChineseGP 🇨🇳 #F1 pic.twitter.com/PA10rL8zB8

— Formula 1 (@F1) April 15, 2018
A collision between Pierre Gasly and Brendon Hartley threw another element into the mix. Red Bull double-stacked both their cars in the pits for a second time, reacting to the Safety Car perfectly.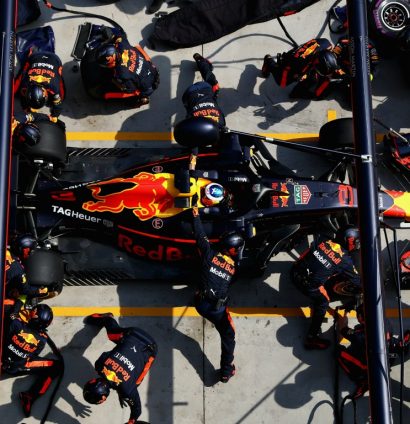 Bottas made a smart getaway once the Safety Car peeled away, but the Red Bulls soon made their charge as Ricciardo got the better of Raikkonen to move up to P5.
LAP 38/56: Ricciardo only needs one look and he's past Raikkonen 💪 #ChineseGP 🇨🇳 #F1 pic.twitter.com/QDZVZZ4oH5

— Formula 1 (@F1) April 15, 2018
As Hamilton and Verstappen squabbled, the latter lost out and Ricciardo made the jump up to P4 and then to P3 with a fantastic overtake.
LAP 41/56: @danielricciardo is on fire (in a good way 😀) He's now past Hamilton and up to third! #ChineseGP 🇨🇳 #F1 pic.twitter.com/KE70uhZpLI

— Formula 1 (@F1) April 15, 2018
Then Ricciardo swiftly dispatched of Vettel in P2 and then squeezed past Bottas, who was struggling for grip, to take the lead.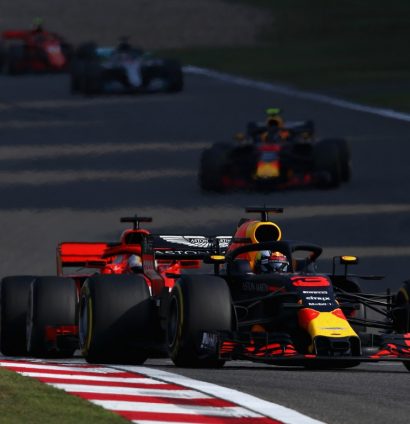 As Ricciardo claimed a stunning, unlikely victory, team-mate Max Verstappen was slapped with a 10-second timed penalty after a collision with Vettel, who limped home in P8 with sidepod damage.
Contrasting fortunes at Red Bull, whose strategy was absolutely flawless throughout the afternoon.
LAP 47/56: Race stewards have slapped a 10-second penalty on Verstappen for causing the collision with Vettel #ChineseGP 🇨🇳 #F1 pic.twitter.com/wuv0110zX5

— Formula 1 (@F1) April 15, 2018
GETTTTTTTTT IT DANIEL! 🏆💪 What a drive and what a win! #ChineseGP pic.twitter.com/2WsQ3g1LWq

— Red Bull Racing (@redbullracing) April 15, 2018