Daniel Ricciardo felt the full effect of the treacherous weather conditions in Barcelona as day three of testing saw just five cars make brief appearances and Fernando Alonso set the only timed laps.
Ricciardo was one of just five drivers to carry out an installation lap on the penultimate day of the first winter test as morning snow, which delayed the start by four hours, made way for heavy rain in the afternoon.
The Aussie tried a second lap in the RB14, only to go spinning out and sliding into the gravel trap. Alonso, Marcus Ericsson, Robert Kubica and Brendon Hartley were the only other drivers to briefly head out from the garage.
Track officials at the Circuit de Catalunya extended running from 12pm to 6pm local time, but the likes of Ferrari and Ricciardo himself opted to leave early as the day effectively became a wash-out.
Inside the final hour, Alonso re-emerged from the pit lane to top the lap count table with a grand total of five installation laps. The Spaniard's short run was enough for McLaren to move from the bottom of the mileage charts at the expense of Haas.
With 15 minutes of the session remaining, Alonso popped out again to become the only driver to set timed laps – his best a rapid 2:18.545 on wet tyres.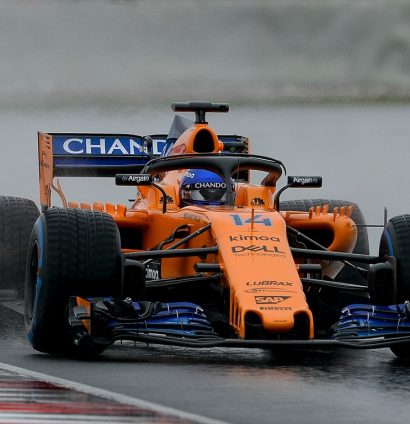 Unsurprisingly, team officials have been unable to agree on extending the first test through until Friday or Saturday as Williams and Ferrari have booked the track for filming days.
This following Sunday and Monday are also not expected to become extra testing days either ahead of the second test which starts next Tuesday.
It means that the teams will head into the final day of the first test on Thursday, when further rain showers are expected in the afternoon, having lost more than a day of precious testing time ahead of the season opener in Australia at the end of March.
After such a dramatic day, it seems only fitting that we end with an emotional song. Take it away, Daniel.